Fr. John M. Merklinger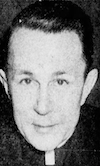 Accused in a lawsuit filed in 7/21 under the NY Child Victims Act of sexually abusing a boy over two years, beginning in 1967 when the boy was age 8. Merklinger was assigned to St. Alphonsus in Auburn at the time of the alleged abuse, and the boy was a student at the parish school. Per the lawsuit, another priest witnessed the abuse, but did nothing. Merklinger died in 1970.
---
Return to main database page. See abbreviations and posting policy. Send corrections.
Our Database of Publicly Accused does not state or imply that individuals facing allegations are guilty of a crime or liable for civil claims. The reports contained in the database are merely allegations. The U.S. legal system presumes that a person accused of or charged with a crime is innocent until proven guilty. Similarly, individuals who may be defendants in civil actions are presumed not to be liable for such claims unless a plaintiff proves otherwise. Admissions of guilt or liability are not typically a part of civil or private settlements. For more information, see our posting policy.