Fr. Kenneth E. Myers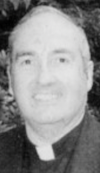 Myers' name was quietly added in 2019 to the diocese's list of credibly accused. In 2021 the credible claim was categorized as "credible and substantiated," which the diocese notes to mean that "the allegation was supported by either an admission by the individual to the abuse or by an examination of the evidence through a comprehensive canonical or criminal investigation." Myers was removed from active ministry. In 1/22, via a letter in the parish bulletin, Bishop Zubik informed the Latin Mass Community at Most Precious Blood of Jesus Parish that the allegations against Myers, who had been their chaplain, were credible and substantiated and that he would remain removed from ministry. This was in response to inquiries about Myers from parishioners.
---
Return to main database page. See abbreviations and posting policy. Send corrections.
Our Database of Publicly Accused does not state or imply that individuals facing allegations are guilty of a crime or liable for civil claims. The reports contained in the database are merely allegations. The U.S. legal system presumes that a person accused of or charged with a crime is innocent until proven guilty. Similarly, individuals who may be defendants in civil actions are presumed not to be liable for such claims unless a plaintiff proves otherwise. Admissions of guilt or liability are not typically a part of civil or private settlements. For more information, see our posting policy.