Fr. Liam O'Doherty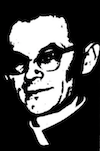 First indicted by Grand Jury in 1979 for sexual contact with three 14-year-old girls. Case dismissed after six months (when no further complaints received) and Diocese put him back to work. "Absent on sick leave" without privileges as of 1999. Beginning in 2000, four women filed separate suits alleging he abused them in 1980s and 1990s. All settled 1/03 for total of $180K. Living at Vianney Renewal Center in MO in 1/03, apparently subject to severe restrictions. Included on Ogdensburg diocese's list 11/13/18. Named in lawsuit(s) filed in 8/19 under the NY Child Victims Act. By 4/21 there were eight suits naming O'Doherty, one claiming abuse in 1966.
---
Return to main database page. See abbreviations and posting policy. Send corrections.
Our Database of Publicly Accused does not state or imply that individuals facing allegations are guilty of a crime or liable for civil claims. The reports contained in the database are merely allegations. The U.S. legal system presumes that a person accused of or charged with a crime is innocent until proven guilty. Similarly, individuals who may be defendants in civil actions are presumed not to be liable for such claims unless a plaintiff proves otherwise. Admissions of guilt or liability are not typically a part of civil or private settlements. For more information, see our posting policy.