Fr. J. Lawrence Ouimet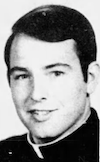 Named publicly as accused by the diocese on its list 2/22/19. It notes he resigned, and was appointed in 1999 as Parochial Vicar with restricted ministry. Per his obituary he worked in many parishes, and was "very active with many fire companies in the state." Died 2/16/02. Suit filed in 11/19 with claims Ouimet plied a teenage boy with alcohol and engaged in grooming behaviors toward him sometime prior to 1988. Ouimet allegedly invited the teen to share a bed with him, talked about sex and masturbation, and disrobed and stood naked in front of the boy, demanding that he disrobe and join him in a hot tub.
---
Return to main database page. See abbreviations and posting policy. Send corrections.
Our Database of Publicly Accused does not state or imply that individuals facing allegations are guilty of a crime or liable for civil claims. The reports contained in the database are merely allegations. The U.S. legal system presumes that a person accused of or charged with a crime is innocent until proven guilty. Similarly, individuals who may be defendants in civil actions are presumed not to be liable for such claims unless a plaintiff proves otherwise. Admissions of guilt or liability are not typically a part of civil or private settlements. For more information, see our posting policy.