Fr. Joseph J. Pucci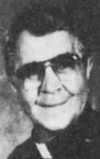 Worked in the Archdioceses of Seattle, Indianapolis and Newark, and the Dioceses of Trenton, Richmond, Youngstown, Toledo and Palm Beach. Accused by two women of molesting them when they were young teenagers in the 1950s. One woman came forward in 2002; Oblate representatives acknowledged the complaints. Per 6/02 news, a man reported that Pucci molested him in 1980 at a rectory in Palm Beach, FL. He told his family in 1993 and they reported it to Palm Beach Bishop Symons and to police. No record of complaint at either place. Pucci retired in 1994 and died in 2000 in West Palm Beach. (In 1998 Symons resigned after admitting in 1998 that he abused a boy early in his priesthood; he later admitted to abusing four other boys.) Subject of settlement(s). Included on the Diocese of Richmond's list of those with allegations of abuse occurring in the diocese.
---
Return to main database page. See abbreviations and posting policy. Send corrections.
Our Database of Publicly Accused does not state or imply that individuals facing allegations are guilty of a crime or liable for civil claims. The reports contained in the database are merely allegations. The U.S. legal system presumes that a person accused of or charged with a crime is innocent until proven guilty. Similarly, individuals who may be defendants in civil actions are presumed not to be liable for such claims unless a plaintiff proves otherwise. Admissions of guilt or liability are not typically a part of civil or private settlements. For more information, see our posting policy.