Fr. Hubert John Reason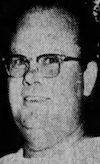 In 8/02 the diocese announced that "several individuals" had come forward with credible accusations that they had been abused by Reason as minors. Per a 12/02 news article, two brothers had come forward to allege abuse by Reason and Fr. Gerry Appleby, and by an Episcopal priest and an Episcopal seminarian. The men said that, in effect, the four traded them around. They said that Reason would also give them and other altar boys money and alcohol and take them to Tampa for professional wrestling. Reason left the diocese in 1978 and died in 1984, at age 60. Accused in 2005 of child sexual abuse at an Altamonte Spring parish in the early-to-mid-1960s. Three claims settled for $1.5M in 7/05. Included on the St. Petersburg diocese's list of credibly accused. Included in 10/21 on the Orlando diocese's list. 
---
Return to main database page. See abbreviations and posting policy. Send corrections.
Our Database of Publicly Accused does not state or imply that individuals facing allegations are guilty of a crime or liable for civil claims. The reports contained in the database are merely allegations. The U.S. legal system presumes that a person accused of or charged with a crime is innocent until proven guilty. Similarly, individuals who may be defendants in civil actions are presumed not to be liable for such claims unless a plaintiff proves otherwise. Admissions of guilt or liability are not typically a part of civil or private settlements. For more information, see our posting policy.