Fr. Thomas W. Rogers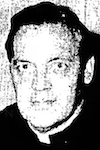 Ordained in Boston MA where he worked for a year, then for another year in KY as a "street preacher." Transferred to the Diocese of Greensburg PA when it was created in 1954. First named publicly as accused in the 8/14/18 PA Grand Jury Report. Included on the Greensburg diocese's list of credibly accused. Allegation in 8/62 of attempted sexual assault by Rogers of an adolescent boy near Lake Saranac in NY. Diocese of Ogdensburg NY notified Greensburg's Bishop Connare. Alleged victim told police in the Lake Saranac area that the attempted assault occurred after he was picked up hitch-hiking. The boy escaped and was able to give detailed information to police. The car was traced to Rogers, who was in the area visiting his mother. The boy's description of the man in the car matched Rogers "perfectly." Police confronted Rogers at a local church rectory; he denied the incident. The boy's father, "a good Catholic," was called to the rectory. He agreed not to press charges if Rogers stayed away from the area and admitted guilt. Police agreed. Rogers left town the same day. Rogers remained in parish ministry. Retired in 11/98. Removed from public ministry after review of file in 2002. Died in 2005.
---
Return to main database page. See abbreviations and posting policy. Send corrections.
Our Database of Publicly Accused does not state or imply that individuals facing allegations are guilty of a crime or liable for civil claims. The reports contained in the database are merely allegations. The U.S. legal system presumes that a person accused of or charged with a crime is innocent until proven guilty. Similarly, individuals who may be defendants in civil actions are presumed not to be liable for such claims unless a plaintiff proves otherwise. Admissions of guilt or liability are not typically a part of civil or private settlements. For more information, see our posting policy.