Fr. Edward F. Rupp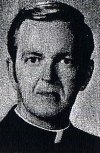 In a 1994 civil suit, a man claimed Rupp abused him several times as a teenager in the late 60s-early 70s, and that Rupp was an alcoholic who had committed sexual improprieties with other parishioners. Rupp had received counseling for alcoholism. He resigned from his assignment and was sent for evaluation and counseling after the allegation. The suit was dismissed by a court in 1998. The Vatican ordered permanent removal from active ministry as of 6/14/07, and sentenced him to a life of prayer and penance. Deceased, per the diocese's list 6/19. In 2020 another man came forward, alleging Rupp sexually abused him beginning when he was a 13-year-old altar boy at St. Ignatius of Antioch in the late 1970s. Rupp's accuser said he told another priest about the abuse, who told him not to tell anyone.
---
Return to main database page. See abbreviations and posting policy. Send corrections.
Our Database of Publicly Accused does not state or imply that individuals facing allegations are guilty of a crime or liable for civil claims. The reports contained in the database are merely allegations. The U.S. legal system presumes that a person accused of or charged with a crime is innocent until proven guilty. Similarly, individuals who may be defendants in civil actions are presumed not to be liable for such claims unless a plaintiff proves otherwise. Admissions of guilt or liability are not typically a part of civil or private settlements. For more information, see our posting policy.