Fr. Lawrence A. Sabatino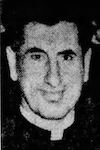 A Lewiston family told the bishop and police in 1958 that Sabatino had sexually abused their 6-year-old daughter. The bishop transferred him to St. Peter's parish. At least 13 women had come forward as of 2005 to allege that he abused them as children, at ages ranging from 6-17. During much of his time at St. Peter's, Sabatino was supervised by another priest, J. Romani, who has also been accused of abuse. Sabatino died in 1990. A woman filed suit in 12/2022 against the diocese, claiming Sabatino sexually abused her beginning when she was age 7 in 1964. She said the priest would play hide-and-seek with her and other girls in the church basement, pick one girl to hide with, then sexually abuse that child. In 3/2023 six women filed lawsuits claiming abuse by Sabatino as girls, ages 5-11, during 1958-1967.
---
Return to main database page. See abbreviations and posting policy. Send corrections.
Our Database of Publicly Accused does not state or imply that individuals facing allegations are guilty of a crime or liable for civil claims. The reports contained in the database are merely allegations. The U.S. legal system presumes that a person accused of or charged with a crime is innocent until proven guilty. Similarly, individuals who may be defendants in civil actions are presumed not to be liable for such claims unless a plaintiff proves otherwise. Admissions of guilt or liability are not typically a part of civil or private settlements. For more information, see our posting policy.