Fr. William Q. Simms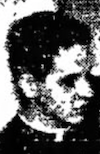 Banned from St. Mark's Summer Camp as a seminarian in the 1950s for "some form of sexual problem." Ordained in 1962. Removed from parish work in 1985 after complaints of inappropriate behavior with altar boys. Two separate civil suits filed in 1988 accused Simms of forcing altar boys to dress in skimpy, sexually provocative briefs, act out religious fantasies and wrestle with him. One suit claimed abuse in 1982, the other in 1984-1985. Both cases settled in 1989 or 1990. Police investigated in 1985 but agreed not to press charges if Simms received counseling and was removed from contact with minors. Received treatment at St. Luke Institute. Assigned in 4/1986 to a hospital chaplaincy. Allowed to serve on the Archdiocesan Tribunal and to assist with weekend parish ministry. Parishioners were not informed of Simms' abuse history. In 1988 the Archdiocese acknowledged that Simms molested boys, saying there were "only two" victims. Report in 1994 of abuse of a 10-year-old altar boy in the 1970s at St. Ursula in Parkville. Report in 1997 of abuse of a boy at St. Joseph's in Cockeysville, where Simms was assigned 1966-1971. Criminally charged in 1997 by the State's Attorney's Office; the case was "stetted" in 1998. Report in 4/2002 of abuse of a 4th grade boy at St. Ursula's in the 1970s. In 5/2002 Cardinal Keeler asked Simms to retire from the Tribunal. In 11/2002 four brothers reported inappropriate behavior toward them by Simms when they were children in the 1980s, and that Simms sexually abused at least two of them. Report in 2016 of abuse of a boy in 1985, and that two priests sent in 1985 to interview the boy deemed the allegations unfounded because the boy was afraid and ran away, refusing the interview. By 2021 three more men reported abuse as children by Simms. Included in the 4/5/2023 MD Attorney General's Report. Died in 9/2005. 
---
Return to main database page. See abbreviations and posting policy. Send corrections.
Our Database of Publicly Accused does not state or imply that individuals facing allegations are guilty of a crime or liable for civil claims. The reports contained in the database are merely allegations. The U.S. legal system presumes that a person accused of or charged with a crime is innocent until proven guilty. Similarly, individuals who may be defendants in civil actions are presumed not to be liable for such claims unless a plaintiff proves otherwise. Admissions of guilt or liability are not typically a part of civil or private settlements. For more information, see our posting policy.