Fr. John C. Starostka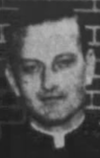 Starostka retired in 6/02 citing health problems. 'Administrative dismissal' announced 8/16/02. 'Information had been gathered that included an admission of past sexual abuse or misconduct or allegations that were established as credible.' Died 12/24/12. On the archdiocese's list 11/30/18. It notes reports received 2001 and 2002 of abuse 1972-74 and 2000. Per the NE Attorney General, Chancellor Rev. Michael Gutgsell was told by a man in 2000 that his two altar boy sons had been inappropriately touched repeatedly by Starstoka, and in 2002 a man told Gutgsell that he was repeatedly sodomized as an 11-year-old altar boy by Straostka. Neither case was reported to police until 2004.
---
Return to main database page. See abbreviations and posting policy. Send corrections.
Our Database of Publicly Accused does not state or imply that individuals facing allegations are guilty of a crime or liable for civil claims. The reports contained in the database are merely allegations. The U.S. legal system presumes that a person accused of or charged with a crime is innocent until proven guilty. Similarly, individuals who may be defendants in civil actions are presumed not to be liable for such claims unless a plaintiff proves otherwise. Admissions of guilt or liability are not typically a part of civil or private settlements. For more information, see our posting policy.