Fr. John C. Starostka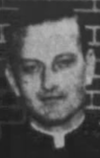 Starostka retired in 6/02 citing health problems. "Administrative dismissal" announced 8/16/02. "Information had been gathered that included an admission of past sexual abuse or misconduct or allegations that were established as credible." Died 12/24/12. On the archdiocese's list 11/30/18. It notes reports received 2001 and 2002 of abuse 1972-1974 and 2000. Per the NE Attorney General, Chancellor Rev. Michael Gutgsell was told by a man in 2000 that his two altar boy sons had recently been inappropriately touched repeatedly by Starstoka, and in 2002 a man told Gutgsell that he was repeatedly sodomized as an 11-year-old altar boy by Straostka. Neither case was reported to police until 2004. The A.G.'s 11/21 report shows that the man victimized in the early 1970s claimed he reported his abuse to the archdiocese in the early 1980s and again in the early 1990s, and was told both times they would get back to him; they didn't. The man said he spoke with a parish priest in 1996 – again no action. After he spoke with Gutsgsell in 2002, the man was told that Starostka admitted to the abuse. Starostka's file also shows indications of complaints of grooming behavior toward other children.
---
Return to main database page. See abbreviations and posting policy. Send corrections.
Our Database of Publicly Accused does not state or imply that individuals facing allegations are guilty of a crime or liable for civil claims. The reports contained in the database are merely allegations. The U.S. legal system presumes that a person accused of or charged with a crime is innocent until proven guilty. Similarly, individuals who may be defendants in civil actions are presumed not to be liable for such claims unless a plaintiff proves otherwise. Admissions of guilt or liability are not typically a part of civil or private settlements. For more information, see our posting policy.