Fr. James W. Stein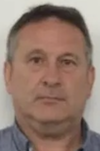 Pled no contest in 1991 to touching a man in a sauna. Charged 9/03 with 3 counts of felony second-degree sexual assault of a boy at Notre Dame Academy in Green Bay. Victim said that in 1988 Stein groped him several times in a swimming pool and hot tub at the Norbertine Abbey. Pled no contest 8/04. Sentenced to 1 year in jail (work release) and 10 years probation in 12/04. On WI Sex Offender Register 2/5/12. On Jackson diocese's list 3/19/19. On St. Norbert Abbey in WI list 7/19/19. In notes multiple allegations, and that he left the abbey and ministry. Accused by another man of abuse as a boy in 1989, including forced oral sex. He alleged abuse by two other Norbertines as well. The order agreed in 2009 to provide monthly payment to the man for counseling and medicine. They stopped payment in 5/19. The man died by suicide at age 45 in 3/20. Reportedly in 9/21, Stein was working at a Milwaukee-area restaurant as a dishwasher.
---
Return to main database page. See abbreviations and posting policy. Send corrections.
Our Database of Publicly Accused does not state or imply that individuals facing allegations are guilty of a crime or liable for civil claims. The reports contained in the database are merely allegations. The U.S. legal system presumes that a person accused of or charged with a crime is innocent until proven guilty. Similarly, individuals who may be defendants in civil actions are presumed not to be liable for such claims unless a plaintiff proves otherwise. Admissions of guilt or liability are not typically a part of civil or private settlements. For more information, see our posting policy.