Fr. James A. Viall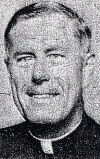 Placed on leave 7/02 for allegations of misconduct with minors. A former altar boy filed suit on 7/20/02. Another adult male came forward to allege abuse as an altar boy. One of the men said he was abused in mid-1950s; the other alleged abuse in the 1970s.As of 9/11/02, Child Protection Services found no evidence to support abuse allegations but Diocese continued its investigation. Retired 2005, still without privileges.On Leave of Absence until his death 7/18/18.
---
Return to main database page. See abbreviations and posting policy. Send corrections.
Our Database of Publicly Accused does not state or imply that individuals facing allegations are guilty of a crime or liable for civil claims. The reports contained in the database are merely allegations. The U.S. legal system presumes that a person accused of or charged with a crime is innocent until proven guilty. Similarly, individuals who may be defendants in civil actions are presumed not to be liable for such claims unless a plaintiff proves otherwise. Admissions of guilt or liability are not typically a part of civil or private settlements. For more information, see our posting policy.