Fr. Wayne E. Wigglesworth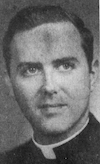 Worked in the Baltimore area 1960s-1980s. Met his wife when she was teenager at church. Married her when her family learned she was pregnant at 19. She found child porn on computer in 2007 and left him. He would visit her in rehab center (auto accident). Police warned him after he made improper calls to a 9-year-old boy he met there. Arrested in 8/09 in Chicago after caught in a car with a 15-year-old boy he met online. More child porn found. Pled guilty in 1/11. Sentenced in 8/12 to 10 years prison and 10 years probation.
---
Return to main database page. See abbreviations and posting policy. Send corrections.
Our Database of Publicly Accused does not state or imply that individuals facing allegations are guilty of a crime or liable for civil claims. The reports contained in the database are merely allegations. The U.S. legal system presumes that a person accused of or charged with a crime is innocent until proven guilty. Similarly, individuals who may be defendants in civil actions are presumed not to be liable for such claims unless a plaintiff proves otherwise. Admissions of guilt or liability are not typically a part of civil or private settlements. For more information, see our posting policy.