Fr. James C. Wolf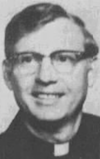 Accused in a civil suit along with Revs. Jim Buser and Gale Leifeld of molesting a student in the 1970s at a Capuchin run high school and after graduation. The plaintiff was a counselor for men abused by clergy and claimed his therapy in 1992 revealed flashbacks. Case tried in 1995. Jury decided it was not filed within the statute of limitations. Two of the priests admitted abusing other boys but not the plaintiff in this case. Included on the Capuchin Friars' list of those with substantiated allegations against them 8/19/21, which notes, "Retired/Restrict in Ministry" since 2005. Included in the MI A.G.'s 10/22 report; assigned 1963-1976 in the Marquette diocese. In 2008 a man reported to the Marquette diocese that Wolf sexually abused him over two years in the 1970s when he was ages 11-12. In 2011 a man alleged abuse by Wolf when he was 20 in 1971-72. 
---
Return to main database page. See abbreviations and posting policy. Send corrections.
Our Database of Publicly Accused does not state or imply that individuals facing allegations are guilty of a crime or liable for civil claims. The reports contained in the database are merely allegations. The U.S. legal system presumes that a person accused of or charged with a crime is innocent until proven guilty. Similarly, individuals who may be defendants in civil actions are presumed not to be liable for such claims unless a plaintiff proves otherwise. Admissions of guilt or liability are not typically a part of civil or private settlements. For more information, see our posting policy.