Assignment Record– Rev. Robert P. Beale
Summary of Case: Ordained for the Archdiocese of Boston in 1970, Robert Beale was assigned to parishes in West Bridgewater, Cambridge and Belmont MA. From 1982-2002 he was Assistant Director then Director of Our Lady's Hall in Milton, a rehabilitation center for priests with problems that included molestion of children. He was was also Chaplain for twenty years at the Norfolk County House of Corrections. Beale was placed on leave in July 2002 after an accusation emerged that he molested a minor in the 1970s. He was laicized in 2010.
Ordained: 1970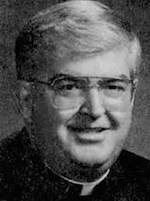 Start
Stop
Assignment
Town/Accusations
State
Position
Notes
1970
1975
St. Ann's
West Bridgewater
MA
2/2 ,2/3
1975
1979
St. Mary of the Annunciation
Cambridge
MA
Parish had a high school with 364-296 students.
1979
1980
St. Luke's

Belmont

• Beale was accused in 2002 of having molested a minor more than 25 years previously.

MA

3/3

In residence.

1980
1982
Assigned to Graduate Studies
The Directories do not list where Beale was in graduate studies, unlike the other priests for whom there is a graduate studies assignment listed under this heading in the Directories' diocesan pages.
1982
1983
Awaiting Assignment
1982
2002
Our Lady's Hall
Milton
MA
Assistant Director, Director

St. Pius V had a school with 287-230 students.

The Directories do not index Beale as being at Our Lady's Hall, but his name does appear in the Directories' Boston diocesan pages as there. Our Lady's Hall was a "retreat for priests with alcohol, depression and sexual abuse problems".

He was a member of "The Singing Priests" while here.

Beale was placed on administrative leave in 2002.

1987
2007
Norfolk County Prison/House of Correction
Dedham
MA
Chaplain

Beale is listed in the 2007 Directory at the prison, despite having been suspended in 2002. He also appears under Retired Priests, and Senior Priests.

Beale was defrocked in 2010. His last known addresses were in Quincy and Stoughton MA.

Sources: Official Catholic Directory (New York: Kenedy & Sons, 1971-2007).
• Spotlight Follow-Up, Treatment Center for Priest Called Site of Abuse, By Sacha Pfeiffer, Boston Globe,
March 20, 2002
• Director of Rehab Center for Priests Suspended over Sex Abuse Allegation, Associated Press, July 18, 2002
• Director of Milton Rehabilitation Center Faces Abuse Charge, By Matt Carroll, The Globe, July 18, 2002
• Many Suspended Priests Live - and Work - Quietly near Their Former South Shore Parishes, By Elizabeth Crowley and Lane Lambert, The Patriot Ledger, October 20, 2008
• Archdiocese of Boston Announces Robert P. Beale Is No Longer in the Clerical State, By Kelly Lynch, Roman Catholic Archdiocese of Boston , August 20 2010
• Boston Archdiocese Defrocks 2 Priests, By Lane Lambert, Patriot Ledger , August 21 2010
• 2 Accused of Sexually Abusing Minors Have Left Priesthood, By Johanna Seltz, Boston Globe, August 24 2010
• Two Boston Priests Laicized, The Pilot, August 27, 2010
• Boston Archdiocese Posts Sex-Abuse Database Online, By Joan Frawley Desmond, National Catholic Register, August 25, 2011

Priests in a Parish: We use the following convention to show a priest's place among the clergy of a parish: 1/2 means that he is the first priest listed in the Official Catholic Directory (usually the pastor) and that there is a total of two priests at the parish. The shorthand 3/4 means that the priest is listed third on a four-priest roster. See our sample page from the Directory.

Note: The Official Catholic Directory aims to report the whereabouts of Catholic priests in the United States on January 1 of the Directory's publication year. Our working assumption is that a priest listed in the Directory for a given y (Associated Press
July 18, 2002)ear was at the same assignment for part of the previous year as well. However, Kenedy & Sons will sometimes accept updates well into the year of publication. Diocesan clergy records are rarely available to correct this information. The Directory is also sometimes misleading or wrong. We have tried to create an accurate assignment record, given the source materials and their limitations. Assignment records are a work in progress and we are always improving the records that we post. Please email us with new information and corrections.
This assignment record collates Beale' career history as it is represented in the Official Catholic Directory with allegations as reported in the media. We make no representation regarding the truth of the allegation we report, and we remind our readers that the U.S. legal system presumes that a person accused of or charged with a crime is innocent until proven guilty. Similarly, individuals who may be defendants in civil actions are presumed not to be liable for such claims unless a plaintiff proves otherwise. Admissions of guilt or liability are not typically a part of civil or private settlements. For more information, see our posting policy.

This assignment record was last updated August 31, 2015.