Assignment Record– Rev. William L. Butler
Summary of Case: Butler was placed on leave in August 2002 after an accusation emerged that he molested a 13-year-old boy in 1966 during a trip to Butler's family property in Canada. Butler denied the charges, saying he never took trip with the boy. In September 2015 Butler remained on leave, the canonical proceedings against him "not yet resolved," per the archdiocesan website. He died December 17, 2017.
Born: 1934
Ordained: 1961
Died: December 17, 2017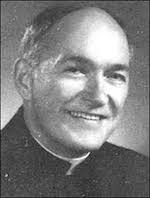 Start
Stop
Assignment
Town/Accusations
State
Position
Notes

2/14/61

Boston archbishop was Richard James Cushing (1944-1970).

2/2/62
St. Benedict's
Somerville
MA
Parish had a school with 375 boys and 420 girls.
2/14/62
6/6/66
St. Thomas Aquinas
Boston (Jamaica Plain)
MA
5/5

Parish had an elementary school with 379-309 boys and a high school with 113-78 boys and 259-233 girls.

6/7/66
4/27/67
St. Mary of the Assumption

Hull

• Accused in 2002 of having molested a 13-year-old boy in 1966 in Canada, where the priest had a family home. The boy was a St. Mary's parishioner.

MA
6/7/66
4/27/67
St. Ann's
Waveland
MA
St. Ann's was a mission of St. Mary's in Hull.
6/7/66
4/27/67
St. Mary of the Bay
Pemberton
MA
St. Mary of the Bay was a mission of St. Mary's in Hull.
4/28/67
3/14/69
St. Patrick's Manor
Boston
MA
Chaplain
This was a home for the Carmelite Sisters "aged and infirm".

1969

Cushing was replaced by Humberto Sousa Medeiros (1970-1983).

1973

Butler is indexed in the Directories as at 49 Franklin St. Diocesan offices were housed at this address, but Butler's name is not listed here in the diocesan pages.

3/15/69
6/3/69
Sacred Heart
Malden
MA
Technical Assistant, In residence
This assignment is per the archdiocesan website.
6/4/69
2/28/76
St. John the Evangelist
Cambridge
MA
Technical Assistant, In residence
This assignment is per the archdiocesan website.
1973
1980
Archdiocesan Commission for Parish Councils
Boston
MA
Executive Director
1974
1985
Councils of Catholic Men and Women
Boston

3/1/76

Medeiros was replaced by Bernard Francis Law (1984-2002).

10/31/86
Sacred Heart
Medford
MA
2/3, 2/2
11/1/86
12/29/86
Immaculate Conception
Salem
MA
Parochial Vicar Temp
This assignment is per the archdiocesan website.

12/30/86

Following Law as archbishop was Sean Patrick O'Malley (2003- ).

8/26/02
St. Mary of the Assumption
Revere
MA
1/1, 1/2

Butler was suspended from ministry in August 2002, due to an allegation he had molested a boy in 1966.

Butler continues to be listed in the 2003, 2004 and 2005 Directories as at St. Mary's. A second priest is listed at this parish in the same Directories, and is noted to be the Administrator.

8/29/02
2015
Unassigned

Sources: Official Catholic Directory (New York: Kenedy & Sons, 1961-2008).
• An Accused Priest Speaks Out, By Sacha Pfeiffer, Boston Globe, September 1, 2002
• 14 JP Priests on Sex Abuser List, By John Ruch, Jamaica Plain Gazette, September 9, 2011
• Crisis in the Church / Additional Local Charges, 2 More Priests Suspended after Abuse Allegations, By Matt Carroll and Sacha Pfeiffer, Boston Globe, August 28, 2002
• 3 Former S. Shore Priests Charged with Abuse, By Don Conkey and Sue Reinert, The Patriot Ledger, (Quincy, MA), August 28, 2002
• The Accused, USA Today, November 11, 2002
• Many Suspended Priests Live - and Work - Quietly near Their Former South Shore Parishes, By Elizabeth Crowley and Lane Lambert, The Patriot Ledger, October 20, 2008• North Shore Priests on List, Salem News, August 26, 2011
• Boston Archdiocese: 15 Accused Priests Had Worked in Somerville Parishes, By Andy Metzger,
Wicked Local Somerville, August 30, 2011
• Publication With Respect to Archdiocesan Clergy Accused of Sexual Abuse of a Child, bostoncatholic.org, accessed September 8, 2015


Priests in a Parish: We use the following convention to show a priest's place among the clergy of a parish: 1/2 means that he is the first priest listed in the Official Catholic Directory (usually the pastor) and that there is a total of two priests at the parish. The shorthand 3/4 means that the priest is listed third on a four-priest roster. See our sample page from the Directory.

Note: The Official Catholic Directory aims to report the whereabouts of Catholic priests in the United States on January 1 of the Directory's publication year. Our working assumption is that a priest listed in the Directory for a given year was at the same assignment for part of the previous year as well. However, Kenedy & Sons will sometimes accept updates well into the year of publication. Diocesan clergy records are rarely available to correct this information. The Directory is also sometimes misleading or wrong. We have tried to create an accurate assignment record, given the source materials and their limitations. Assignment records are a work in progress and we are always improving the records that we post. Please email us with new information and corrections.

This assignment record collates Butler's career history as it is represented in the Official Catholic Directory with allegations as reported in the media. We make no representation regarding the truth of the allegation we report, and we remind our readers that the U.S. legal system presumes that a person accused of or charged with a crime is innocent until proven guilty. Similarly, individuals who may be defendants in civil actions are presumed not to be liable for such claims unless a plaintiff proves otherwise. Admissions of guilt or liability are not typically a part of civil or private settlements. For more information, see our posting policy.

This assignment record was last updated on September 7, 2020.