Assignment Record– Rev. James J. Gildea, c.s.c.
Summary of Case: A priest of the Holy Cross Fathers, James Gildea was ordained in 1957. Gildea's career was spent as a teacher and guidance counselor at Notre Dame high schools in Bridgeport and Fairlfield CT. He died in 1986. In 1991 a former student told the diocese Gildea sexually abused him during his high school years in the 1970s, beginning when he was 13 years-old. The diocese settled with the man in 2006. Another man was offered a settlement by the diocese after he reported sexual abuse by Gildea beginning in the late 1950s when the man was 7 or 8 years-old, and continuing for two years when the man was a high school student of Gildea's. One of the plaintiff's attorneys said she knew of a third Gildea victim.
Ordained: 1957
Died: July 5, 1986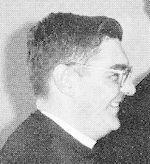 Start
Stop
Assignment
Town/Accusations
State
Position
Notes

1957

Bridgeport Bishop was Lawrence J. Shehan (1953-1961), followed by Walter W. Curtis (1961-1988).

1964
Notre Dame High School

Bridgeport

• In 2006 a man acknowledged publically that he had received a settlement in 2002 from the diocese for his claim that Gildea sexually abused him as a boy. Per the man, he was one of 10 children in a family whose parents became actively involved with Notre Dame. He said that when he was 7 or 8 years-old Gildea began to abuse him. He told of Gildea taking him to the Holy Cross Fathers' swimming pool, taking his swim trunks off and keeping them, leaving the boy standing there shivering. The man said the abuse continued when he became a Notre Dame Boys' High School freshman in 1964.

Gildea was a teacher and guidance couselor.

School had 460-1,045 students, all male.

Notre Dame moved to Fairfield in 1964.

1964
1973
Notre Dame Boys High School

Fairfield

• The man who alleged his sexual abuse by Gildea began when he was 7 or 8 years old said the abuse continued when the man entered Notre Dame Boys High School in 1964. The man said Gildea would grab him and push him to the floor. He said the abuse went on for two years.

CT
School had 830-506 students, all male.
1973
1978
Notre Dame Catholic High School

Fairfield

• A former Notre Dame student went to the diocese in 1991 with a complaint that he had been sexually abused by Gildea in the late 1970s, beginning when the former student was 13 years-old. He said Gildea would take him on overnight trips to visit the priest's sick mother in Wilkes-Barre and that the priest would initiate the abuse by "wrestling" with him. He said Gildea warned him that, as his guidance counselor, he had control over whether he went to college. The diocese settled with the former student in 2006. His attorney said she knew of a third victim.

CT
teacher; guidance counselor

School had 1,066-1,056 students, male and female.

Notre Dame Boys High School merged with Notre Dame Girls High School in 1973.

1978
1981
Gildea is not indexed in the 1989-1981 Directories.
1981
1986
Holy Cross Fathers Provincial House
Bridgeport
CT
Died July 5, 1986.

Sources: Official Catholic Directory (New York: Kenedy & Sons, 1957-1986).

• Diocese Settles School Sex Assault Claim, By Daniel Tepfer, The Connecticut Post,
August 1, 2006
• Bridgeport Diocese Settles Sexual Abuse Claim, NBC 30, August 1, 2006
• Broken Life Blamed on Abuse by Priest, By Daniel Tepfer, Connecticut Post Online, August 4, 2006
• Timeline of Cases, Tremont Sheldon Robinson Mahoney, tremontsheldon.com, accessed March 10, 2015
Priests in a Parish: We use the following convention to show a priest's place among the clergy of a parish: 1/2 means that he is the first priest listed in the Official Catholic Directory (usually the pastor) and that there is a total of two priests at the parish. The shorthand 3/4 means that the priest is listed third on a four-priest roster. See our sample page from the Directory.

Note: The Official Catholic Directory aims to report the whereabouts of Catholic priests in the United States on January 1 of the Directory's publication year. Our working assumption is that a priest listed in the Directory for a given year was at the same assignment for part of the previous year as well. However, Kenedy & Sons will sometimes accept updates well into the year of publication. Diocesan clergy records are rarely available to correct this information. The Directory is also sometimes misleading or wrong. We have tried to create an accurate assignment record, given the source materials and their limitations. Assignment records are a work in progress and we are always improving the records that we post. Please email us with new information and corrections.

This assignment record collates Gildea's career history as it is represented in the Official Catholic Directory with allegations as reported in the media. We make no representation regarding the truth of the allegation we report, and we remind our readers that the U.S. legal system presumes that a person accused of or charged with a crime is innocent until proven guilty. Similarly, individuals who may be defendants in civil actions are presumed not to be liable for such claims unless a plaintiff proves otherwise. Admissions of guilt or liability are not typically a part of civil or private settlements. For more information, see our posting policy.

This assignment history was last updated March 16, 2015.