Pope Defrocks Tucson Priests
Diocese suspended both; same penalty sought for 2 more

By Scott Simonson and Tom Beal
Arizona Daily Star
August 6, 2004

Pope John Paul II has defrocked two priests suspended by the Roman Catholic Diocese of Tucson because of sexual-misconduct allegations, and the diocese is seeking the same punishment for two other priests, it announced Thursday.

Robert C. Trupia and Michael Teta have undergone what the church calls laicization, which means they will no longer be paid by the diocese, cannot identify themselves with a church title and cannot wear clerical garb.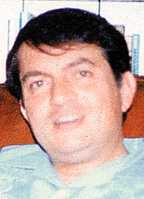 Robert C. Trupia
The diocese also has started the process to laicize priests Juan Guillen and Julian Sanz, according to Fred Allison, diocese spokesman.

Bishop Gerald F. Kicanas called laicization "the harshest permanent penalty that can be imposed upon a priest."

Plaintiffs in abuse suits called the news regarding Trupia and Teta long overdue. They said the decision eases but doesn't end suffering and won't stop claims for compensation.

The Vatican's decision arrived as the diocese faces 20 pending lawsuits involving alleged clergy sexual abuse.

The diocese also is considering filing for Chapter 11 bankruptcy protection because of mounting legal costs associated with the sexual-abuse cases.

Allison said he was unsure whether the laicizations would affect the lawsuits and said no decision has been made on whether to declare bankruptcy.

An adjunct law professor at the University of Arizona said the decision to defrock may not even be admissible in civil cases.

At the same time, two local priests expressed condemnation of Trupia's and Teta's actions and confidence that the church is addressing the problem.

The removal of Trupia and Teta is unprecedented in diocese history, Allison added.

"I hope," Kicanas said, "out of all of this, that those who have been harmed will experience another step in healing by the decision that was made by the Holy Father."

Trupia, 57, was laicized because of the allegations of sexual misconduct with minors. Lawsuits that already have been litigated provided grounds for Trupia's removal, Kicanas said.

Teta, 57, was laicized for sexual misconduct with an adult, Kicanas said.

The mother of a former altar boy at Our Mother of Sorrows who said her son was molested by Trupia during the summer of 1979 or 1980 said she was pleased with the decision.

"It's a long time coming, however, and we still have great concerns," the woman said Thursday. "Trupia's still out there. He's never been held accountable for his crimes."

The woman and her son filed a lawsuit against the Diocese of Tucson and the Archdiocese of Santa Fe early this year, alleging they had been lied to after she wrote letters to Santa Fe and to former Bishop Manuel D. Moreno of Tucson in 1992 and 1993.

The Star is not naming the woman to avoid identifying her son. The Star is not identifying the son because he is a possible victim of sexual abuse and wishes to remain anonymous.

The woman, no longer Catholic, said the incident "destroyed my faith."

"He (Trupia) came to dinner, was a welcome guest at my home. He was a monsignor. We thought we were so lucky to have him befriend my son."

Trupia received an average of $11,600 in annual financial support from the diocese and Teta received an average of $7,400, Allison said, citing diocese records from 1993 to 2002.

The diocese suspended Trupia in 1992 and later said he was a "notorious and serial" sexual predator.

Trupia and Teta were among four priests involved in civil suits settled by the diocese in 2002. The lawsuits, which involved 10 men, resulted in a $14 million settlement.

Trupia was charged in Yuma in January 2001 with seven counts of child molestation. He was briefly jailed, but charges were dropped after his lawyer successfully argued that the five-year statute of limitations on sex crimes committed before 1978 had expired.

That limit was lengthened to seven years in 1978 and dropped completely in August 2001.

Prosecutors in Pima County investigated Trupia and Teta after the January 2001 settlement in civil court but have not filed charges. The person in charge of that investigation, Kathleen Mayer, is on vacation and unavailable for comment.

The diocese suspended Teta in 1991, and in 2002 said he was the subject of credible accusations of child sexual abuse.

He is not named in current lawsuits, Allison said.

As with Trupia's case, the cases of Guillen and Sanz involve sexual misconduct with children.

Guillen, a former Yuma pastor, pleaded guilty to charges of attempted child molestation in July 2003. He was sentenced to at least 8 1/2 years in prison.

Sanz, a former Douglas pastor, pleaded guilty to attempted child molestation in October 2003. He was sentenced to five years in prison.

The first of the cases against the diocese is scheduled to go to trial in September.

Ronald J. Lehner, 46, whose case is scheduled for October and who agreed to talk openly, said Trupia's defrocking "has been a long time coming."

Lehner is suing the Diocese of Tucson, saying he has recovered memory of being abused by Trupia in the 1970s.

"It's an important step for the church to do right by the victims and hopefully they will continue to do right by bringing closure to these painful episodes in our lives," Lehner said. "Robert Trupia befriended me, he mentored me and he abused me."

The decision to defrock might not be admissible in the upcoming civil suits, said Ted Schmidt, an adjunct professor at the UA law school and a civil-trial lawyer.

That's because the church's standards for facts and liability don't necessarily match the court's standards, he said.

However, evidence compiled by the diocese in its investigations could become valuable information for plaintiffs, Schmidt said. News of defrockings also may affect lawsuits.

"It's going to be hard to find a jury that doesn't know about this," he said. "People are going to be influenced."

Local priests expressed support for the decision and for the victims Thursday.

The current pastor of Our Mother of Sorrows, Monsignor Thomas Cahalane, said that "my heart aches for the victims of abuse, their parents and families, and also for the pain of the mothers of the two men."

The Rev. Raul Trevizo of St. John's Catholic Church said the removal keeps with the charter that U.S. bishops approved two years ago.

"It shows they're serious about confronting the problem," Trevizo said. "I'm not pleased by what those men did. I'm saddened by it. But I'm pleased the charter does work."

The Rev. Gonzalo Villegas of Our Lady Queen of All Saints, 2915 E. 36th St., said he's glad the church took strong action.

"These victims have suffered a lot for what those creeps did," Villegas said. "A lot of people have been upset, after all these two did, that they were still collecting their salary, so this takes care of that.

"I'm glad it's over so now we can start to move on," he said.

Local parishioner Dan Valenzuela, 52, said he's sure the priests are sorry but thinks they deserved to be taken out of the church.

"They had, and still have, a deep heart to serve God," Valenzuela said.

"This will make things better for the Catholic Church."

Ana Acuna, 37, said of Trupia and Teta: "Just as much as they are subject to the laws of the church, they are subject to state and federal laws."

Kicanas said the pope's decision to remove Trupia and Teta cannot be appealed.

The laicization process can take a long time, the bishop said, because the men have the right to defend themselves. The cases also must be built as accurately as possible, Kicanas said.

"The greatest care and deliberation has to take place," he said, "so that when the Holy Father decides on the case, he has as thorough a review of the situation as possible."

Diocese spokesman Allison said he could not provide information on where Teta or Trupia live. Kicanas said he informed both men of the decision.

Diocese of Tucson sexual abuse case timeline

Research by Marlene Dekker

• 1990, 1991: The Catholic Diocese of Tucson relieves the Rev. Michael Teta and Monsignor Robert C. Trupia of ministerial duties.

• 1992: The diocese begins the process of laicizing Trupia and tries to defrock him. The local diocese also tries to defrock Teta, who lives in Tucson. Teta and Trupia continue to receive monthly pay from the diocese.

• Jan. 8, 2001: Trupia is arrested in Yuma on seven felony counts of child molestation, but the charges are dropped the next day because they violated the criminal statute of limitations.

• Oct. 6: For the first time, the diocese acknowledges publicly that it suspended Teta and Trupia in the early 1990s.

• Jan. 30, 2002: The diocese reaches an out-of-court settlement of $14 million with 10 men who said they were sexually abused by local priests in the 1960s, '70s and '80s. Churches named in civil suits filed by the men included Our Mother of Sorrows church and school in Tucson.

• Feb. 21: The diocese turns over Trupia's name to the Pima County prosecutor who oversees sex crimes.

• June 21: The diocese releases the names of 15 priests who have had "credible" accusations of child sexual abuse lodged against them, including Teta and Trupia.

• February 2003: Trupia is reportedly living in Maryland and continues to receive a monthly payment from the diocese.

• 2004: The Diocese of Tucson asks the Vatican to permanently remove two of those accused of molesting from the priesthood - Trupia and Teta.

• August 2004: Bishop Gerald F. Kicanas announces the two priests have been defrocked by the Vatican.

Contact reporter Scott Simonson at 573-4104 or at simonson@azstarnet.com.
Contact reporter Tom Beal at 573-4158 or tombeal@azstarnet.com.
Star reporters Joe Burchell, Becky Pallack and Mary Vandeveire contributed to this story.