Settling Things Quietly
In newly unsealed court documents, S.F.'s archbishop makes an eyebrow-raising comment in the case of a pedo-priest
[See below for links to other articles by Russell.]

By Ron Russell
ron.russell@sfweekly.com
SF Weekly
January 14, 2004

http://www.sfweekly.com/issues/2004-01-14/bayview.html/1/index.html

As part of a secret settlement with a whistle-blower priest authorized by San Francisco Archbishop William J. Levada more than a year ago, the church acknowledged, however grudgingly, that Father John Conley had acted properly in reporting to police a fellow cleric whom he had suspected of sexually abusing an altar boy. [See Ron Russell, See No Evil (5/21/03) for an in-depth discussion of the case.]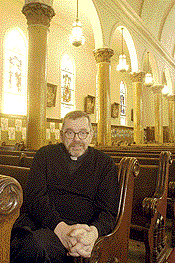 Father John Conley (Photo by Anthony Pidgeon)


"The archdiocese and Father Conley have agreed that Father Conley was right in what he did in reporting the incident to police," read a church statement issued in December 2002. It coincided with the settlement of a lawsuit in which Conley claimed Levada unfairly removed him from active [continued below]



ministry for accusing the pastor of a Burlingame church, Father James Aylward, of misconduct. "As subsequent revelations confirmed," the statement concluded, "Father Conley's instincts regarding the matter [were] correct.

"But newly unsealed court documents show that long after Aylward admitted having touched boys for sexual gratification, Archbishop Levada expressed misgivings about Conley's role and said that under the same circumstances he – Levada – would not have reported Aylward to police as Conley had done.

"Based upon what [Conley] related to you [about] what he saw, had you seen the same thing that he claims to have seen, would you have reported it to police?" Levada was asked under oath while being deposed by an attorney for Conley in October 2002.

"I don't think so," the archbishop replied. Levada said that based on the information provided by Conley, he and his aides "drew legitimate conclusions that the incident was not an incident involving sexual abuse." Asked the question a second time, he responded, "I thought I said 'no' to that question."

Following Conley's accusations, Levada ordered the priest not to refer to Aylward as a "pedophile" and not to mention the matter to nuns assigned to St. Catherine's Parish, where Aylward was pastor and Conley served as an associate priest. Levada quietly transferred Aylward to a parish in Mill Valley. The pastor was later ushered into retirement after – to the humiliation of archdiocese officials who had defended him while vilifying Conley – he admitted sexual misconduct.

The archbishop's newly disclosed comments – sealed under a confidentiality agreement until two weeks ago – are bound to fuel the ire of those who've long criticized Levada for working to keep priestly sex abuse within the 425,000-member archdiocese shrouded in secrecy. At the very least, they raise questions about how the archdiocese could have favorably portrayed Conley's decision to report Aylward to police in its statement accompanying the legal settlement. "Given the influential role [Levada] has assumed within the church on the abuse issue, he appears to have a high tolerance for alleged sexual misconduct involving his priests," says Michael Guta, the attorney for Conley who deposed the archbishop. "I found it disturbing then, and I find it disturbing now."

Maurice Healy, a spokesman for Levada, insists that the archbishop "clearly believed that reporting the incident to the police was the right thing for [Conley] to do" and that he never tried to dissuade him. As for Levada's remarks that he would not have reported the incident, Healy says that the archbishop "is saying that if he saw wrestling of the nature described and had gotten the firm answer from the youth that it was wrestling, he would have been inclined to accept that explanation – at least without confronting Aylward or obtaining corroborative facts that might cause him to suspect abuse."

It was Levada's call for fellow bishops to do more to root out priestly sex abusers during a momentous bishops' conference in Dallas in the summer of 2002 that catapulted him to the front ranks of the Catholic hierarchy on the issue. Pope John Paul II chose him as one of four U.S. church leaders to work with the Vatican in crafting a compromise sex-abuse policy, a watered-down version of which the pope approved that December.

Levada was deposed in the Conley case as his role in crafting the ostensibly more open policy was at its zenith and only weeks before he ordered that the nettlesome case be settled under a cloak of secrecy. Terms of the settlement remain secret, with the church confirming only that it has "pre-funded" Conley's retirement.

Sources familiar with the matter say that in addition to a substantial lump-sum payment, the settlement entitles Conley, who retains his privileges as a priest, to receive annuity payments for life. In addition, the archdiocese has installed him for life in a two-bedroom flat on a Noe Valley hilltop with sweeping views of the city.

The Conley case stems from an incident in which he unexpectedly walked in on Aylward engaging in what Conley suspected was inappropriate contact with a 15-year-old altar boy inside the darkened church the night of Nov. 6, 1997. Conley subsequently reported what he had seen to his superiors, including Levada. But it was Conley who was soon forced out of active ministry for reasons archdiocese officials insist were unrelated to his whistle-blowing.

Aylward later admitted touching several boys for sexual gratification in various parishes in which he had served over the years, and the archdiocese shelled out $750,000 to settle a lawsuit brought by the altar boy's parents. Conley, who had been stripped of his priestly privileges and banished to a San Mateo County church retreat, then sued the archdiocese, contending that his career had been unfairly ruined because of his whistle-blowing.

A former federal prosecutor in Michigan before he realized his lifelong dream of becoming a priest, Conley first told former Auxiliary Bishop Patrick J. McGrath (now bishop of San Jose) what he had seen. In court documents, Conley says that McGrath, while not directly discouraging him from going to police, as required by law, asked him, "Are you sure you really want to do this?," adding that "prior to this we've always handled these things in-house." (McGrath has declined to comment on the matter.)

According to his testimony, Conley arrived back at the church about 8 p.m. after teaching a class and heard a suspicious noise in a darkened hallway. He pushed open a door and, he says, spotted the altar boy, one of several youths Aylward had recruited as volunteers to answer phones and greet people upon entering the church. In his deposition, Conley said the boy was kneeling in the dark and was "panting" and out of breath.

"I said, 'Hey, what's going on? What's happening? Are you wrestling?'" Conley testified.

"Yeah, yeah, wrestling," the boy replied, according to Conley.

"I said, 'Who is that in there with you?'"

After hesitating, the boy answered, "Father Aylward." Conley says he then saw a hand reach from the floor and turn a doorknob on the other side of the hallway and that Aylward crawled away.

In settling the case, Levada avoided the public airing of a matter that could have been deeply embarrassing to the archbishop and some of his top lieutenants at a time when he had assumed a key role in shaping church sex-abuse policy.

Conley was castigated by archdiocese officials who rallied behind Aylward. As court documents show, Aylward supplied a negative report to Levada about Conley, which the archbishop acknowledged played a role in his removing Conley from active ministry. Levada's spokesman, Healy, accused Conley of conducting a "witch hunt." That was before Aylward's unexpected admission – in May 2000 during a deposition in the lawsuit brought by the altar boy's parents – that he had wrestled with altar boys for years, at times becoming aroused enough to ejaculate.

Back to home page.