HELP BUILD OUR PHOTO ARCHIVE
Photographs are an essential part of the priest database. Our goal is to offer several photographs of each accused priest, at various stages of his career. These photographs are an important resource for survivors who were victimized by visiting priests or were abused at such an early age that they don't remember the priest's full name. Photographs also make a list of offenders more immediate and less theoretical. Often a picture will convey the personality of the priest and his relationship with his victims, as is the case in this photograph of William C. Poepperling.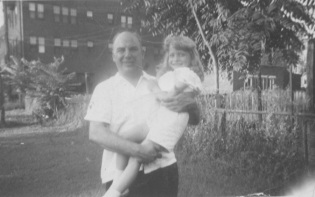 We are grateful to the survivor who provided this photograph to us, and we hope you will consider sending us photographs too – whether you are a survivor of clerical abuse or a collector of clippings, diocesan newspapers, and other sources. Please email us at staff@bishop-accountability.org about photos you might have.
SUBSCRIBE TO OUR NEWSLETTER
If you are not yet on the mailing list for our newsletter, please sign up to begin receiving it.
DONATE YOUR DOCUMENTS AND CLIPPINGS
Everyone who visits the BishopAccountability.org site probably has a collection of clippings about the crisis in a folder at home, or some important articles stored on the computer, or documents about abuse. These are precious pieces of the puzzle. You might be the only person in the country who has kept a clipping with a photograph of an accused priest. Or the article might be unavailable on the Internet, or just available in text-only form. For example, Jay Nelson donated an archive that contained many important documents, including an article on accused priest Eugene G. Emo, with a map and detailed assignment record.
However large or small your collection is, consider donating it to us, or arranging with us for a copy to be made. Please email us at staff@bishop-accountability.org to discuss the possibilities.
DONATE

BishopAccountability.org has ambitious plans to post all publicly available documents that are relevant to the Catholic abuse crisis. Your support will help us complete this important work. Please see a selection of endorsements by law enforcement, scholars, and experts in the field of clergy sex abuse.

A direct donation would be much appreciated, for any amount that is feasible for you. We ask you to be as generous as possible. You can give conveniently through Network for Good by clicking this link or by using the Donate Now button below, or make your check payable to BishopAccountability.org, Inc. and mail it to:

BishopAccountability.org, Inc.
P.O. Box 541375
Waltham, MA 02454-1375
Donations are tax-deductible. Thank you!

How will your gift be spent?
One hundred percent of your donation will go toward building this document collection and making it more accessible to the public.
Your donation will fund necessary activities, including the copying of legal and diocesan documents, the purchase of resources and equipment for our research staff, data entry for difficult-to-scan items, and technical work on our Web site.
Our donations policy
Furthering the accountability of bishops through the posting of a complete public record of this crisis is our sole mission. We gratefully accept donations from any individual, foundation, or corporation that supports this work. However, we will not cooperate with any donor to further any additional agenda or special interest. In particular, no donor shall in any way influence what we post so as to secure financial or business advantage. We enforce this policy to ensure the integrity, credibility, and usefulness of the archive.
VOLUNTEER: BECOME A CORRESPONDENT
We are building a network of correspondents with the interest and knowledge to keep us apprised of developments at the diocesan level. Please email us at staff@bishop-accountability.org if you are interested in participating in this program.
VOLUNTEER: RESEARCH PRIESTS' ASSIGNMENTS
In the next year, we will be automating our assignment record project and scaling it up to increase our online collection by a factor of ten. Already we have posted hundreds of records.