Archdiocese of Portland's Bankruptcy Filing Turns Eyes to Vatican
By Janet I. Tu
Seattle Times
July 13, 2004

http://seattletimes.nwsource.com/html/localnews/2001978176_vatican13m.html

When the Archdiocese of Portland filed for bankruptcy a week ago today, many were stunned — then perplexed.
How could the Vatican allow such a move?
And with its vast holdings of priceless art and property, why couldn't the Vatican simply bail out the archdiocese?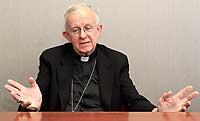 Portland Archbishop John Vlazny talks about sex-abuse victims' suffering and need for reconciliation. His archdiocese was the first in the nation to file for bankruptcy, citing the $53 million it had already paid out to victims of priest sex abuse.
The answers are rooted in history and based largely on practicality: While the Vatican seeks strict control over theology, liturgy and key personnel issues in its 3,000-plus dioceses worldwide, it has largely stayed out of their financial workings.
That's not to say Portland's Archbishop John Vlazny didn't consult with the Vatican before taking so drastic a measure last Tuesday, when he announced the archdiocese was filing for Chapter 11 bankruptcy. Vlazny did talk with Vatican officials, his spokesman said.
But whether the archbishop specifically asked for and received approval is unclear. Some experts say they doubt Vlazny would've taken such a step without Rome's permission. But Time magazine this week reports the Holy See was stunned by Vlazny's decision.
Vlazny announced he was filing for bankruptcy because the archdiocese had already paid out $53 million to settle 133 claims of sex abuse by priests, and seeking bankruptcy protection was the only way to make sure plaintiffs in pending lawsuits would receive any compensation.
Regardless of whether Vlazny had the Vatican's go-ahead, canon — or church — law has generally given bishops substantial autonomy.
History of autonomy
From the earliest days, when the apostles established churches in different communities, churches developed as independent entities.
Great importance was placed on the authority of local bishops, whom the church regards as being in a direct line from the apostles.
"The bishop is not simply the branch manager of a McDonald's," said the Rev. Thomas Reese, a Jesuit and editor of America, a national Catholic weekly magazine. "He is the vicar of Christ for the diocese and his people."
In the Middle Ages, local churches enjoyed considerable financial independence from the Vatican, as many were founded with property and assets belonging to wealthy local landowners. Those landowners and other secular leaders — and not the pope — were often in control of those properties and assets.
Moreover, "If you're in London and the pope's in Rome, it would take six months to send him a letter, let alone work out financial things," Reese said.
Other practical realities have since come into play.
As the church spread around the world, dioceses often adhered to different local laws and accounting standards.
For the Vatican to devise a centralized system "would be just impossible from a practical point of view," said the Rev. Patrick Howell, a Jesuit and dean of Seattle University's School of Theology and Ministry.
Financial autonomy also allowed for greater protection against legal liability.
If dioceses were tied to the Vatican financially, "any one diocese could act irresponsibly knowing the Vatican could bail them out," said Charles Zech, an economics professor at Villanova University. "Knowing that, the Vatican tried to keep their finances totally separate."
Church members probably also wouldn't want to see "a guy hit by a priest in South Africa, or a sexual-abuse victim in the United States ... trying to get the church to sell a famous piece of art" — something that could happen if all church assets were centralized, said Fred Naffziger, professor of business law at Indiana University, South Bend.
Also, he said, "you don't want the assets of one diocese sucked off to pay for another diocese."
Moreover, Naffziger believes that keeping the Vatican out of local finances helps fund-raising efforts at the parish level.
"If my parish asked me for money, I'm probably more inclined to give it if I know my parish will have that money to expend for its schools, pay for its employees," he said.
"I'm probably less likely to give money if it's going to be divided up among 10 other parishes."
Reese, the America magazine editor, says another reason finances are kept separate is because bishops wouldn't want their money controlled by the Vatican, which hasn't managed its own funds very well.
Last week, it reported a deficit for the third straight year — about $11.8 million — after also losing money throughout the 1970s and '80s.
Though reportedly cash poor, the Vatican does have considerable assets. But experts note that some would be difficult to liquidate.
If the Vatican decided to sell off a piece of art, for instance, "the Italians would be up in arms," Reese said. "They believe it's part of their national heritage."
Moreover, he said, some valuable assets, such as St. Peter's Basilica, are very expensive to maintain.
It's this very distance between the Vatican's finances and those at the local level that some experts say has allowed the Catholic Church to survive for so long.
"Even when Rome would get sacked and Napoleon would arrest the pope, the rest of the church says, 'Oh, well,' and keeps going," Reese said.
Financial links
At the local level, the financial independence means each diocese and parish must survive on its own.
"Somehow people think the Vatican sends money to the dioceses, when it's the exact opposite," said Greg Magnoni, Seattle Archdiocese spokesman. "Dioceses around the world do collections for the Vatican."
The Vatican collects money from parishioners in two ways. One is the annual Peter's Pence collection, which supports the pope's charitable causes. The other is an annual assessment of individual dioceses — an amount Seattle church officials say is small.
The relationship between a diocese and its parishes is similar. Parishes must be able to operate on their own, while also providing some money for the operation of the diocese.
The Seattle Archdiocese, for instance, derives its income through three main sources: the bishop's Annual Appeal, supported by parishioners; investment income; and an assessment of each parish that amounts to about 5 or 6 percent of its collection-plate income.
One of the stickiest questions in the Portland bankruptcy revolves around just how financially independent parishes legally are from the diocese.
Under church law, parish assets and property belong to the parish, not the diocese. That argument may not hold up in bankruptcy court unless a parish is incorporated independently under civil law.
In the Seattle Archdiocese, only one parish — Blessed Sacrament, which by contract belongs to the Dominican order — is independently incorporated.
What church law says
While the Vatican generally stays out of its bishops' finances, it has always had an overriding interest in safeguarding valuable church buildings, land and other assets, down to the local level.
For example, one reason mandatory celibacy for priests was instituted about 1,000 years ago was the worry that church property was being passed down to children of priests, rather than staying in the church.
Now, canon law dictates that sales of sizable church assets require Vatican approval. In the U.S., that means Rome's permission is needed for sales above $5 million in dioceses with fewer than 500,000 Catholics, and $10 million in bigger dioceses.
But canon law does not speak to the issue of bankruptcy by a diocese.
Bud Bunce, spokesman for the Portland Archdiocese, said the exchange between Vlazny and Vatican officials before the archbishop filed for bankruptcy is privileged.
The Time magazine article said this week a senior Vatican official was convinced that Vlazny was bluffing about filing for bankruptcy until a wire-service story was read to the official. The magazine also said that two years ago, Cardinal Bernard Law was denied permission to do the same thing when he was the archbishop of Boston.
But some experts believe Vlazny received the go-ahead. They see that not as the Vatican telling a bishop what to do, but rather as an example of Rome's trust in its bishops to make financial calls for their dioceses.
Naffziger, the Indiana University, South Bend professor, said: "The Vatican probably thinks: 'Well, if a bishop thinks this is the last, desperate move, we're going to allow it.' "
Janet I. Tu: 206-464-2272 or jtu@seattletimes.com