Diocese Nears Threshold on Bankruptcy
Decision may come this week ahead of civil trial in Yuma

By Stephanie Innes
Arizona Daily Star
August 16, 2004

http://www.azstarnet.com/dailystar/relatedarticles/34399.php

As he prepares for a yearlong deployment in Iraq, U.S. Army investigator Brandon Croly feels little hope for a resolution to the sexual-molestation lawsuit he filed against the Roman Catholic Diocese of Tucson.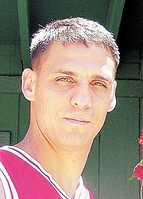 Brandon Croly
The diocese is making preparations to declare bankruptcy, and the man accused of molesting Croly, the Rev. Fernando Manzo, has been missing since December, when the Tucson Police Department began investigating the allegations of sexual abuse.

Croly filed the civil action earlier this year, one of 20 pending lawsuits against the diocese that allege sexual abuse of children by priests. Manzo also is Croly's uncle.

The diocese could decide as early as this week whether to take the extraordinary step of declaring bankruptcy - a move that could delay for years potentially damaging cases such as Croly's.

If he decides to file for bankruptcy, Diocese of Tucson Bishop Gerald F. Kicanas would follow the lead of his former Chicago colleague, Archbishop John G. Vlazny of Portland, Ore. Tucson would become the second Catholic diocese in the country to seek federal Chapter 11 bankruptcy protection as a means of meeting the costs of lawsuits alleging sexual abuse of children by priests.

A PBS television crew was in Tucson last week to tape a report on the bankruptcy deliberations, and Catholic leaders around the country will be watching closely for Kicanas' potentially historic decision.

The bishop says he will make a decision by mid-September, when the diocese is scheduled to go to court as a defendant in Yuma in a civil trial over the alleged molestation of two teen-age brothers by the Rev. Juan Guillen. Guillen is serving a prison sentence for sexually abusing another minor.

"I think the likelihood of them filing as trial grows nearer increases," said Jeffrey R. Anderson, a St. Paul, Minn.-based attorney representing plaintiffs with claims of sexual abuse against the Archdiocese of Portland.

"It will happen when I come to understand that Chapter 11 is the best and only way," Kicanas said last week. "My hope and preference has always been to reach settlements within our resources."

Anderson noted that Vlazny filed for bankruptcy on the same morning the Portland Archdiocese was scheduled to go to trial in a case involving allegations of clergy abuse by the Rev. Maurice Grammond, who has been accused of molesting more than 50 boys from the early to mid-1980s.

The closer the bishop gets to the witness stand, the more likely filing becomes, Anderson said, adding that because diocesan bankruptcy is both uncharted territory and complex, it could take years to resolve. He said lawyers for the Portland Archdiocese have signaled bankruptcy proceedings could take six years, though he said plaintiff attorneys are trying to expedite the process.

But bankruptcy will not absolve the diocese of financial responsibility to abuse victims, said Jim Stang, a Los Angeles-based attorney. Stang, who is not involved with the Diocese of Tucson case, said whether it's through mediation or jury trials, the bankruptcy court will ensure pending legal actions such as Croly's are resolved.

It's also possible that a "future-claims representative" would be appointed, which is what happened with some of the asbestos companies that filed for bankruptcy, he said. The future-claims representative would negotiate with the diocese to set up a trust for future sexual abuse claims, he said.

Stang and Clifford Altfeld, a Tucson bankruptcy attorney who has consulted on sex abuse cases against the diocese, both said the result of a diocesan bankruptcy could be a campaign for more donations from parishioners to help pay creditors.

Yet the ultimate result of bankruptcy for the diocese and its parishioners, both in Portland and Tucson, remains unclear - the biggest point of contention being whether it's the diocese or the parishes themselves that own individual churches. For that reason, the Diocese of Tucson's 75 parishes have been consulting with their own bankruptcy lawyers, separate from those representing the diocesan administration.

In a worst-case scenario for the local church, parishes will be included as part of the bankrupt estate - a finding with the potential to cripple the diocese's daily operations because it gives the bankruptcy judge leeway to rule that parishes should be liquidated to pay creditors.

But Altfeld, who has consulted with local lawyer Lynne M. Cadigan on sex abuse cases against the diocese, predicts that liquidation of parishes, while a legal possibility, is unlikely.

"I think in the worst case, a parish is found to be worth $1 million and the diocese is given a choice to liquidate for the $1 million or raise the amount equal to the assets - and they can do that over time," he said.

Kicanas said last week that parishes are not part of the diocese's overall worth. He said that under church law - called canon law - the diocese holds parish land in trust for individual churches. But some bankruptcy experts say canon law might not hold up in court.

"It's extremely difficult to predict what will happen. It's contrary to the spirit of canon law that the bishop would turn over control of his diocese to another entity," said Patrick Wall, a former Benedictine monk now working for a Costa Mesa, Calif., law firm representing plaintiffs in priest abuse cases against the Archdiocese of Los Angeles and the Diocese of Tucson.

Some Catholics might be reluctant to give money to the church if they think it will go to lawsuit settlements, Wall said.

"But in bankruptcy, everything is on the butcher block, from parishes to schools," he said, adding that even separate entities such as the Catholic Foundation for the Diocese of Tucson could be part of the bankrupt estate.

Kicanas maintains the purpose of declaring bankruptcy would not be delaying pending civil actions. Rather, he says, it would be a way to ensure all victims of abuse are treated equitably regardless of when they made claims. He also strongly believes in continuing the operation of the diocese's 75 parishes and last week urged diocesan priests to focus on fulfilling the mission of the Catholic Church rather than dwelling on a possible bankruptcy.

Croly, a California father of six, understands that a resolution to his case is not imminent. But Cadigan, his lawyer, says justice delayed is justice denied.

Cadigan, who represents plaintiffs in 14 other cases against the diocese, is skeptical that the diocese will file for bankruptcy. She says the threats are another delay tactic.

Until his disappearance Dec. 8, Manzo was the pastor at San Felipe de Jesus Catholic Church in Nogales, Ariz. Croly, a graduate of Tucson High Magnet School, says Manzo sexually molested him for four years beginning when Croly was 8.

"He made it clear to me this was the right thing to do. He said it was God's work, and it would happen at churches, in the rectories," Croly said. "He gave me a lot of alcohol. Other people in the church had to know what was happening."

Manzo, 48, has not been charged and is not named on the diocese's list of priests with "credible" accusations of sexual abusing children against them.

Croly said he contacted police last year after he remembered the abuse by his uncle while conducting a military child-molestation investigation in Hawaii as part of his job.

"It's disturbing only because I worry that he's somewhere else, acting underneath the church," he said.

? Contact reporter Stephanie Innes at 573-4134 or at sinnes@azstarnet.com.