Tucson Diocese Files Bankruptcy Reorganization

By Sheryl Kornman skornman@tucsoncitizen.com
Tucson Citizen
September 20, 2004

http://www.tucsoncitizen.com/index.php?page=
local&story_id=092004_diocese_bankruptcy


The Roman Catholic Diocese of Tucson today filed for Chapter 11 bankruptcy reorganization in an attempt to protect its assets from judgments and settlements stemming from alleged sexual misconduct by some of its priests.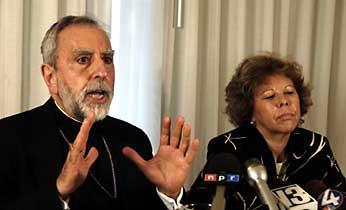 Bishop Kicanas and attorney Susan Boswell
The diocese becomes the second Roman Catholic diocese in the nation, after Portland, Ore., to file for reorganization in the face of millions of dollars in claims alleging sexual misconduct by priests.
Tucson Bishop Gerald Kicanas said reorganization will provide the diocese a way to reorganize its debt and protect its assets.
A bankruptcy judge will appoint someone to oversee a diocese reorganization plan.
The filing, done electronically this morning, is not expected to disrupt day-to-day operations of the diocese, including its elementary schools, parish churches or its payroll, according to diocese spokesman Fred Allison.
Those who may have claims against the diocese but who had not filed them before the bankruptcy likely will be given a deadline to file, or forfeit their right to do so.
The filing raises questions about the separation of church and state and about the ownership of diocese assets, held by the Tucson bishop as a corporation sole.
The Catholic Church operates with its own law, called canon law, but in this case is using civil law to try to protect its assets and keep operating in the face of continuing claims from individuals who say they were sexually abused by priests.
The Tucson diocese includes 75 parishes in nine Arizona counties that serve 300,000 parishioners. The exact value of its assets must be disclosed in the filing.
Federal bankruptcy law permits a corporation that cannot meet its debts to file for court protection while it reorganizes its assets.
It also allows a federal court to determine how much of which debts should be paid and when.
In a bankruptcy, a filing deadline is set for all people who claim to be owed money.
They may receive less than the full amount of their original claim, so that most or all claims can be settled.
The Archdiocese of Portland filed for Chapter 11 bankruptcy reorganization July 6, citing its inability to meet the demands of claimants seeking millions for alleged sexual misconduct by clergy.
Portland's archdiocese had paid more than $53 million to about 130 people who say they were abused by priests.
The Portland filing suspended all pending civil actions as well as the start of a civil trial of a priest accused of molesting 50 boys.
Kicanas, who operates in effect as the diocese's CEO, has said publicly over the last two months that he felt bankruptcy protection would shield the diocese from devastating property losses.
He has said publicly that the diocese does not want to be forced to sell its holdings to settle present and future sexual molestation claims..
The bankruptcy comes in the wake of a pedophilia scandal that has already cost the diocese an estimated $17 million in settlements.
Kicanas took over as bishop here in March 2003.
Many of the incidents of abuse alleged in claims against the diocese occurred before Kicanas arrived in Tucson in October 2001.
Part of what pushed the diocese toward reorganization was the reluctance of some of the diocese's insurers to pay some of the claims against the diocese, William Rubin, an attorney for the diocese has said.
Rubin said some of the occurrences of alleged abuse were not covered by the policies. Also, he said, the diocese did not have the documents to prove it was covered for alleged incidents in the 1960s.
Some incidents occurred as recently as 2002, according to Lynne Cadigan, a Tucson attorney who won an estimated $15 million for her clients from the diocese in 2002.
The diocese sold some property to pay part of those settlements.
In those cases, priests and other employees of the diocese allegedly sexually abused minors they met through church activities.
In August, the Pope removed two priests employed by the Tucson diocese from the priesthood for sexual misconduct.
They are the now-former Monsignor Robert Trupia and the Rev. Michael Teta. Teta's alleged sexual misconduct involved a man; Trupia's alleged illegal sexual activities were with boys.
Kim Williamson and Cadigan, who together represent at least 14 plaintiffs seeking settlements from the diocese, have said they would rather reach an out-of-court settlement with the diocese than wait their turn in a bankruptcy proceeding.
They said the diocese offered too little and that diocese attorneys felt they were asking too much for their clients.
Cadigan has said requiring plaintiffs in the sex abuse cases to go to bankruptcy court makes the injured parties appear to be predators going after the church.
She said they are individuals who have been harmed and who deserve a financial settlement from the diocese.
Kicanas said he wanted to be fair to all present and future claimants and that bankruptcy was the only way to do that.
All claims would be handled by one court, the bankruptcy court, rather than a number of civil courts around southern Arizona.
Kicanas said bankruptcy would make it possible for the diocese to proceed with its work as a spiritual center and educator and for it to provide for future claimants "not yet known."

Property issues
A key issue to be decided will be whether parish property can be used to pay claims against the diocese.
Kicanas' position is that parish property cannot be used to pay claims against the diocese. He said the property belongs to the parish and as bishop, he is simply the trustee for the property.
Cadigan and Williamson say the parishes are diocese property and can be used in tabulating the diocese's assets.
The lawyers say the diocese's holdings of some 260 parcels of land in nine counties have an assessed value of $46.1 million.
The fair market value of those properties could be greater once they are assessed.
In mid-August, Kicanas advised parish priests to get their own bankruptcy attorneys to advise them in the weeks ahead.
He emphasized to them his commitment to keeping parish elementary schools and churches operating as usual during a difficult time.
Parish priests had been informing their parishioners in church newsletters, in meetings and at Mass about the possibility of bankruptcy.

What is Chapter 11?
Chapter 11 reorganization is a process allowed by federal bankruptcy code that allows a business experiencing financial difficulties to keep operating while reorganizing its debts and assets under supervision of a federal court.
In this process, a court decides who is owed money and how much money is owed.
It also determines the value of the holdings of the business.
In this type of proceeding, debts are often reduced, with claimants receiving a part of the total amount they claim they are due.
Unless a court rules otherwise, the debtor remains in control of the business.
The process also gives finality to the business experiencing difficulty by setting a deadline, requiring all claimants to come forward to the court by a certain date or forfeit the right to make a claim.
Claimants alleging sexual abuse or misconduct can still get their day in court.
Trials in those cases can be heard in state or federal court during the Chapter 11 process.
For more information, go to U.S. Bankruptcy Court, District of Arizona: www.azb.uscourts.gov