Vatican Removes Accused Priest
James Janssen of the Davenport Catholic Diocese is believed to be the first Iowan to have been defrocked

By Shirley Ragsdale
Des Moines Register
September 24, 2004

http://www.desmoinesregister.com/apps/pbcs.dll/
article?AID=/20040924/LIFE05/409240385/
1039&template=printart

Pope John Paul II has dismissed James Janssen from the priesthood, the Catholic Church's most severe punishment, after decades of allegations that Janssen molested boys in southeast Iowa.

Janssen, whose alleged abuse was kept secret by church officials for more than 40 years, is named as a molester in nine lawsuits in Iowa and one in California, making him the most-accused priest in the Davenport Catholic Diocese's child sexual abuse scandal.

It is believed to be the first involuntary defrocking - called laicization - of an Iowa priest. According to diocese spokesmen, a number of priests have agreed to removal from the priesthood in each of Iowa's four dioceses, but generally because of a crisis in faith and not for wrongdoing.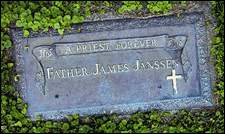 Tombstone: This grave marker for James Janssen is in a Davenport cemetery. Pope John Paul II dismissed Janssen from the priesthood in what is believed to be the first-ever involuntary defrocking of an Iowa priest.
Janssen is among fewer than 100 priests nationwide to have been defrocked by the Vatican since allegations of sex abuse and church cover-ups emerged in Boston in 2002 and spread across the country. At least 10 other Iowa priests have been recommended to the Vatican for laicization.
Davenport Bishop William Franklin announced Thursday that he received notification Monday from the Vatican that Janssen had been dismissed from the priesthood . Janssen did not have a trial and has no right of appeal."I again express deep sorrow and apology for all who have been harmed," Franklin said Thursday. "I continue to pray for healing and hope that our request and the Holy Father's decision will help facilitate the healing process."
Janssen, 82, is accused in the lawsuits of molesting boys at various parishes in the roughly four decades he was a priest. He retired in 1991. In 1996, Franklin barred him from any public church activity. In February of this year, Franklin accepted the recommendations of a diocese review board and requested of the Vatican that Janssen be removed from the priesthood.

Craig Levien, the Davenport attorney who represents 20 of Janssen's alleged victims in court and in mediation, said his clients are grateful for the "symbolic gesture" of defrocking, "but unfortunately it came 45 years too late to have protected them from his abuse."
"I believe (Janssen's defrocking) proves the pope was convinced Janssen is a serial pedophile and should be punished," Levien said. "And I see no reason why the diocese would not now accept full responsibility for these acts, now that they've thrown him out of the priesthood."The church has resisted the lawsuits, saying that the claims were filed after too many years had passed and that the diocese's management of the accused priests was protected by the First Amendment.
Church attorney Rand Wonio said the cases must be defended because plaintiffs seeking millions of dollars in damages have, to this point, refused to settle. Wonio and Franklin have said that the vigorous defense is necessary to fight for the financial survival of the diocese.Since the pope's decree, Janssen is considered to be a layman.
He will continue to live at St. Vincent's Center in Davenport, a priests' retirement home, where he will pay rent.
He does not receive any financial assistance from the diocese, and it cannot legally interfere with any retirement benefits Janssen may otherwise receive. Nor can the diocese force him to live in any treatment facility or even at St. Vincent's, according to David Montgomery, diocese spokesman.Wonio said: "People keep asking, 'What are you going to do with this guy?' but it is an insoluble problem. If we throw him out on the street, where does he go to live? Would people prefer he live next door to a preschool? We can't force him to do anything ."
Victim advocates said they welcomed Janssen's defrocking but were not totally satisfied with the punishment.
"While I'm grateful this step has been taken, Janssen still needs to be held legally accountable, as do the church leaders who shielded, transferred and covered up for him," said David Clohessy, executive director of the Survivor's Network of those Abused by Priests."I always hope that something like this eases the burden on victims and their families and makes it a little tougher for abuser priests to get access to more children," Clohessy said. "Janssen won't be on the Iowa sex offender list, even though he was among the very worst in the state. The ultimate goal is to get him behind bars, so we know kids would be safe."
The abuse scandal, which began more than two years ago in the Boston Archdiocese, uncovered cases of child sexual abuse by clergy in nearly every Catholic diocese in the nation.In response to the growing public outcry, the U.S. Conference of Catholic Bishops adopted new policies that promised new openness in handling abuse allegations. It put in place a zero-tolerance policy under which any cleric found to have molested a child would be removed from his ministry and could lose his ordination entirely.
All dioceses in the nation adopted "safe environment" programs that instructed young people and church employees about personal boundaries and how to detect abuse.In February, the bishops released a nationwide study of sexual abuse in the church that found that 4,392 priests - 4 percent of all clerics - had allegedly abused 10,667 minors since 1950.
The report blamed bishops who sought to protect the reputation of the church and the careers of priests and failed to remove abusers or report them to law enforcement officials.
Additionally, the study said bishops used unqualified treatment centers for molester priests and exhibited a willingness to forgive the abusers without punishment. Janssen was suspended by the diocese and later reassigned to parishes where he worked with children.

SIDEBARS

James Janssen's assignments

APRIL TO AUGUST 1948: St. Bridget parish, Victor.
SEPTEMBER 1948 TO MAY 1950: St. Paul parish, Burlington.
MAY 1950 TO JULY 1953: St. Irenaeus, Clinton.
JULY TO AUGUST 1953: St. Joseph parish, East Pleasant Plain.
AUGUST TO DECEMBER 1953: Leave of absence.
DECEMBER 1953 TO NOVEMBER 1956: Sacred Heart parish,
Newton.
NOVEMBER 1956 TO JUNE 1958: Leave of absence/suspension. Attended Loyola University, Chicago.
JULY TO SEPTEMBER 1958: St. Michael parish, Holbrook.
SEPTEMBER 1958 TO JANUARY 1959: Leave of
absence/suspension.
JANUARY TO JUNE 1959: St. Patrick parish, Delmar.
JUNE 1959 TO JUNE 1961: St. Mary parish, Davenport.
JUNE 1961 TO FEBRUARY 1967: St. Joseph parish, Fort Madison.
FEBRUARY 1967 TO OCTOBER 1979: St. Joseph parish,
Sugar Creek.
SEPTEMBER 1972 TO FEBRUARY 1979: St. Mary parish, Bryant.
OCTOBER 1979 TO OCTOBER 1980: St. Anthony parish, Davenport.
OCTOBER 1980 TO AUGUST 1990: Saints Philip and James parish, Grand Mound.
AUGUST 1990 TO NOVEMBER 1991: Leave of absence for
health reasons.
NOVEMBER 1991: Retirement.

Iowa priests recommended for defrocking

DES MOINES DIOCESE: Three priests - Albert Wilwerding, 73; John Ryan, 79; and Richard Wagner, 68. All have agreed not to contest the action.
DAVENPORT DIOCESE: Five priests - Francis Bass, 82; James Janssen, 82; Frank Martinez Jr., 55; William F. Wiebler, 76; and Richard Poster, 39. In court records, all have denied the accusations against them.
SIOUX CITY DIOCESE: Two priests, whom diocesan officials will not name publicly.
DUBUQUE ARCHDIOCESE: Church officials won't say how many priests have been recommended for defrocking. In December, the archdiocese reported allegations of sexual misconduct against 26 unnamed priests, eight of whom are living. Of those eight, the diocese said, one was "dismissed from the clerical state," five are of advanced age, one served prison time and is on parole, and one was removed from all pastoral duties.