Ex-Area Priest Accused of Sexual Abuse
Allegations against the Priest Span 17 Years and Four Locations
Some of the Alleged Victims, Now Adults, Say They Are Struggling to Cope
One Killed Himself
By Stan Finger
Wichita Eagle
August 20, 2000

Editor's note: This story contains disturbing subjects and descriptions that may be deemed inappropriate for some people, particularly young readers.
A Catholic priest assigned to the Wichita Diocese sexually abused boys entrusted to his care over several years in several parishes, according to four men who now say they were victims.
The family of a fifth alleged victim is seeking criminal charges in Sumner County after their son committed suicide last year.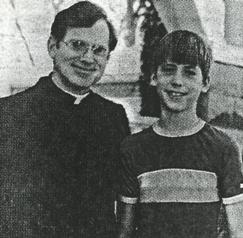 The Rev. Robert K. Larson and Eric Patterson, 12, in a family photo taken in 1982 at the 45th wedding anniversary of Eric's maternal grandparents. Courtesy photo. [The b&w photos in this article were scanned from xeroxes of the newspaper, and captions were typed from the same source.]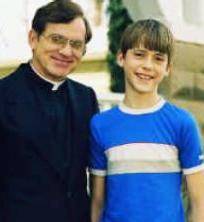 [A photograph taken on the same occasion and published with an essay by Eric's mother.]
Bishop Eugene Gerber confirmed that the diocese had received abuse reports involving the Rev. Robert K. Larson. The priest was ultimately removed from the pulpit in 1988 and eventually stripped of his duties and title after the diocese received several reports of sexual abuse from parishioners.
It was the third time during his tenure as a priest that Larson had been the subject of a series of direct allegations or consistent rumors that prompted action by the diocese, Gerber said.
He acknowledged "with a heavy heart" that abuse can happen at the hands of priests.
"As a church, we are made up of sinners," Gerber said. "Sometimes, instead of healing wounds, we open them. Sometimes, instead of helping people, we hurt them."
The abuse allegations are surfacing now as victims and their families struggle to cope with the scars of sexual abuse. Several of the alleged victims, now adults, say they still struggle with the effects of the abuse.
"Almost to a person, there's such a psychic wounding there," said Janet Patterson of Conway Springs, whose son Eric committed suicide last October at the age of 29. Eric told his family that he had been abused as a 12-year-old altar boy in 1982, and his family is convinced the resulting trauma led to his death.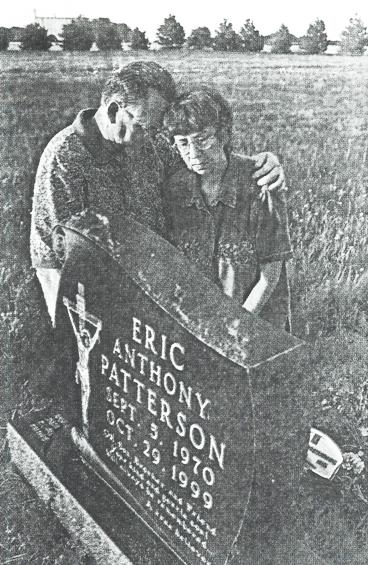 Horace and Janet Patterson lost their son Eric to suicide last October, 17 years after he was allegedly sexually abused by their Conway Springs parish priest. That priest, Robert K. Larson, went into forced retirement in 1988, a church official said. [Photo by] Randy Tobias / The Wichita Eagle.
Larson, 70, lives in the Cleveland suburb of Willoughby. He refused an interview other than to describe his three decades in the diocese as "good years."
Gerber invited any clergy abuse victims to meet with him or other diocesan leaders.
"Sexual abuse is, always and everywhere, gravely wrong," he said. "It violates the dignity of the individual person. But when there's a sexual abuse of a minor, the damage is deeper, and it's long-lasting, and it's far-reac hing. . . .When it happens by a person of trust, especially a person of any faith tradition, it is especially sinister."
Reports of clergy abuse have skyrocketed in the past decade. The national organization The Linkup, Survivors of Clergy Sexual Abuse, has a database of more than 3,200 priests who have been reported by at least one victim in the past nine years. The Catholic Church has paid more than a billion dollars in settlements in the past 15 years, said Linkup president Tom Economus.
Investigation under way
Sumner County Sheriff's Department investigator Jeff McCullough began looking into allegations against Larson in Sumner County at the request of Horace and Janet Patterson.
He is looking for Larson's alleged victims and said he has no timetable for when he will submit his report to the district attorney.
"When we present everything, I want to make sure all of our ducks are in a row," McCullough said.
Once the report is submitted, the district attorney will determine whether charges are warranted.
According to Gerber, in the 41 years he has been a priest no Wichita priest has ever faced criminal abuse charges. But four priests Gerber would not name have been banished from the clergy under the cloud of sexual impropriety.
Gerber said he would not release the names because of "confidentiality concerns" involving both the priests and their victims.
In the administration of the Catholic Church, a diocese is the territory assigned to an individual bishop. There are four in Kansas. The Wichita Diocese covers the southeast quarter of the state and includes more than 100,000 Catholics.
A native of Iron Mountain, Mich., Larson was ordained March 22, 1958, and held a number of administrative positions within the Wichita Diocese: diocesan director of the Catholic Youth Organization, public information officer, director of Catholic Charities and the Catholic Center for the Aging. Larson also initiated and managed a refugee resettlement program that found homes for more than 4,000 immigrants between 1975 and 1979.
"My guess is, if you ask anyone any place where he served—except for those who were aware of these (incidents)—they would tell you that he was a good teacher, that he was a good pastor, that he was a good administrator," Gerber said. "He had some good skills. And he did a lot of good work."
Indeed, many former parishioners still exchange Christmas cards with Larson, according to people who say they were abused by him.
"I think there are people who knew Father Larson in his ministry who will be broken-hearted about this," Gerber said.
Multiple accusations
Through extensive interviews, The Eagle discovered allegations spanning 17 years and four locations.
Three of the men who allege Larson abused them spoke on the condition that their names not be used. Three of the men were at Church of the Resurrection at the time they say the abuse occurred.
A Wichita truck driver now in his mid-40s alleges Larson abused him a dozen times over a 21/2-year period beginning in 1968, when he was about 13.
The man said he lived near the church and was often asked to mow the grass and perform other chores. Several times, he said, Larson fondled him while tucking in his shirt.
On other occasions, he said, Larson would ask him to help with a chore in the rectory, "and it always seemed like it ended up in the bedroom." Larson would then challenge him to a strength contest, in which the two would grasp hands and try to force the other person down.
"It never dawned on me till I was thinking about it the other day, but the other person (in the contest), their backs were towards the bed, and when he brought you down, you landed on the bed and he landed on top of you," the truck driver said.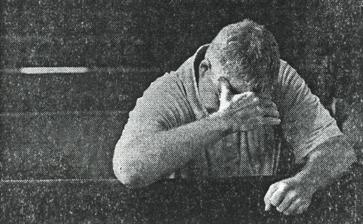 A Wichita man who says he was fondled by the Rev. Robert K. Larson as a teenager still finds it difficult to confront the past, even though the abuse happened decades ago. It is a common struggle for childhood victims of sexual abuse, psychologists say. [Photo by] Randy Tobias / The Wichita Eagle.
A computer programmer in his mid-40s described a similar incident that he said happened to him in 1971. Larson told him to get something from his office in the rectory, he said. To get there, he had to go through the spare bedroom.
"As I was going through there . . . he kind of grabbed me and pulled me up against him, and then just kind of pushed me down onto the bed," the programmer said. "Obviously, he's, like, laying right on top of me."
He was pinned there for about 30 seconds, he said, before the priest got off of him.
"You're just like a statue: 'What the hell am I supposed to do?' " he said. "The thing is, you're kind of taught almost from the time you're a little kid, that the priest is more or less like God's emissary on earth."
Several other times, the programmer said, Larson grabbed him by the front of his jeans and pulled him snugly against the priest's body.
"You've got this feeling, this isn't right, but what do I do? I'm not going to hit the guy - at least back in those days," he said. "You just kind of froze up."
Those stories are in stark contrast to Larson's public image at Resurrection.
He had a sports car and stylish sunglasses and was a skilled tennis and handball player. The kids in the parish's Catholic Youth Organization would often gather at the priest's house on weekends for games and sodas.
"We just always thought of him as a pretty cool guy," Ray Relph said.
Then came a ride to the rectory on an early summer day in 1972. Relph was 14.
"He acted like my friend," Relph said. "He wanted to know if the signs (of puberty) were there," so Relph showed him, "and then he just started fondling me. He made it seem like it was real innocent on his part."
Back at the rectory, Larson took Relph to the bedroom.
"Something told me to get the hell out of there, so I did," Relph said. "He was still talking as I walked out the door.
"After it happened, I never let myself be alone with him again."
Relph confided the abuse to his childhood sweetheart, Joan, shortly before they married in October 1980. Joan notified the diocese and the parish they were attending the following spring.
It was one of two reports against Larson that year, Gerber said. Then-Bishop David Maloney had Larson sent to a treatment center in Michigan for four months in 1981 for what Gerber described as alcohol and psychiatric treatment. When he returned that October, he was assigned to St. Mary's in Newton as an associate pastor.
The Pattersons and others have questioned why Larson was placed around young boys after having reports lodged against him. But Gerber supported Maloney's decision.
"From my having worked with Bishop Maloney for 10 years, before going to Dodge (City, as bishop in 1976)," Gerber said, "Bishop Maloney would have assured himself that whatever danger was there had been mitigated to his satisfaction."
Maloney died in 1995.
Larson resigned from Resurrection in 1976 to devote his full attention to the refugee relocation program.
Among those who came to Kansas as part of the resettlement program was a 17-year-old Vietnamese boy who came to live with a foster family in Independence in 1978. When that didn't work out, Larson brought him to Wichita.
The youth, who could not speak English and knew no one in America, stayed at the Catholic Center for the Aging with Larson for about three weeks.
"Wherever he went, I went"—to work, dinner, tennis, or other activities, said the man, who is now a local engineer. "We would come home, and I would go into my room, and he would go into his room, and then several times he would come back to my bedroom and just . . . start . . . doing things. He would touch your private parts and things like that.
"I just lie there and don't even think about it. If I did, I wouldn't know what to say, 'cause I didn't know any English."
A host family eventually took him in as a foster child. He says he has put the abuse behind him and that if he met Larson on the street "I'd go up and shake his hand."
Only months after Larson arrived at Newton for his second stint at St. Mary's in 1983, Gerber said he arranged for an evaluation at the Menninger Clinic, the world-renowned mental hospital in Topeka, to determine whether Larson was a pedophile. The assessment did not result from any abuse reports, Gerber said, but rather "a wonderment" based on observations by Newton parishioners and a disturbing number of rumors.
Larson traveled to Menninger for evaluation and therapy from February 1984 to November 1985, Gerber said.
Loretta Kruse of Newton said a 20-year-old man from the St. Mary's parish approached her during that period and said: "I have a problem. Will you help me?"
The man said he lived close to the rectory and was friends with Larson. While the man was showering, the priest came into his house uninvited, took off his clothes, and stepped into the shower with the man.
"He told me that if he'd had a baseball bat, he'd have killed him," said Kruse, who went with the man to meet with diocese officials, including Gerber.
Despite the meetings, she said, "Nothing happened."
Gerber said he recalled meeting with Kruse and the man but does not recall hearing about a shower incident. Larson was still undergoing treatment at Menninger at the time.
Kruse said her oldest son had "an incident" with Larson in the mid-'80s. The priest often called her son at 7 or 8 at night and invited him to the rectory to work on projects. One night, she said, her son came home "and he was absolutely livid: 'I'll never go back to that place again.' "
Eventually, he told her that Larson began rubbing his legs and making sexual advances. Her son left.
Gerber said he monitored Larson's treatment at Menninger.
"In the end, we had professional assurance that he was not a pedophile," he said.
Larson was permitted to remain at St. Mary's.
But on April 4, 1988, several reports of sexual abuse were lodged against Larson, Gerber said, and he was removed from the parish within days.
Gerber said the new reports troubled him because Menninger had deemed Larson safe. Gerber met with clinic officials to see how such a mistaken diagnosis could have occurred.
A Menninger spokesman said the clinic cannot divulge patient information by state law.
Gerber was told that the psychiatric community's understanding of pedophilia has evolved as more about the condition has been learned.
"There was a time before this that people treated it like, early on, they did alcoholism—'All you have to do is stop. All you have to do is change your mind. Use your will'—instead of treating it as a disease," Gerber said. "There's a tendency sometimes to take what we know now and put it all as if we knew it all back then.
"My one consolation in going back over this whole field is that I can say to myself 'I was conscientious and did the right thing,' even though that may not be received that way."
Concerns about impact
Gerber said he now wishes he had approached St. Mary's parishioners after reports surfaced in 1988. He would have asked them to talk to their children about whether they had been abused, he said. He did not do that at the time because he thought making the reports public would further wound the victims.
Police were not notified, Gerber said, because state law did not mandate it and he was concerned about confidentiality issues for the victims and the accused. The Kansas Department of Social and Rehabilitation Services eventually looked into the reports, Gerber said, but took no action.
Gerber's silence following the 1988 reports "spoke volumes," said David Clohessy, president of the Survivors Network of those Abused by Priests, a national support group for victims of clergy abuse. "Even back then, pedophilia was a crime. They still had an obligation to err on the side of caution or err on the side of kids."
Larson has undergone extensive treatment that includes therapeutic, spiritual and medical intervention, and will remain in treatment for the rest of his life, Gerber said.
"I have personally tried to assure myself that Bob Larson is following his recovery program," Gerber said. "We exchange correspondence once in a while, a telephone call once in a while. Several times I have just visited—just an effort to assure myself that he's following the recovery program."
Gerber said he worried about how news of the allegations would affect the several hundred priests in the diocese.
"Look at all of these priests that have done so much and are so good, and so self-sacrificing and so life-giving," he said. "They're going to get painted with the brush. It's inevitable.
"Honestly, I have never seen priests so united and the morale so high. . . . I don't know what this is going to do."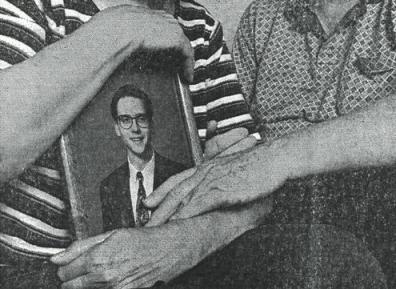 Janet and Horace Patterson hold a photo of their son, Eric. [Photo by] Randy Tobias / The Wichita Eagle.
The Pattersons did not learn of their son's abuse history until his second stay in a psychiatric unit early last year.
Eric Patterson eventually told his therapist at Via Christi Regional Medical Center-St. Joseph Campus that he had been abused by Larson at least nine times over the course of the year he was in Conway Springs, beginning in the fall of 1982, his parents said.
Gerber said Eric visited with him more than once upon his release from in-patient care last year, but his depression progressively worsened until Eric killed himself Oct. 29.
Gerber would not discuss Eric's situation or their visits, citing Eric's request for anonymity.
While Eric was at Charter Hospital in 1996, Horace Patterson met with diocesan officials to discuss possible explanations for his son's intense emotional distress—going so far as to ask at one point if an exorcism might prove beneficial. But diocesan officials told him that wasn't a realistic treatment option, he said.
"Sometimes, instead of healing wounds, we open them. Sometimes, instead of helping people, we hurt them," says Bishop Eugene Gerber of the Catholic Diocese of Wichita. Gerber acknowledged that the diocese removed a former priest over allegations of sexual abuse. [Photo by] Randy Tobias / The Wichita Eagle.

Courage to speak out
National experts on clergy sexual abuse say the Catholic Church has been slow to reach out to victims, even after nearly two decades of trials, bad publicity and costly financial settlements.
"Even now . . . church officials still seem preoccupied first and foremost with damage control, not with healing, not with prevention," Clohessy said.
"Sexual abuse is a crime that by nature happens in secrecy, and the way to catch perpetrators and find victims and help them heal is through openness—and yet that's the last response church officials even consider."
Gerber disputed that contention, saying the response is evolving from one primarily concerned with legal concerns to one focused on caring for the victims.
"You don't protect the church, you let the church serve—let the church do what it's supposed to do," he said. "There's the one God who wants to heal us all, and if I can't be a part of that, then I ought to get out of here."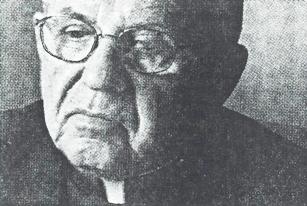 Bishop Eugene Gerber of the Wichita Diocese, in acknowledging several reports of sexual abuse against a former priest of the diocese, said, "Sexual abuse is, always and everywhere, gravely wrong. [Photo by] Randy Tobias / The Wichita Eagle.
Since their son's death, the Pattersons have become advocates for victims of clergy abuse, setting up a Web site, www.we-are-alert.com, and a toll-free number, (888) 234-0680, Ext. 7183.
"Our focus is on adults that were molested as children by the clergy and especially families and loved ones of suicide or attempted suicide victims," Horace Patterson said.
The Pattersons said they have spoken to dozens of abuse victims, many of whom have told no one else about what happened to them.
"I don't know how anybody has the moral courage, the physical courage, the emotional courage to step up and say 'This happened to me,' " said Janet Patterson. "This is so difficult for us as a family after our son's death; I can't imagine how these people do it."
Reach Stan Finger at 268-6437 or sfinger@wichitaeagle.com.
Resources for Victims
To get help if you've been the victim of abuse:
Wichita Area Sexual Assault Center
(English): (316) 263-3002
(Spanish): (316) 263-2044
To get help if you've been the victim of clergy abuse:
SNAP: Survivors Network of those Abused by Priests
PO Box 438679
Chicago, IL 60643-8679
(312) 409-2720
www.snap-net.org
The Linkup, Survivors of Clergy Sexual Abuse
1412 W. Argyle St. #2
Chicago, IL 60640
(773) 334-2296
www.thelinkup.com
We Are Alert
www.we-are-alert.com [scheduled to be relaunched in 3/06 as www.wearealert.com]
1-888-234-0680, ext. 7183 [no longer active]
Suggested Reading
The Courage to Heal: A Guide for Women Survivors of Child Sexual Abuse
By Ellen Bass and Laura Davis
Victims No Longer: Men Recovering from Incest and Other Sexual Child Abuse
By Mike Lew and Ellen Bass
Leaping Upon the Mountains: Men Proclaiming Victory over Sexual Child Abuse
By Mike Lew
Broken Boys, Mending Men: Recovery from Childhood Sexual Abuse
By Stephen D. Grubman-Black