Catholics wonder: How could a priest do this?
By Cathy Lynn Grossman
USA Today
May 29, 2002

http://www.usatoday.com/news/nation/2002/05/29/cover-priest.htm

BOSTON — Some people say it's proof of the devil that evil can be masked by charm, that the same person can do good deeds yet cause soul-scarring harm. "This is what's so horrid about all this," recalls Verona Mazzei of Newton, Mass. "Father Paul Shanley was wonderful when we knew him: charismatic, intelligent, open. He helped me in my faith journey." Mazzei and others who knew Shanley wonder: How could this be the same priest who allegedly fondled boys, lured or forced them into sex and demolished their trust?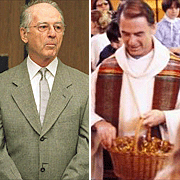 By George Rizer, pool
The Rev. Paul Shanley at a bail hearing May 9 and handing out candy to children in 1983.
Shanley, 71, is charged with repeatedly raping a young boy at St. Jean l'Evangeliste Church in Newton, from the time the child was 6 until he was 11. The priest returns Thursday to court for a pre-trial hearing in the case. Shanley, who made his mother proud by becoming a priest, is the latest name tied to ugly allegations in a crisis of sexual corruption and cover-up in the Roman Catholic Church.

His parishioners knew Shanley as kind to the elderly, creative in ministry and willing to empower women in worship decades before it was fashionable. "The old women thought he was the cat's pajamas," says Mazzei, 55.
A former Dorchester neighbor recalls her reaction when she heard the accusations against the handsome priest, who visited his mother, Alice, every week in the early 1960s. The neighbor says she "let out a scream and said, 'Thank God, Alice is dead.' "
Shanley, in jail on $300,000 bond, says he is innocent of three charges of raping Paul Busa for five years, beginning in 1983 when the boy was 6 years old. Eric MacLeish, attorney for Busa, says three more criminal cases involving Shanley are under investigation.
And, MacLeish says, "my phone keeps ringing."
If convicted, Shanley could be sentenced to life in prison.
The statute of limitations prevents the state from charging Shanley with more sex crimes, but lawyers estimate that 30 people, including Busa, are pursuing civil cases against the Boston archdiocese. They say officials knew for decades that Shanley abused children and failed to protect them.
Cardinal Bernard Law, already humbled by three grueling days of deposition in the case of convicted predatory priest John Geoghan, is scheduled for depositions involving Shanley on next Wednesday.
Law, archbishop of Boston since 1984, has yet to explain publicly how Shanley, who once toured the country giving lectures favoring sexual activity between children and men, was allowed to roam parishes for three decades.
Shanley's attorney, his nephew and his brother declined to comment. So it is from the memories of the parishioners who thought they knew him, who once admired or feared him, that a portrait of Shanley emerges.
His choice: Youth work
Boston-born Shanley graduated from St. John's Seminary, which shares a verdant campus with the headquarters of the Boston archdiocese. He was ordained at age 29.
In 1995, Shanley said he, too, "had been sexually abused as a teenager, and as a seminarian, by a priest, a faculty member, a pastor" and someone he says eventually became a cardinal.
But in 1960, the new priest had one focus. Of 30 interest areas listed on the application for his first assignment, he checked one: youth work. "He was great at it," recalls Kevin O'Toole, 48, of Boston, who says his late brother, Bill, was one of Shanley's first victims.
In autumn when the trees were bare, the seven O'Toole children could see the white steeple of St. Patrick's, their Stoneham parish church, through their living room's lace curtains. Here, Shanley began his career as a priest — and, it's alleged, as a predator.
This was the era before the Second Vatican Council's mid-1960s reforms made the church more accessible to the faithful. Priests ruled. They were the mysterious men of God, celebrating the Latin Mass. If you had a problem, you went to the priest.
And in Stoneham, the patterns of the Rev. Paul Richard Shanley's life took shape. He was a vibrant preacher, a creative minister. "He thrived on the adoration of the women of the parish, our mother among them," Michael says.
His sister, Eileen Haley, recalls that Shanley "brought the dances! We never had CYO (Catholic Youth Organization) dances before. These were so big, we had to use the town hall. We loved it."
'Picking out his victims'
Yet the boys came to know a more sinister side, as well, says brother Michael O'Toole, 50. "I can still see Shanley, in his black robes and tall hat, striding the perimeter of the playground, reading the missal and staring at us," Michael says. Looking back, he suspects Shanley "was picking out his victims."
The priest took boys camping to a cabin in the Blue Hills south of Boston, "and he always invited one more boy than there were beds for. It's clear to me now," Kevin O'Toole says. "The extra boy shared Shanley's bed."
Bill was 12 when he told Michael that " 'Father Shanley got me,' and I should stay away from him."
"I was only 10, and I was terrified," Michael recalls. "I said, 'Let's tell Dad.' But Bill said the priest told him that if he told anyone, we would all burn in hell. We were good little Catholics. We never told."
Carmen Durso, attorney for four Shanley victims in civil cases against the Boston archdiocese, says Shanley traded on children's faith in powerful adults and teens' guilt and fear of homosexual pleasure. This was decades before the first stirrings of gay pride filtered into Irish Catholic Boston.
"He would masturbate the boys, leaving them enormously confused," Durso says. "It made them complicitous in the sex act. It destroyed their self-esteem, integrity and self-respect. They may have gotten some momentary physical pleasure and comfort from the attention of a big, strong man. And yet they knew this was wrong."
Bill O'Toole died of AIDS in 1998 at age 48 in the bedroom of his childhood home. His mother had wanted to call a priest, but he refused. When he finally broke down and told her why, "Mom was devastated," Michael says.
Over the years, his brothers and sisters called the archdiocese about Shanley. No one ever responded, they say.
Yet Durso and MacLeish say the first complaints that Shanley was molesting boys came during his first year as a priest. MacLeish says Stoneham police told the archdiocese that Shanley was masturbating boys in 1961.
And, in 1966, an Attleboro, Mass., priest wrote to the archdiocese about a boy who said he and two friends were molested by Shanley on camping trips.
If the church took any action about these early complaints, there's no record of it among nearly 1,700 pages of documents released by the archdiocese, under court orders, this spring.
This, too, would become a pattern in the life of Father Shanley: Complaints reportedly lodged against him went nowhere.
The earliest documents show that Shanley always had a smooth answer for his superiors whenever allegations surfaced through the layers of church bureaucracy. Shanley, in his letters among the records, often said those who complained about him were "fragile" or "vindictive," or they simply "misunderstood" his actions.
Minister to 'alienated youth'
After six years in Stoneham and brief stints in two other Boston-area parishes, Shanley crafted a novel title for himself — "full-time minister to alienated youth" — and advertised he had the blessing of then-Cardinal Humberto Medeiros.
The 1970s were the decade of outreach, of folk Masses and priests who marched for civil rights. The church was struggling to convey ancient doctrine to a generation inclined to challenge authority. Along came a hip, long-haired priest who wanted to serve troubled youth, particularly gays and lesbians.
Catholic teaching on homosexuality — that the orientation is blameless but homosexual behavior is a sin — was not widely known then, understood or accepted. At first, church officials seemed gratified by Shanley's efforts. He boasted of roaming the alleys and bus stations, of taking his ministry to the gay bars and halfway houses.
He regularly typed five- and eight-page letters to Medeiros pleading for funds to develop drug treatment centers, legal aid, suicide hotlines and safe housing for struggling gay youth. In 1973, he asked the cardinal to support his work and speak out against homophobia.
"Just as young Catholics in my boyhood felt it an act of piety to beat up a Jew or stone a Protestant church ... so today's Christians think they do God a service when they beat up a fag," he wrote.
Lawyers, however, say Shanley victimized these boys, as well.
"By now, Shanley was a calculating man with a regular counseling routine. He would turn the talk to sex and puberty, then tell these confused kids, 'I need to inspect you and see what stage of puberty you are at.' Then he would masturbate or rape them," Durso says.
Shanley worked from a rectory in Roxbury and later a church-rented house in Milton, where he established "Exodus Center" for outreach to gays. Victims say they were raped in both places.
John Harris, now 44, says he was a naive 21-year-old sent to Shanley in 1979 for counseling about "my Irish Catholic guilt."
"Shanley told me he was gay. And even after he raped me, I still thought it was my fault," Harris recalls.
Whether Medeiros ever learned of sexual abuse complaints against Shanley is unclear, MacLeish says, but archdiocese records show that the cardinal heard plenty from shocked Catholics outraged by Shanley's lectures. He sold tapes explaining his views.
Finally, one of Shanley's tapes on gay sexuality was sent to the Vatican for theological review. Mederios struggled at length in letters to the Vatican and to Shanley to assure both the Church and the outspoken priest that Boston clergy taught the theologically correct line on homosexuality and sexual ethics. Shanley's defense: Nothing in Catholic theology conflicted with his single-minded focus on concern for gays' health and welfare.
His views on man-boy love
The last straw came Feb. 12, 1979, when the Boston paper Gays Week described the formative 1978 meeting of the North American Man-Boy Love Association in Boston. Shanley argued at the meeting that man-boy sex didn't harm youth, that society's condemnation did.
That same day, Medeiros wrote the Vatican that Shanley was "a troubled priest." The cardinal shuttered the street ministry and ordered Shanley to a new post — a congregation full of families, St. Jean l'Evengeliste, where, Medeiros wrote Shanley, "I am confident that as an obedient priest you will render fine priestly service to the people of God."
All that remains of St. Jean's today is the shell of the rectory and a memorial plaque in the entry of Our Lady Help of Christians, which absorbed the congregation in 1997. The plaque lists the succession of priests who served St. Jean's. Recently, a vandal stuck bubble gum over Shanley's name. He served there nearly 11 years.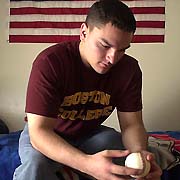 By Bryan Oller, The Gazette via AP. Paul Busa claims Shanley raped him for five years, beginning in 1983 when Busa was 6 years old.
Mazzei, once St. Jean's director of religious education, says Shanley "would just ask us to look at the world differently. You never left Mass without saying, 'I have a lot to think about today.' "
Mazzei says she always thought Shanley was gay, but it didn't matter to her. No one gave it a second thought when Shanley moved all the female volunteers out of the rectory, where he lived upstairs, to an office in the church.
Busa, the focus of the current case, and more than a dozen other boys were sexually assaulted here, MacLeish says. The lawyer says Shanley would pull boys out of their religious education classes, one after another, and molest and threaten them, sometimes in the confessional. "He called it 'special duties,' " Busa says. "I remember him telling me that if I told anybody, nobody would believe me."
It happened to their son, too, say Paula and Rodney Ford, of Newton. Greg Ford, now 24, was once "a spitfire, a fast, happy delightful boy," Paula says.
Rodney says that when Greg was 6, something set him on a path of self-destruction.
'Classic signs' of sexual abuse
"Professionals were always telling us Greg showed classic signs of someone who'd been sexually abused. My wife and I would look at each other, each thinking, 'Did you do it?' "
When the Boston Globe first mentioned Shanley in its coverage of the burgeoning scandal in the church, "we showed Greg the article. He collapsed to the floor, crying," Rodney says. Shanley "raped my boy in the rectory bedroom."
During those years, alarm bells were ignored at the archdiocese, parishioners say. In 1981, a parishioner, Jacqueline Gavreau, wrote and called so often, alleging Shanley groped boys at St. Jean's, that Shanley's superiors wrote her off as a crank, documents show. In 1984, Gavreau says, she twice confronted the newly arrived successor to Medeiros, Cardinal Law.
Law said recently that he has no recollection of her or anyone else telling him Shanley was a pedophile.
In 1988, Kevin O'Toole says, he and his siblings called the archdiocese, asking, "Where was that child molester Father Shanley." There was no answer.
Yet Shanley continued promoting his views on sex. One complaint letter to the diocese in 1985 quoted Shanley telling a Rochester, N.Y., church audience, "When adults have sex with children, the children seduced them. Children may later regret having caused someone to go to prison, knowing that they are the guilty ones."
One of Law's aides, the Rev. John B. McCormack, now bishop of Manchester N.H., replied that the cardinal had seen the complaint. McCormack added, at the bottom, Shanley's view that the letter writer "basically misunderstood him."
Six years later, McCormack would write, "It is clear to me that Paul Shanley is a sick person." By then, Shanley had resigned from St. Jean's. The official reason: his allergies and other ills. He wanted to move to the dry, sunny West. He asked for a reference letter. He got it. Law thanked him for nearly 30 years in the priesthood, "an impressive record."
But priests change dioceses only with bishops' mutual consent. So the bishop of San Bernardino, Calif., got a letter from Boston officials calling Shanley "a priest in good standing" on medical leave, with "no problem that would be a concern to your diocese."
Shanley, meanwhile, set up mail drops at Catholic rectories or centers and moved to Palm Springs. From 1990 to 1995, a real estate broker says, Shanley co-owned a little hotel where young men frolicked nude by the pool.
Every other Saturday, Shanley celebrated Mass as a fill-in priest and spent the nights in the rectory at yet another parish full of families, St. Anne's, in San Bernardino.
Then, in 1992, the case of another pedophile came to national attention. The Rev. James Porter, of Fall River, Mass., was sentenced to 18 to 20 years in jail for raping and molesting hundreds of children. Porter had been shuttled among unsuspecting parishes for decades. The public was howling about the failure of the church to protect their youth.
The U.S. Conference of Catholic Bishops established new, specific guidelines for dealing with abuse — all voluntary.
The attorney for 101 of the Porter victims: Eric MacLeish. He was flooded with calls from hundreds of people naming other predators. Shanley was named. When MacLeish took these stories to the press, he says, the archdiocese began "pulling back the hard-core priests."
But when he specifically asked McCormack about Shanley, "he told me Shanley had been 'on ice' for years," implying that Shanley had not worked around children for a long time.
In fact, the attorney says, "Shanley had spent the preceding decade in active ministry one mile from my house, abusing friends of my children."
In 1993, McCormack told St. Anne's parishioners about the alleged pedophile in their midst. The church immediately removed Shanley.
The Boston archdiocese, following the bishops' conference guidelines, then stripped Shanley of his ministry — he could no longer celebrate the sacraments or identify himself as a priest. Even so, like all retired or ill priests, Shanley was — and still is — supported by the diocese where he was ordained. (He gets a $10,000 annual pension, MacLeish says.)
Shanley was shipped off for an evaluation at the Institute of Living, a Hartford, Conn., treatment center for troubled clergy. By 1994, the diocese made two settlement agreements involving Shanley. Doctors told Boston officials that Shanley "admits to sexual activity with four adolescent males" and describes "oral and anal rape" with a youth who visited Shanley for pastoral counseling in Roxbury years earlier.
'Pathology beyond repair'
Summarizing one doctor's report, McCormack called Shanley "so personally damaged that his pathology is beyond repair" and pondered, "How do we protect others from him?"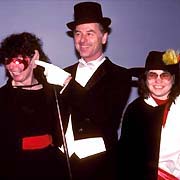 Shanley with parishioners at a Mardi Gras celebration in 1985.
In 1995, Shanley found himself a job in Manhattan at a hostel where clerics and Catholic tourists lodged when visiting New York. Leo House seemed to fit the restrictions Boston imposed on him — no priestly duties, no children. He wanted to take over as director and asked for Law's backing with Cardinal John O'Connor.
This time, Law said no.
A victim had tracked Shanley to New York and told one of the nuns at Leo House to be wary of him. Within weeks, Boston officials wrote O'Connor that no one wanted this priest in the public eye. The nun's letter is in the Boston archdiocese's files. Nowhere, however, is any mention of turning the records on Shanley over to police, attorneys say.
This very question — whether the church should turn over every allegation of sexual abuse, old and new, to the police — is still a matter of fierce debate among the nation's nearly 300 Roman Catholic bishops. Some leading Vatican experts in church law oppose mandatory reporting. But several U.S. cardinals and bishops say they will insist this be included in a new nationwide policy up for a vote June 14 at a bishops' meeting in Dallas.
For Shanley, the debate is over. When the Boston archdiocese's papers were released in the wake of the Geoghan case, the police found the former priest.
He had retired to San Diego and settled into quiet days in the sun and volunteer work with the San Diego Police Department.
His San Diego neighbors thought he was a distinguished-looking man, "very compassionate and spiritual," apartment manager Linda Lee says.
Most never knew Shanley was once a priest — until May 2, when he was taken away in handcuffs and returned to Boston to face his accusers.

Shanley's career

Age : 71, born Jan. 25, 1931 in Boston
1960-1967: Ordained at age 29 and assigned to first parish, St. Patrick's, Stoneham, Mass. First sexual abuse complaints on record with Archdiocese of Boston.
1970: Starts street ministry for "alienated youth," particularly gays and lesbians. Lectures on sexuality, triggering numerous complaints to then-Cardinal Humberto Medeiros.
February 1979: Gays Week reports Shanley spoke at formative meeting of North American Man-Boy Love Association. Shanley, removed from street ministry, protests to the cardinal and media.
1979-1990: Assigned to St. Jean l'Evangeliste, Newton, Mass.
1983: Allegedly begins sexually abusing Paul Busa, Greg Ford and other parish children.
1984: A woman from St. Jean's complains to new cardinal, Bernard Law, that Shanley is molesting children. Law later says he has no memory of speaking with her. Records show she called.
1990: Resigns for "health reasons," moves to California. Fills in at St. Anne's Church, San Bernardino. Co-owns a gay motel in Palm Springs.
1991: Boston archdiocese makes $40,000 settlement with man who claims Shanley raped him in 1972 at age 12 or 13.
1993: Fired from St. Anne's after Boston church officials disclose his past "aberrant sexual involvements." Stripped of his privileges to act as a priest. Admitted to Institute of Living treatment center, Hartford, Conn.
1995-1997: Seeks director's post at Leo House, a New York hostel for clergy and students. Boston archdiocese alerts New York church officials to Shanley's sexual history. He's denied job.
1997: Moves to San Diego.
May 2, 2002: Arrested in San Diego on three counts of child rape in the Busa case.
Contributing: Valerie Alvord and Rochelle Sharpe