Retired Priest Who Molested Children Says He Likes " to Think They've Forgotten"

By Jeremy Kohler
The Post-Dispatch
March 17, 2002

http://www.stltoday.com/stltoday/news/special/probpriests.nsf
/0/8BF52765B2F8EC0986256B7F00781287?OpenDocument

* The Rev. Joseph P. Lessard acknowledges sexually abusing about 12 boys in three parishes. He was never sued or charged with a crime.

The Rev. Joseph P. Lessard was a Catholic parish priest, a choir director, a religion teacher, a hospital chaplain. People who know him say he was jolly and gentle, a comfort to the sick. When he retired in 1993, he felt he'd led the liturgical life he'd imagined.

That is, except for those times when Lessard said he sexually abused about 12 boys at three different parishes -- some of them repeatedly, at least one for more than a year.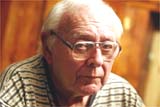 The Rev. Joseph P. Lessard, 76, admitted to molesting at least 12 boys from the late 60's to the late 70's while he was a priest in the St. Louis Archdiocese.
( David Carson/P-D)


Almost every incident began the same: A boy of about 12 would come to him with private questions.

"Children were curious about sex," Lessard said in a recent interview. "They ask about their own bodies growing up."

Lessard would assure each boy it was natural to explore his own body.

"And then I would show them how to do it," he said.

Lessard, 75, lives alone in a three-room cabin on a Mississippi River bluff outside of Prairie du Rocher, Ill. Most days, he celebrates Mass alone from a pulpit he crafted from white pine. He bakes hosts from flour, salt and water and blesses them. He dons the vestments and begins his liturgy.

The incidents never made headlines. Lessard was never sued or charged with a crime. Throughout the 1970s, a few families complained to the archdiocese about the abuse, he said. Lessard said he would hear about the complaints secondhand, never from a superior.

The archdiocese never asked him to admit or deny an accusation, he said. Archdiocese lawyers working on his behalf settled one complaint for $60,000 in 1997. They settled another complaint without a payment in 1996 by promising Lessard was no longer with a parish.

Terry Edelmann, a spokeswoman for the archdiocese, said she could provide no details or comment on the archdiocese's actions regarding Lessard because those decisions were made by people no longer at the archdiocese.

Lessard has never apologized to his victims, although he said he is sorry.

"I'd like to think they've forgotten about it and don't care anymore," he said.

"I was needed"

March 9 was the 50th anniversary of Lessard's ordination at Kenrick Seminary, now Kenrick-Glennon Seminary, in Shrewsbury. His surviving classmates gathered in St. Louis for Mass and a reception; Lessard could not arrange a ride. He is riddled with arthritis, stomach pain, a hacking cough and sore ribs from a recent stumble. He spends much of the day watching television from an armchair.

A phone call from a reporter requesting an in-person interview came as a shock to Lessard. He said he hadn't thought of these things in years.

He said the house was a mess. He said he was not used to having people around.

It wasn't always this way.

A few months after his ordination, Lessard became assistant pastor at St. George Church in south St. Louis County, a large parish. He stayed for nine years. He trained and directed 180 altar boys. He oversaw a school with 1,300 children. He ran soccer teams. He directed a choir and translated Gregorian chants into English for young singers.

Lessard said he never touched a child at St. George. There were urges, far below the surface. He barely acknowledged them, let alone discussed them. Parish business, he indicated, kept him too busy to think about sex.

"I never had a problem with any of this (sexual) business," he said. "I was happy. I had my family and parents near. My whole focus was on the parish. I was needed all the time."

In 1961, Lessard was transferred to Most Blessed Sacrament Church on North Kingshighway, and six years later, he became pastor of Visitation-Holy Ghost Church on the city's north side. He was there two years. Not a child was harmed, he said. He was too busy. And happy.

Becoming a priest

Lessard said he knew at a young age that he would enter the priesthood. When he was an elementary student at Little Flower Catholic school in Richmond Heights, there was a priest, Father Joe, whom Lessard admired. Everyone liked Father Joe. He ran the boys choir. He was kind and powerful at the same time. Lessard wanted to be like him.

"There was a need for priests," he said. "The need to have a priest to confess to. Giving glory to God, offering the Mass."

The life appealed to him. He said he worked hard at it. He attended Cathedral Latin High School in the Central West End, then St. Louis Preparatory Seminary, then Kenrick.

A Kenrick classmate who wished not to be identified said Lessard in his 20s was light-hearted and light-headed -- a jolly man with a good rapport with children -- like a child himself.

The two seminarians were counselors at a Catholic boys camp in Jefferson County one summer.

"I don't think anything ever happened down there," the classmate said. "He was very attentive, a good counselor, always putting together programs. He was like a mother hen to the kids. He would keep them under his wing, make sure they were doing the right thing at the right time."

Lessard said he never had sexual feelings during those years. He was preparing to take a vow of celibacy.

"Let's not tell"

Lessard said he kept that vow for the first 17 years of his career.

In February 1969, he was transferred to Moselle, about 50 miles west of St. Louis in Franklin County, to become pastor of St. Mary's Church. It was a tiny, rural parish. There were finance committee meetings and parochial business. Lots of free time.

Lessard said his sexual attraction to young boys began to fester.

"I guess I just kind of broke down," he said.

His first victim was a boy of about 12, the son of a couple from a neighboring parish whom he knew well. Lessard, an avid outdoorsman, arranged a fishing trip.

After fishing, he took the boy back to the rectory and "started fooling around," which he said involved touching each other's genitals and masturbating.

"I emotionally and physically wanted to have sex with him," Lessard said. "There was a mutual interest in having sexual gratification."

The abuse went on for a couple years. As far as he knew, the boy never told. Lessard said he seduced about nine boys over the next seven years, most of them from the neighboring parish. The exact number is hazy in his mind, as are the names of the boys.

Lessard said he was guilt-free, believing he was educating the boys in sex. He didn't consider this breaking his vow of celibacy. It didn't seem as if he was hurting anyone.

To each boy he said, "Let's not tell your parents about this."

But at least one boy did tell, Lessard said. A family complained to the archdiocese personnel board, Lessard said. He knows because a board member told him.

Other pastors in the archdiocese heard rumors, too.

"We heard stories about him in the country," said Lessard's former Kenrick classmate, who was a diocesan priest at another parish. "In the clergy, there is a rumor mill. They know who is doing what."

It was 1976. Cardinal John Joseph Carberry, then archbishop of St. Louis, called Lessard and said he was switching him to Good Shepherd Church in Hillsboro. The cardinal, who died in 1998, never gave a reason why, Lessard said.

"I've gotten the impression it was because of the complaints coming in," Lessard said.

Lessard said he molested a boy at Good Shepherd. It was late 1976, and he recognized his addiction to young boys as a problem. Lessard resigned from Good Shepherd and checked into a hospital in Minnesota.

"I told (Carberry) I was going to get help for the asthma, arthritis and this sexual situation," Lessard said. A few months later, on the phone, Carberry told him he was needed back in St. Louis, Lessard said.

On Feb. 1, 1977, Lessard was assigned as an associate pastor of Incarnate Word Church in Chesterfield, where he lived in the rectory and taught religion at the grade school. He also organized hunting and fishing trips for boys. Unwitting parents signed up their sons.

"Very scary pressure"

One of those sons is now a 37-year-old man who said Lessard molested him in 1977 or 1978. He said the abuse happened on several outdoor trips.

"My parents loved him. They would rather me be out with him than roaming the streets," said the man, to whom the archdiocese paid $60,000 in 1997. "He had a camper. A big mobile home, and lots of great places to go camping and hunting and fishing. He knew several people who had farms and great fishing ponds around Chesterfield."

Lessard talked openly about masturbation, the man said. It wasn't a sin anymore after the Second Vatican Council, Lessard would say. He wouldn't let up on the subject.

On later trips, the boys who had been around Lessard for a while began pressuring the younger boys to play sexual games, the man said. Lessard sometimes joined in, he said.

"I felt guilty, and very ashamed of it," the man said. "It was this situation of very intense and very scary pressure.

"He would take a gallon jug of water and say, 'This is what happens if anyone crosses me,'" the man said. "He'd stand 10 feet away and shoot the jug and it would blow up."

The 37-year-old said the abuse led to depression, years of hospitalization and several suicide attempts.

"The damage that was done was that I had to keep living," he said.

Lessard denied he made threats. He said he was falsely accused of abusing the man despite the church paying the settlement. Of all the boys he abused, Lessard said, he could not remember abusing this particular boy.

"Most gentle man"

Lessard said one day in 1979 Carberry called him to his office. Waiting there was a priest from a halfway house in New Mexico. Carberry said he wanted Lessard to go there for treatment. The center was run by the Servants of the Paraclete, an order of Catholic priests who tend to priests with personal difficulties.

In New Mexico, Lessard joined group sessions with other pedophile priests, and talked extensively with doctors. In one session, Lessard had to stare into a TV camera and deliver his own biography.

"I just began to realize the immaturity of my actions," Lessard said.

Lessard returned to St. Louis in 1980. He was assigned as Catholic chaplain-in-residence at St. Joseph Hospital in St. Charles. In 1984, he transferred to Jewish Hospital, now part of Barnes-Jewish Hospital, in St. Louis. He worked there until retiring in 1993.

Tina Ahearn remembers Lessard on his first day as the Catholic chaplain at Jewish Hospital. Her staff was responsible for asking patients for their religious preference. Ahearn and Lessard worked closely for nine years. They became friends.

No one knew he was a child abuser, Ahearn said.

"I have to tell you, he was the kindest, most gentle man," said Ahearn, who now organizes care for international patients at Barnes-Jewish. "He was particularly good with older people, because they can be grumpy and impatient. He could be very mild in talking with them."

Once working in hospitals, Lessard said, he no longer had an urge to touch boys.

He was doing important work again. He was needed. And he had a chance to make a success of his career, "aside from the 10 years that I got tangled up in this business."

Ahearn said she did not know Lessard's past until a reporter brought it to her attention last week. She struggled to picture this gentle, spiritual man as a child molester.

"He typified to me a very caring, gentle person who one could talk to very easily," Ahearn said. When her grandmother died in 1987, Lessard gave her a book about how to explain death to children.

One night, when she needed to confess her sins, Lessard took her confession at the hospital. She felt sure her secrets would be kept between herself, Lessard and God.

"He had a chance to redeem himself," Ahearn said. "Toward the end of his career, he did that."


---

STATEMENT FROM ARCHBISHOP RIGALI

Archbishop Justin Rigali issued this statement Saturday regarding the reported cases of abuse in the 1970s by the Rev. Joseph Lessard:

"I am saddened by these tragic reported cases which occurred in the 1970s. The assignments of Father Joseph Lessard were made according to the common psychological and professional practice of the time, which we now know to have been inadequate and, by current standards, unacceptable.

"His later parish assignments would not be repeated today because our present policy unambiguously excludes any priest with a substantiated allegation of sexual abuse with a minor from an assignment to a parish or any other ministry with children.

"I deplore this grave evil of sexual abuse and extend my deep apologies to those who suffered abuse from Father Lessard and to their families."

SEX ABUSE BY PRIESTS Reporter Jeremy Kohler: E-mail: jkohler@post-dispatch.com Phone: 314-340-8337