Bishop Reilly Named in More Than 30 Sexual-Misconduct Lawsuits
Former Norwich Church Official Should Have Taken Stronger Action against Offending Priests, Documents Contend

By Day Staff Writer
The Day [New London CT]
March 18, 2002

Worcester, MA (AP) - The Rev. Daniel P. Reilly, who served as chancellor of the Catholic Diocese of Providence and then a total of 27 years as bishop of the Norwich and Worcester dioceses, has been named in more than 30 lawsuits alleging sexual misconduct by priests under his charge. Many of the lawsuits allege that the church responded to complaints by reassigning priests to other parishes.

None of the suits suggests that Bishop Reilly, who currently is assigned to the Worcester diocese, was involved himself in any sexual misconduct.

In an interview with the Telegram & Gazette of Worcester, Reilly said that during his time in Providence and Norwich, he was not personally involved in the reassignment of priests accused of sexual abuse. The Rev. John Bagley and the Rev. Lee F. Bartlett were recently removed from active assignments in the Worcester Diocese. Reilly said the removals proved that the diocese takes seriously charges of sexual abuse by its priests.

"I think the way we're handling it is pretty good," he said. "We're following the law, we're dealing with the authorities. We're trying to help the victims."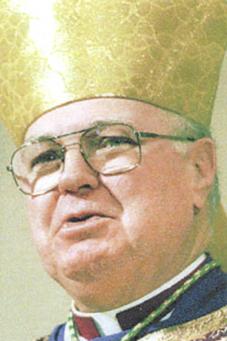 Bishop Daniel P. Reilly
Last month, Reilly announced a no-tolerance policy for abuse that will require priests, church workers and volunteers to report incidents of suspected child abuse to the state.
Reilly is named in at least 28 lawsuits all but one of which are pending alleging abuse by clergy in the Providence diocese. Four clergy sexual abuse suits were filed in Norwich during Reilly's tenure there; two of those have since been thrown out of court.
One lawsuit pending in Connecticut alleges that diocese officials placed a known sex offender in a parish ministry.
Among court documents filed with the lawsuit is a letter Monsignor Thomas Bride of the Norwich Diocese wrote to Reilly recommending that sexual abuse defendant Rev. Richard T. Buongirno not be placed in a parish ministry. Buongirno is being sued by a man who alleges that he was abused in 1990 when he was 9 years old by the priest. The plaintiffs lawyer says Buongirno later sexually assaulted two other boys.
Reilly said Buongirno was told to undergo treatment after information surfaced about the 1990 assaults, and he was not reassigned to a parish until after Reilly left the diocese.
Buongirno has since been removed from the priesthood.
A Norwich Superior Court judge began hearing arguments regarding the case last week.
Another pending suit against the Norwich Diocese was brought by a New Mexico man who alleges sexual abuse by the Rev. Bernard W. Bissonnette, who had been sent for treatment to a Jemez, N.M., facility operated by a religious order called The Servants of the Paraclete, which treats priests who are sexually abusive, suffer from addictions or have other afflictions.
A December 1998 ruling in the New Mexico Court of Appeals found that the New Mexico man could sue the Norwich diocese. The Norwich Diocese appealed, and the New Mexico Supreme Court is reviewing the appeal.
Bissonnette was a central figure in the case of Putnam native Thomas Deary, who suffered from mental illness and committed suicide in 1991 at the age of 44.
Reilly said Saturday that Deary told him he had been molested in 1962 by Bissonnette. The bishop said he referred Deary for counseling by a priest-therapist and met with him a number of times.
Thomas Deary's suicide, Reilly said, was troubling. "Of course, I was upset," he said, adding that Deary "struggled to have a normal life."
Neither Deary nor his family filed a lawsuit, although Deary's brother says he unsuccessfully attempted to have Bissonnette removed.
Of 28 known lawsuits in Rhode Island, just one of them was settled, in 1991. The lawsuits name 13 priests, including The Rev. Robert Marcantonio, who was later accused of sexually abusing an altar boy in Iowa.
Marcantonio's accuser alleges then-Chancellor Reilly was notified by mail in 1970 that the priest had sexually abused more than two dozen boys previously.
After Marcantonio went to Iowa to attend college, Reilly wrote to a monsignor in Iowa in 1971 to thank him for hospitality shown to "one of our priests, Father Robert Marcantonio."
Marcantonio earned master's and doctoral degrees in psychology form Iowa State College, then returned to Rhode Island in 1975. Afterward, he was accused of molesting several more boys at a Cumberland, R.I., parish.
"They're all linked together, and they cover a whole period of years, a number of them after I left the diocese," Reilly said.
"Others may have gone on while I was there, but I wasn't involved in that sort of thing.
"When that assignment (Cumberland) came, I think I was out of the diocese. So that's something that I didn't have any control over."