Reactions and Emotions
Alleged Victims Detail Torment

By Thomas Farragher
Boston Globe
April 9, 2002

http://www.boston.com/globe/spotlight/abuse/stories/040902_victims.htm
[See also the main article of the feature in which this article appeared, with links to the other articles.]

It was an image of innocence familiar to any father who'd tossed a ball with his little boy, cooked him a hamburger, or tucked him into bed at night after a long day at the beach.
And Rodney Ford blinked away tears yesterday as he peered into the large projected image of his young son, Gregory, then just a 6-year-old, swinging from a pole.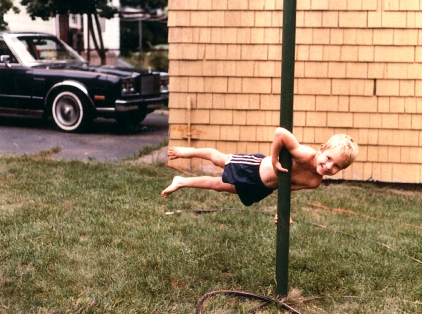 [This photo was not printed in the Globe, but a b&w copy ran in the Boston Herald. This color image is taken from a CD provided to the media on April 8, 2002 by attorney MacLeish.]
His hair is blond. His eyes are bright. He is flashing the carefree smile of a child having fun on a summer's day.
''That's my son at 6 years old,'' Rodney Ford told a packed news conference at a downtown Boston hotel yesterday. ''Look how happy he was. [The Rev. Paul R.] Shanley took his innocence. How would you feel? How do the people feel who still support Cardinal Law? Look at him. That could be your child. But it happens to be mine.''
In aching detail, the alleged victims of Shanley, a former Newton priest accused of repeatedly raping Ford at the now-defunct St. John the Evangelist parish (which was also known as St. Jean's), put pained faces to newly released Boston archdiocese records about clergy sexual abuse.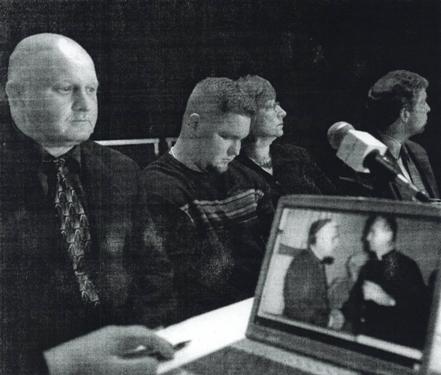 Gregory Ford, sitting between his father, Rodney, and mother, Paula, bows his head as his family and their lawyers detail his alleged abuse by the Rev. Paul R. Shanley. On the computer is a photo of Shanley (right) and Cardinal Bernard F. Law. (Globe Staff Photo / Jonathan Wiggs)
At the Sheraton Boston Hotel and Towers, before a phalanx of reporters and a bank of television cameras, some of them broadcasting live, they suggested a simple criterion by which to measure the torment: How would you feel if it happened to your child?
''Cardinal Medeiros with the full knowledge that he had, assigned Father Shanley to St. Jean's parish with the knowledge of him being a pedophile,'' said Ford, who alternately hugged his son, now 24, and stared at the ceiling, trying to compose himself. ''Cardinal Law with that knowledge elevated him to pastor. I put the question out there to you people: If this was your child, what would you want done? And I put this out to law enforcement agencies, if this was your child, what would you want done?
''Am I wrong to think Father Shanley should be put in jail? Am I wrong to think that Cardinal Law should resign immediately? Am I wrong to think that Cardinal Law should not be prosecuted and put in jail? Am I wrong? I want you people to answer that. I already know my answer.''
In a statement released yesterday, the archdiocese said it has ''learned from the painful experience of the inadequate policies and procedures from the past. We are confident that there is now in place a policy of zero tolerance with regard to the sexual abuse of children and that our present policies and procedures are focused in a singular way on the protection of children.''
Roderick MacLeish Jr., the Fords' lawyer, has filed a lawsuit against Shanley for allegedly attacking Gregory Ford between the ages of 6 and 11. Wearing a wireless microphone and using a laptop computer to enlarge and project scores of the more than 800 church documents about Shanley's conduct and the church's handling of it, MacLeish said the church covered up what it knew about Shanley's attacks and allowed him to continue to prey on children.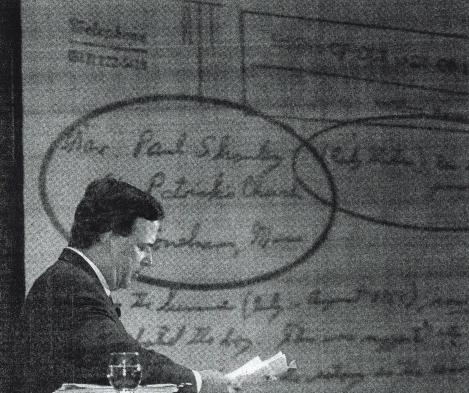 Lawyer Roderick MacLeish Jr. reading from documents concerning former Newton priest Paul R. Shanley during a news conference at the Sheraton Boston Hotel and Towers yesterday. (Globe Staff Photo / Jonathan Wiggs) [The document on the screen is a 1967 letter from Rev. Arthur Chabot to the Boston archdiocese, reporting an allegation against Shanley.]
After projecting a large, color photograph of Cardinal Bernard F. Law and Shanley shaking hands at the priest's 25th anniversary of his ordination, MacLeish said: ''That was during the time that Paul Shanley was molesting Gregory Ford. That was taken at St. Jean's parish in Newton, Massachusetts. We believe that photograph was taken shortly after Cardinal Law had received [a letter] indicating that Paul Shanley was engaging in deviant behavior.''
Gregory Ford struggled to compose himself during the 21/2-hour presentation. Obviously emotional, at one point he briefly left the ballroom. When he was asked to speak about Shanley, he was terse.
''I am very upset that a lot of people knew about him and what he was doing,'' he said. ''There's been 26 complaints. In my belief I think he molested hundreds over his 30-year reign of terror. And I hope you rot [in] hell.''
MacLeish said Shanley's abuse of Ford led to self-destructive behavior. Ford burned himself with cigarettes, was hospitalized or was in residential treatment programs 17 times, and was repeatedly questioned by caregivers about whether he had been sexually abused. ''Like so many other children, he always said no,'' the lawyer said.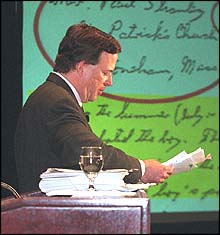 Lawyer Roderick MacLeish Jr. reading from documents concerning former Newton priest Paul R. Shanley. (Globe Staff Photo / Jonathan Wiggs) [This photo and caption were used in the Globe's Web version of this story.]
Rodney Ford, a police officer at Boston College, said when he first learned of his son's abuse, he grew determined to know who was responsible and who would be held accountable. With the photo of Law and Shanley on the screen to his left, Ford said: ''You look up at the screen right now. There they are. There's two of them right there.''
Ford's emotional remarks drew applause from the audience of relatives, parishioners, and supporters who were later held spellbound by another alleged victim, 53-year-old Arthur Austin.
Austin, who has a pending lawsuit against Shanley, said he went to the priest for counseling after his first gay relationship ended when he was 20. He was given ''access'' to Shanley's body to ease the pain of the breakup, Austin said Shanley told him.
''If the Catholic Church in America does not fit the definition of organized crime, then Americans seriously need to examine their concept of justice,'' Austin said. ''Bernard Law and [archdiocese attorney] Wilson Rogers have behaved throughout this catastrophe with a deviousness, cunning, and lack of good intent that crossed long ago into the realm of criminality, however much the ever-elastic niceties of the law protect them.
''But in stooping now to defend, by delay and specious appeals to the court, a walking plague like Paul Shanley, they have lost forever any right to regard themselves as decent men.''
As Austin struggled with his text and began to sob behind a lecturn, Gregory Ford, whose grandparents helped found their church in Newton, left his seat between his mother and father and walked over to Austin, laying an arm across the older man's shoulders.
Austin directly addressed Law.
''And you, Bernard, my cardinal, my prince of the church, my shepherd, my father in Christ, how long have I hungered at your indifferent door for a crumb of compassion, justice, or mercy? Or even a crumb of simple honesty,'' Austin said. ''You are a liar; your own documents condemn you. You are a criminal, a murderer of children; you degrade the office you hold in the church; you are an affront to Jesus Christ ... I name you one by one—Bernard Cardinal Law, archbishop of Boston; Wilson Rogers, attorney at law; Paul Shanley, priest—for the evil you are and the evil you've done. I accuse you before God and humanity. May you never prosper from this day on.''
This story ran on page A11 of the Boston Globe on 4/9/2002.