Hart Apologizes for Not Reporting Sex-Abuse Charge

By Day Staff Writer
The Day [New London CT]
May 8, 2002

Norwich - Daniel A. Hart, the bishop of Norwich, apologized Tuesday for failing to report an allegation of sexual abuse to state officials when the diocese received it last month.

A Texas man, who said two former priests of the Diocese of Norwich sexually molested him when he was an altar boy at St. Mary's parish in Putnam 40 years ago, made the allegation.

Charles Vigeant, 47, said Tuesday that he was forced to have oral sex with Father Donald Petraitis, a member of the Marian Fathers now living in Chicago, and was sexually molested by Father Donat Jette, now deceased. Petraitis has denied the allegations.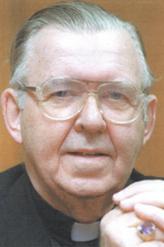 I want to assure DCF that / shall make sure that any allegations concerning abuse of a child will continue to be reported to them as well as to the State's Attorney as mandated by law and Norwich Diocesan policy.' Bishop Daniel A. Hart
Vigeant said he sent a certified letter to Petraitis and a copy of the letter, also certified, to the Norwich Diocese at the beginning of April.
Under state law, clergy are required to report any allegations of sexual abuse to the state Department of Children and Families within 24 hours of receiving them.
Hart did not notify the agency until Tuesday.
"I regret that DCF feels that I should have forwarded an allegation to them but I did not," Hart said Tuesday. "I have notified DCF today ... I want to assure DCF that I shall make sure that any allegations concerning abuse of a child will continue to be reported to them as well as to the State's Attorney as mandated by law and Norwich Diocesan policy."
The fine for failing to report abuse to DCF is up to $500.
There are two other priests who once served at the St. Mary parish who have been accused of sexually abusing children in other parishes: Raymond Jean, now deceased, and Bernard W. Bissonnette, now living in New Mexico. Lawsuits dealing with alleged abuse made against Bissonnette and the estate of Jean are pending.
Vigeant said Petraitis abused him at St. Mary and later became the headmaster of the Marianapolis Preparatory School in Thompson and vicar general of the order.
While he remembers Bissonnette and Jean, Vingeant said, neither of them bothered him. He recalls being in the confessional with Jette.
"My brother and sister wanted to know why I used to speak so loud in the confessional," Vigeant said. "They said everybody in the congregation could hear me. I did it because I wanted people to know I was in there."
Asked why he chose to come forward with his complaint now, Vigeant said that he came to the region in March to visit his parents and decided he was "sick and tired of carrying this secret.' He said he has been emboldened by the avalanche of sexual abuse charges made against priests across the country in recent months.
He said he had suffered through many years of alcohol and drug addiction and failed relationships, and, finally, therapy, to reach the point where he could deal with what had been done to him.
He drank and did drugs, he said, "to numb out ... because I couldn't deal with the shame. I wondered if people thought I was gay because of what had happened to me. I've never had so much hatred for one man in my whole life. He literally stole my soul for years."
Hart said he had not notified the state of the letter, because it "alleged sexual misconduct about a Norwich Diocesan priest, who has been dead for 10 years, and a priest in a religious community, who many years ago served in the Diocese of Norwich and is now living in Illinois.
"Since the letter was not addressed to me, I did not believe that DCF expected me to report allegations addressed to someone else in another state concerning a deceased diocesan priest and a religious order priest living in another state."
A spokesman for the agency said DCF should be notified of all allegations, no matter how old they are.
DCF Commissioner Kristine Regaglia has said that the agency uses a registry system to keep track of child abusers. The system is used to screen applicants for various jobs, including day-care and teaching.
"If I can get this guy's name out, I'm hoping other people will come forward and say, 'This happened to me, too,'" Vigeant said. "I want this man held accountable for what he did ... not only for me but for the other kids he sexually abused and the other kids he emotionally and physically abused.
"He's destroyed kids, he'd beat on them and tell them, 'May your pernicious soul rot half a grain a day in hell.'"
For years, Vigeant said, he had blocked out the memory of what Petraitis did to him, and then, when he remembered, "I huddled in the corner and cried."
The Associated Press contributed to this report.
k.robinson@theday.com