Bishop Hart Is Cleared in Abuse Lawsuit
Judge: No Evidence to Show He Knew of Priest's Sexual Assaults

By Day Staff Writer
The Day [New London CT]
August 1, 2002

A New London Superior Court judge has virtually cleared Bishop Daniel Hart of charges that he knowingly allowed a diocesan priest to sexually abuse a teen-age boy.

Judge Ian McLachlan granted the Norwich Diocese's summary judgment Tuesday to dismiss all claims of alleged reckless, wanton or willful misconduct against Hart. He did not clear Hart on a charge of simple negligence, however, and the plaintiff will be able to pursue his claims against the diocese and the priest.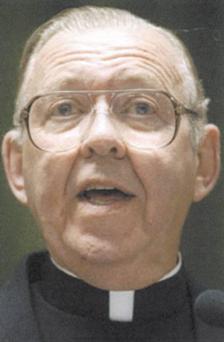 Bishop Hart
In the case of John Doe vs. Richard T. Buongirno, Doe is suing Buongirno, the diocese and Hart, alleging that beginning in 1990, when Doe was a 9-year-old boy, Buongirno sexually assaulted him on several occasions. Buongirno was the pastor of St. Matthias Church in East Lyme at the time.
Even after the diocese was made aware of an earlier sexual relationship with a teen-ager, Doe alleges, Buongirno was allowed to serve in several parishes, including Middletown, where, at a ring ceremony at Xavier High School, he resumed his sexual predation of Doe.
The lawsuit charged that Hart and the diocese were negligent and showed wanton and willful misconduct by allowing the assaults to happen.
But McLachlan found that "there is no evidence showing that Hart knew of any other allegations against Buongirno that would suggest any history whatsoever of sexual misconduct while in the priesthood, or any propensity for such misconduct."
He also ruled that the lawsuit does not support any claim of "vicarious liability" or that Hart and the diocese should be held responsible for Buongirno's actions while he was working for them as a priest. In other words, McLachlan did not find that Buongirno was acting within the scope of his employment and in furtherance of the employer's business.
Joseph Sweeney, an attorney for the diocese, pointed out that Hart became bishop in November 1995, at about the time when Buongirno was serving at his last parish.
"We are pleased," said Sweeney. "It shows that the judge carefully analyzed and evaluated the evidence. This is an important decision because it clarifies and narrows the issues. It should facilitate the ability to present our case to the jury, which will be called upon to decide those issues which remain to be resolved in the lawsuit."
At issue, McLachlan said, was what the bishop and the diocese could reasonably have been expected to know, and when they knew it.
When Doe's mother complained in 1991 to the state Department of Children and Families, it was never "substantiated," Sweeney said. So then-Bishop Daniel P. Reilly and the diocese concluded it was a "false alarm," he said.
"The plaintiffs are claiming that the diocese should have looked into this further," said Sweeney. "The judge concluded that it was up to a jury to decide whether the 1991 claim had any role in the case."
In 1994, a Massachusetts man told the diocese he had a homosexual relationship with Buongirno when he was 16 to 18 years old, before Buongirno entered the seminary. They met at St. Thomas More School in Oakdale, where Buongirno was teaching.
The diocese sent Buongirno to the Institute for Living in Hartford for five months for treatment and evaluation. Ultimately, Sweeney said, the diocese was told that Buongirno did not represent a risk to anyone. Only after the diocese received that assurance was Buongirno allowed to work as a priest, he said.
Sweeney said that Buongirno has only admitted to the relationship with the Massachusetts man. He has denied any sexual contact with Doe. The trial will begin next year, he said.
On June 13, 1998, Buongirno was barred from exercising the priestly ministry. The diocese is currently pursuing a legal procedure based on the Code of Canon Law of the Roman Catholic Church to obtain from the Vatican a decree of laicization, dismissing Buongirno from the priesthood, Sweeney said.
Doe's attorney, Robert Reardon, could not be reached to comment.
i.larraneta@theday.com