4 Cases Provide a Glimpse of How Archdiocese Responded
Father Theodore Llanos
38 Abuse Counts Dropped Due to Time Elapsed

In Sunday Report: Archdiocese for Years Kept Allegations of Abuse from Police

By Glenn F. Bunting, Ralph Frammolino, and Richard Winton
LA Times
August 18, 2002
http://www.latimes.com/news/local/la-me-llanoscase18aug18.story
[See also the main article in this feature, the profiles of 33 accused priests with photos, and essays on three other priests: Revs. Nicolas Aguilar Rivera, Michael S. Baker, and Carl Sutphin.]
On Sept. 16, 1994, Scott Griffith, then a 21-year-old college student, reported to the Los Angeles Archdiocese that Father Theodore Llanos had molested him for four years, beginning when he was a seventh-grader.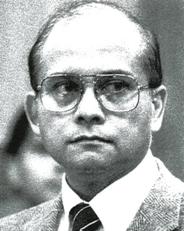 The year after charges were dropped, Llanos killed himself. Photo by Luis Sinco, Los Angeles Times.
The archdiocese dispatched Monsignor Timothy J. Dyer to assure Griffith's parents that the sexual abuse of their son had been an "isolated" incident, the first accusation in Llanos' career of 22 years.
Dyer also informed the Griffiths that he intended to announce Llanos' removal from St. Barnabas Church in Long Beach as an "administrative" move--something the Griffiths objected to as a cover-up.
Within days, Llanos was sent for evaluation and treatment to St. Luke's Institute in Maryland, where he reportedly admitted molesting 10 victims.
Dyer wrote to the Griffiths on Sept. 22: "At this point, I do not feel it is the role of the archdiocese to present Father Llanos to the district attorney. My own thinking is based on my experience that incarceration of the priest neither rehabilitates him nor enhances the treatment which would be offered your son and your family."
Dyer said the Griffiths were free to go to the police. But during a meeting, according to the victim's father, Dyer discouraged them from doing so.
"I was told the police could be very tactless in their approach to our son, and it would be very embarrassing for him," Paul Griffith said.
In mid-November, Long Beach Dets. Randi Castillo and Michael Holguin drove to archdiocesan headquarters, looking for information about allegations that Llanos had molested children.
Castillo said the receptionist there refused to let them talk to anyone, because they didn't have an appointment. The detectives said they encountered the same treatment while visiting parishes where Llanos had served in Covina, Bellflower and Long Beach.
"Talking to employees, including priests and retired priests, many of them mentioned that they were informed that they should not talk to us, that it came from downtown," Holguin said.
The detectives then spoke with Sister Judith Ann Murphy, the archdiocese attorney.
"She told me only one person had come forward, and [they were] reaching out through pastoral counseling to this victim," Castillo said. When Castillo inquired about the list of 10 altar servers whom Llanos reportedly had admitted molesting, she said, Murphy replied: "You'll have to get a court order for that."
Murphy declined to be interviewed for this story, saying through an archdiocese spokesman that she never talks to reporters.
Attorney John P. McNicholas, who represented the archdiocese in the Llanos case, said that victims were always urged to contact police and that the archdiocese stood ready to turn over the priest's files if authorities obtained a court order. A subpoena was prepared for Llanos' file, but a judge threw it out on the basis of objections from the priest's attorney, Donald Steier.
Llanos was charged with 38 counts of sexual abuse of minors in 1995. The charges were dismissed in February 1996 by a judge, who ruled that the statute of limitations had expired.
In January 1997, Llanos committed suicide.
Because several Llanos victims and their families filed a lawsuit, the archdiocese cut off payments in 1996 to counselors who were providing psychiatric treatment to them.
Cardinal Roger M. Mahony said he was unaware that counseling services had been severed until The Times recently asked him about it.
"I was appalled. Appalled!" Mahony said. "I had never heard of it in my life." The cardinal said he immediately ordered that any future legal action against the archdiocese have no bearing on payment for treatment of people who had been sexually exploited by priests.
Mahony also said that, before he was recently informed by The Times, he had no knowledge that police officers had reported meeting resistance from archdiocesan officials.
"We were far from covering up. Far from it," he said. "We were trying to find out where the victims were."