Bishop Hart Named in New Lawsuits
Norwich Prelate Seen As Negligent Supervisor in Sex Abuse Legal Claims

By Kenton Robinson
The Day [New London CT]
January 30, 2003

Norwich Bishop Daniel A. Hart was named in eight sexual abuse lawsuits filed Wednesday in Suffolk County Superior Court in Boston.

Boston attorney Mitchell Garabedian said Hart was named in the suits not as an abuser but as a negligent supervisor of priests accused of sexually abusing children. The suits stem from incidents alleged to have taken place during Hart's years of service in the Boston Archdiocese, between 1965 and 1982.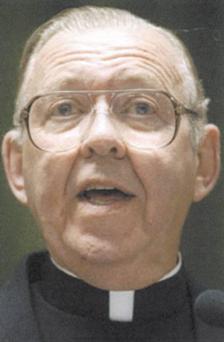 Bishop Hart
"He had a duty to properly supervise the perpetrator priest and he breached that duty," Garabedian said. "He knew or should have known that the priest was molesting children."
Also named in two lawsuits, as a supervisor, was Archbishop Daniel A. Cronin of the Archdiocese of Hartford.
Jacqueline Keller, communications director for the Norwich Diocese, said Wednesday that Hart had just learned of the lawsuits while listening to his car radio and had no comment at this time. Calls to the Archdiocese of Hartford were not returned.
The Rev. Christopher Coyne, a spokesman for the Boston Archdiocese, said the archdiocese was reviewing the suits and had no comment.

The Hart lawsuits were among 70 new lawsuits Garabedian filed Wednesday accusing 41 priests of sexually abusing or raping children. Thirteen of those priests have not been accused of sexual abuses prior to Wednesday's filing, Garabedian said.

During those times, Garabedian said, Hart occupied a position in which he "had a duty to hire, supervise, direct and retain" the accused priests.
Hart was named in suits involving seven priests:
The Rev. Joseph Birmingham, now deceased, is accused of sexually abusing Paul Claveau between 1965 and 1970, when Claveau was between 13 and 18 years old.
The Rev. John Cotter is accused of raping and sexually abusing Stephen lannaccone from 1966 through 1968, when lannaccone was between 12 and 14 years old.
The Rev. John Dewire, now deceased, is accused of repeatedly raping Paul Sutherland in 1967, when Sutherland was 10 years old.
The Rev. Frank Fairbairn, now deceased, is accused of sexually abusing James Gosselin in 1970, when Gosselin was 14 years old.
The Rev. Robert Towner is accused of raping Stephen Green in 1980, when Green was 16 years old, in the presence of the Rev. Daniel Graham, who also is accused of raping Green.
The Rev. Paul Mahan is accused of sexually abusing three children between 1971 and 1980 while under Hart's supervision. Mahan allegedly abused Jonathan Weydt from the time Weydt was 6 years old until he was 12. He allegedly abused Thomas Plant when Plant was 15. And he is accused of molesting Mark Carroll when Carroll was 13.
The Rev. Edward Sherry is accused of molesting David Merritt between 1968 and 1970. Details on that case were unavailable Wednesday.
Both Hart and Cronin were named as defendants in the Sherry lawsuit, and Cronin was named in a second suit involving the Rev. Bernard Lane.
Lane is accused of molesting Robert O'Neill in 1970, when O'Neill was 16.
"It just goes on and on," Garabedian said. "It's just very sad. It's shocking and it's senseless."
Hart's name has come up in connection with other sexual abuse cases in the Boston Archdiocese in recent months.
In one of those cases, reported in The Boston Globe last year, a Franklin, Mass., man wrote to Boston Cardinal Bernard F. Law that when he went to Hart in 1984, after a priest under Hart's supervision sexually assaulted his wife, Hart dismissed his complaint.
The priest accused in that case was the Rev. Anthony J. Rebeiro, who was subsequently transferred to another parish.
Also, documents released by the Boston Archdiocese in December revealed Hart's concern about publicity when the Rev. Benjamin McMahon was arrested on Cape Cod in 1985 for having sex with another man.
In notes to the archdiocese, Hart wrote, "We can keep it from the public," and "Assured (hearing) will be in judge's chambers and nothing will be done in public," according to the Globe.
Hart has had no comment on the stories. He did say in an interview last year that the publicity given to the sexual abuse crisis in the church has given a distorted picture of the extent of the problem.
But Hart also has said that all complaints of abuse in the Norwich Diocese immediately would be referred to authorities.
The Norwich Diocese is named as a defendant in five pending lawsuits. One of the cases, involving the Rev. Richard Buongirno, also names Hart as a defendant, again in his supervisory capacity. Two of the cases also name as a defendant former Norwich Bishop Daniel Reilly, now serving as the bishop of the Diocese of Worcester, Mass.
k.robinson@theday.com