Rev. Paul Aube: Priest Not Stopped after Many Alleged Violations

By Michael Cousineau
Union Leader
March 4, 2003

http://www.theunionleader.com/church_show.html?article=18744
[Back to main article of this feature, with links to other articles and documents.]

Former Roman Catholic priest Paul Aube gave special crosses to boys he sexually abused at a Berlin church as a sign they were special members of the priest's "inner circle," according to one alleged victim.
Aube, 61, removed from his ministry last year, cited passages in the Bible to convince one boy that sexual contact was permissible. On a car trip to Indiana, Aube is accused of sexually assaulting four boys in the "same session" that one victim labeled a "rape fest."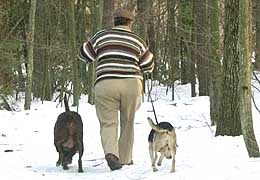 THE REV. PAUL AUBE takes a walk with his dogs in Concord on Feb. 6. Aube is one of eight New Hampshire priests named in an investigation by the attorney general's office for allegations of child sexual abuse. (AP Photo)
Back in 1975, Nashua police found Aube in his car engaged in sexual contact with a teenager, who was 17 or 18. Bishop Odore Gendron contacted the Nashua police chief to make the matter go away. Craig Sandler, the former chief, denied knowledge of the incident or any contact with the bishop.
Aube also called a police officer at home the next day asking him not to file a report.
After the diocese said it first became aware in 1981 of allegations Aube had sexually assaulted minors, the diocese transferred the troubled priest to hospital work where diocesan officials said he wouldn't have contact with minors.
"Despite its knowledge that Aube was a threat to minors, the Diocese transferred him to subsequent assignments without effective limitations on his ministry," according to the state's report on clergy abuse. "In these subsequent assignments, both at Holy Rosary parish in Rochester and the Elliot Hospital in Manchester, Aube sexually assaulted other minor victims."
If not for a deal with the diocese, state prosecutors were prepared to present one or more indictments to a Hillsborough County grand jury, charging the diocese with endangering the welfare of children regarding Aube, the report said.
Concerns about Aube's mental health surfaced at the Queen of Peace Seminary in Jaffrey Center in 1968. Aube is "a poor risk" and "his self-control not the best," wrote Thomas Hansberry, the vicar general of the Manchester Diocese.
Aube's abuse dates back three decades. Under a grant of immunity, Aube admitted to the attorney general's task force last year that he engaged in sexual misconduct with at least three boys between the ages of 16 and 18 while assigned to St. Mary's parish in Claremont between 1970 and 1973.
A fourth victim told the task force he was abused, beginning at age 12. When the boy protested being molested, Aube would bend the boy's finger and wrist back and put pressure on his fingernail and make him perform oral sex.
When the crying boy tried to tell his mother Aube hurt him, he said his mother "slapped me and told me not to lie about the church." His mother did meet with a church official and then sent the boy to live with another relative away from Claremont.
Aube said he told a now deceased priest in 1972 or '73 that he had sexual contact with one boy, but isn't aware that the priest reported him to diocesan officials.
At his next assignment, the Guardian Angels parish in Berlin, Aube admitted to having inappropriate sexual contact with at least five parishioners between age 16 and 18, the report said.
One victim, an altar boy at the Berlin church, recalled that Aube invited him and another boy to the church basement, having both boys touch each other inappropriately and claiming he had "direct contact with God" and knew how "to get closer to God."
Aube said he told his pastor about being caught by Nashua police. He soon also told Bishop Gendron he didn't want to return to youth work and requested a transfer.
Church officials had Aube see Dr. Edward Conners, a mental health treatment provider, in 1976. Conners last year told the task force that the diocese never contacted him to ask whether it would be appropriate to assign Aube to a ministry that involved children after he provided his report.
"Dr. Conners stated that an assignment involving youth ministry would have been inappropriate in light of the report he generated, but he acknowledged that he did not get involved with assignments," said the state's report.
In September 1976, Aube was sent to the Rochester parish working with youth. Aube sexually assaulted at least seven minors while at the Rochester parish, including two brothers, the state's report said.
A woman also intimated that Aube might have gotten pregnant her daughter, who was studying to be a nun, but no evidence surfaced that Aube was involved, the report said.
In the summer of 1981, the diocese learned Aube had sexual contact in the Holy Rosary rectory with a 15-year-old boy. The previous January, Aube said the boy threatened to tell his psychologist that Aube raped him because Aube refused to have a deeper relationship with him.
Aube told Bishop Gendron he wanted help because he was afraid of the boy's threats. The boy's mother contacted the diocese by Aug. 20, 1981.
"There is no indication from Diocesan files that the Diocese complied with mandatory reporting requirements after it learned about Aube's sexual contact" with the boy, the report said. The boy and his mother both said that neither police nor the diocese followed up.
A doctor suggested that Aube be transferred to a hospital ministry. Aube served at Concord Hospital and at Elliot Hospital in Manchester.
Aube said he has had no sexual contact with anyone after 1981. But one boy, who said he was sexually assaulted by Aube while in his church youth group in Rochester, said he drove to Manchester in 1982 to watch a Spaulding High School football game and met Aube afterward at Elliot Hospital.
The boy said Aube gave him a tour and then led him to a room used for church services where Aube placed his hands down the boy's pants.
At a later date, when he was 17 or 18, the victim went to Aube's Candia home, where they both were naked and touching each other.
Years later, the boy got engaged and brought his fiancee to Aube's home to meet him.