Bishop Bad Boy
Santa Rosa's charismatic Catholic bishop got busted shaking down a priest for sex. But he had friends in high places—and they served him well.
By Ron Russell ron.russell@sfweekly.com
San Francisco Weekly
March 19, 2003
http://www.sfweekly.com/issues/2003-03-19/feature.html
[Note: Title-page spread and photographs were scanned from a copy of the original print edition.]
AFTER HE WAS CAUGHT EXPLOITING a subordinate priest for sex, G. Patrick Ziemann could have been consigned to a life of ignominy upon stepping down as the Roman Catholic bishop of Santa Rosa in 1999. And after he left the sprawling diocese that stretches from the Golden Gate Bridge to the Oregon border $16 million in debt following his seven years there, at least a few angry Catholics believe he walked away with far too little punishment. But life after the fall has turned out to be relatively sweet for the charismatic and once wildly popular religious leader known to many as Bishop Pat, despite his notoriety as one of the American church's highest-ranking bad boys.
Better Times: Bishop G. Patrick Ziemann, before he resigned his Santa Rosa post in 1999. Courtesy of the Press Democrat.
Residing in comfortable, if not luxurious, exile at a monastery in the Arizona desert that doubles as a tourist destination, Ziemann, 61, is fit, tanned, and in good spirits. A fixture on the artsy party circuit in nearby Tucson, he's even spotted occasionally at a karaoke bar. Although his clerical privileges are restricted while he undergoes "spiritual rehabilitation," church officials haven't ruled out the possibility that the disgraced bishop may someday get a crack at heading another diocese.
And neither has he.
"It's whatever the Lord wills," he tells SF Weekly in the first newspaper interview he has granted in the nearly four years since being engulfed in scandal. "Whatever the Lord has in mind for me, I'm willing to accept."
That this fallen star among U.S. Catholic leaders—even one who claims to pray four hours a day, as Ziemann does—entertains the possibility of a career comeback is itself revealing. After all, it was only a few years ago that he forced a young priest to wear a beeper so that he could summon him for trysts in cars, hotel rooms, and even the Santa Rosa Diocese office. (Once, police reports reveal, Ziemann had the cleric orally copulate him on the eve of their joint celebration of a special Sunday Mass.) Then again, as his kid-glove treatment since being banished from Santa Rosa suggests, Ziemann may know too much to be jettisoned. Even now, more than a year after priestly sex abuse burst into the headlines—first in Boston and then across the nation—the former leader of 140,000 Northern California Catholics looms as a tantalizing figure in the unraveling scandal afflicting the church.
He has been protected by and remains intimately connected with three influential fellow hierarchs, including San Francisco Archbishop William J. Levada. It was Levada who presided over Ziemann's skipping away from Santa Rosa with criminal impunity after church officials refused to fully cooperate with authorities. Ziemann's mentor and chief patron is Los Angeles Cardinal Roger M. Mahony, whose problems with pedophile priests rival the scandal-plagued Boston archdiocese's. The other member of the troika is Manuel Moreno, who until his surprise resignation this month for health reasons, was bishop of Tucson, Ariz., and in whose diocese Ziemann was given refuge at the Holy Trinity Monastery near the legendary gunslinging town of Tombstone. Moreno has a long and tawdry record in covering up for pedophile priests.
After sexually abusing him, an accuser says Ziemann listened to his troubled confessions and told him "to say 10 'Our Fathers' and 10 'Hail Marys.'"
Ziemann's ties to the trio, and their bonds to each other, go back four decades to St. John's Seminary College, on a secluded Southern California hilltop overlooking the Ventura County coastline. The men overlapped as students there in the late 1950s and early '60s. Ziemann arrived in 1963, the year after Mahony, the group's superstar, graduated. But his and Mahony's paths have intersected at St. John's social events and elsewhere since at least the mid-1960s. After Mahony became archbishop of Los Angeles in 1985 (Pope John Paul II elevated him to cardinal in 1991), Ziemann's stock soared.
After naming him to oversee a junior seminary for high school boys, Mahony appointed Ziemann auxiliary bishop of Los Angeles in 1987. Church sources say the cardinal was instrumental in securing the Vatican's 1992 appointment of Ziemann to head the Santa Rosa Diocese. The sources say Mahony also had a hand in Levada's coming from Portland, Ore., to become archbishop of San Francisco in 1995, following former Archbishop John Quinn's decision to step down for health reasons. Thus Levada (St. John's class of '58) became Ziemann's ostensible boss.
At a time when someone else might have tossed him to the wolves, Levada lauded Ziemann to the bitter end in Santa Rosa. The day Ziemann resigned, shortly after a lurid audiotape surfaced exposing the bishop's illicit relationship with the priest, Levada extolled his friend as someone who had done much to help the diocese. It didn't seem to matter that, right up until the revelation of the bishop's tape-recorded apology to Father Jorge Hume Salas for forcing him to engage in sex, Ziemann's personal attorney proclaimed him to be "a very holy man" and the bishop steadfastly denied any misconduct. "It was like a testimonial send-off for his bishop who had just finished disgracing himself in the worst way imaginable," recalls Don Hoard, a Petaluma advocate for sex-abuse victims, referring to Levada's verbal backslapping. "It was surreal."
As archbishop, Levada stepped in to run the Santa Rosa Diocese for nearly a year until a new bishop could be installed. During that time, Levada's underlings dragged their feet and discouraged police and prosecutors from pursuing possible criminal charges against Ziemann and his former top lieutenant, Monsignor Thomas J. Keys, in the wake of a colossal financial scandal, the full extent of which has yet to be disclosed. This, after diocesan lawyers worked vigorously to discredit Hume, whom Ziemann began shaking down for sex not long after ordaining him. It was on Levada's watch that the diocese paid Hume $535,000 to settle a civil lawsuit against Ziemann, while swearing him to secrecy. But the archbishop's involvement didn't end with Ziemann's departure.
Despite initial denials by Levada's spokesmen, the archbishop has occupied a prime position of oversight regarding Ziemann's spiritual rehabilitation. From the time Ziemann arrived in Arizona after several months of sex counseling at a church-sponsored treatment center on the East Coast, Levada has presided over a five-member committee (which also includes the Vatican's ambassador to the United States) intended to provide his friend with spiritual help—and presumably to determine his fitness for any future clerical role.
Levada declined to be interviewed for this article. A spokesman said the archbishop feels he has already sufficiently addressed Ziemann and related issues.
If Ziemann has Levada at least partly to thank for his prosecution-free exit from Santa Rosa, he may be uniquely positioned to return favors—especially those extended by his chief benefactor, L.A.'s powerful Cardinal Mahony. Indeed, court documents and interviews with abuse victims as well as current and former priests suggest a pattern of Ziemann being made aware of sex-abuse allegations lodged against priests during the many years he served the L.A. Archdiocese that were unheeded and subsequently covered up. Some of these relate to the period before Mahony became archbishop, while others occurred during the time Ziemann served the cardinal as auxiliary bishop.
Plaintiff's attorneys and others agree that Ziemann could become a legal millstone around Mahony's neck and at least a major embarrassment for Levada and Moreno should he be compelled to testify in a civil or criminal proceeding. In recent weeks, Mahony's vicar for clergy and the vicar's three predecessors have testified before a grand jury in Ventura County, the first top officials from the nation's largest Roman Catholic archdiocese to be subpoenaed. L.A. County prosecutors have filed criminal charges against six of Mahony's priests, and law enforcement sources say as many as a dozen others could be arrested in coming months.
"[Ziemann's] being [at the monastery] is sort of like having him in a witness protection program," says A.W. Richard Sipe, a psychotherapist and former Benedictine monk who has written extensively about clergy sex abuse. "From the standpoint of church leaders, I'm sure they think of him as better off out of sight and out of mind."
Such a conclusion may be more than speculation. Ziemann enjoys top-drawer legal representation in Donald Steier, a Los Angeles criminal defense lawyer whose clients include several accused priests with close ties to Mahony. Steier's involvement is all the more intriguing since Ziemann contends he is broke, his Santa Rosa troubles are presumed resolved, and no criminal charges are pending against him.
But that could change.
At least two men have come forward to claim that Ziemann molested them as altar boys in the L.A. suburb of Huntington Park during his first assignment as a priest in the late '60s. The bishop denies the charges. But the accusations of one of the men, a 47-year-old Oregon resident who says Ziemann paid him for sex for nearly two decades, are likely to open old wounds in Santa Rosa.
That's because the accuser (who spoke to SF Weekly on condition that he be identified only by his first name, Richard) contends that although he and the bishop stopped having sex in 1986, Ziemann continued to give him money until shortly before stepping down from his Santa Rosa post. If that's true, the source of the money could draw the ire of those still upset that Levada didn't provide a full accounting of how millions of church dollars were squandered, and who insist that the archbishop was more interested in quelling scandal than pursuing justice. Richard is suing Ziemann and the church for alleged sexual abuse, and L.A. police investigators recently interviewed the Oregon man in what may be a harbinger of more serious trouble. Richard says that Ziemann paid him "several thousands of dollars" while he was Santa Rosa's bishop, and that some of the money was drawn on an account called the "Saint George Fund." If so, Ziemann may be guilty at least of impish humor.
The initial "G" in his name stands for George.
________________________
SISTER JANE KELLY was suspicious of Ziemann from the first time she met him.
A month after he was installed as bishop, Ziemann went to Ukiah to make a request of the nun, popular for her work on behalf of the poor. He had brought Hume, a Costa Rica native, to the diocese as a priest candidate and wanted Kelly to help him learn the fundamentals of parish life. Hume, then 35, barely spoke English. But Ziemann didn't seem to care. He put Hume on the fast track. In 1993, after only 15 months as a deacon, Hume was ordained as a priest and assigned to Ukiah's St. Mary of the Angels parish as an understudy to the much older pastor, Father Hans Ruygt.
Long before Hume's ordination, Kelly had sized him up as a con artist. (A police investigation later revealed that he had been kicked out of seminaries in Honduras, Mexico, and the United States, and had been accused of passing himself off as a priest to collect money in Costa Rica and New Jersey.) Before long, there were hints of trouble.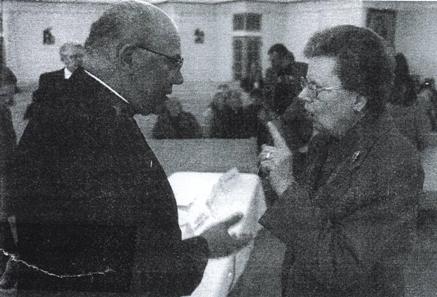 [Archbishop William J.] Levada gets an earful from whistle-blower Sister Jane Kelly in 1999.
Parishioners in Ukiah's Hispanic community grumbled to Kelly that the priest was hitting them up for extra cash to perform baptisms and weddings. There were rumors, never substantiated, of inappropriate behavior with young men. But it wasn't until 1996, after it was discovered that someone was systematically stealing money from the parish, that the nun's suspicions—expressed to Ziemann before and after Hume's ordination—were validated.
The thefts were a mystery, since they continued even after Ukiah police, with the consent of Father Ruygt, set up secret surveillance cameras inside the church. Unknown to the cops, the trusting senior priest had told Hume about the cameras, considering it unthinkable that his fellow cleric could be guilty. His attitude changed on a Sunday in which missing funds were traced to Hume's afternoon Mass. That night Ruygt told a police detective that Hume was removing sealed bank bags from the church safe, taking out cash, and putting back the remainder in freshly sealed bags.
It turned out that Ruygt had talked to the cop despite a phone call from Ziemann instructing him not to cooperate. Then the bishop got on the phone with Fred Keplinger, Ukiah's police chief and a lifelong Roman Catholic, and persuaded him to send his detective away without arresting Hume. (The young priest had admitted taking money, but said he used it to benefit the poor in his native country, although he couldn't produce receipts to substantiate that.)
"It was the most embarrassing mistake of my professional career," says Keplinger, now retired. "I felt very close to Bishop Ziemann and had a lot of respect for him. He confirmed all three of my children." Keplinger says he should have listened to his wife, who was immediately suspicious of Ziemann's motives. "That night she told me, 'You know, you're the most naive police chief in America.'"
Already indebted to Ziemann for his priesthood, Hume now had the bishop to thank for keeping him out of jail. Ziemann sent him to a Santa Rosa therapist and later transferred him to St. Michael's Community, a St. Louis treatment center run by the Servants of the Paraclete, a religious order devoted to helping priests with emotional and psychosexual disorders.
If Ziemann had deliberately tried to maneuver Hume into a vulnerable position, he couldn't have done a better job. And the bishop soon began collecting his payback. Hume told police his first sexual encounter with Ziemann occurred in June 1996, shortly before he left for St. Louis. It allegedly took place at the bishop's residence after Ziemann asked him to come there to pick up his airline ticket.
Hume's account, as related in police reports, was that he told Ziemann he was depressed and began to cry. The bishop embraced him and began kissing him on his face and neck, Hume said. Later, at Ziemann's insistence, the men orally copulated each other.
The sex scandal that San Francisco Archbishop William J. Levada inherited may have been easier to manage than the financial mess his friend and fellow hierarch left behind.
Ziemann did more than merely call St. Louis regularly to check on Hume's progress. In July, toward the end of the priest's treatment, he flew there and was met at the airport by Hume and a chauffeur from St. Michael's who took him to a hotel. Once there, Ziemann sent the chauffeur away and insisted that Hume come up to his room since the men had a lot to talk about.
Hume alleges that Ziemann undressed him, had sex with him, and after taking him out to dinner, slipped a wad of bills into his pants pocket and told him to buy something nice for himself. The priest also alleges that Ziemann had sex with him the following day in a private room at the treatment center, minutes after an all-important evaluation to determine his fitness to return to California. Once back in Santa Rosa, he began wearing the beeper on Ziemann's orders. Hume told police that the bishop demanded sex once or twice a week for two years.
Eventually, Ziemann found Hume to be a liability and tried to get rid of him. Hume's conduct, including being seen at a Napa pizza parlor with a young man in his lap, fueled more rumors. First, Ziemann tried to send him back to Costa Rica. He then offered to send him somewhere in the United States for a college education—at church expense.
Angered at being cut loose, Hume turned to the authorities. But there was little enthusiasm on the part of either Santa Rosa police or the Sonoma County District Attorney's Office for going after a sitting bishop accused of extorting one of his priests for sex when the accuser had been under criminal suspicion.
Then Hume dropped a bombshell. In 1999 he sued Ziemann, accusing the bishop of sexual assault. The same day the suit was filed, Ziemann resigned even as he vehemently denied the accusations.
San Francisco Archbishop William J. Levada helped Ziemann skip away from Santa Rosa with criminal impunity.
The bishop's spin doctors went into action. He was portrayed as stepping down for the good of the diocese, and his lawyers—pointing to a $10 million settlement demand by Hume's attorney, Irma Cordova, during secret negotiations aimed at keeping the matter out of the courts—pictured the bishop as a hero willing to sacrifice his lofty position to protect the diocese from an extortionist. Cordova insists the sum demanded of the diocese "was merely to get their attention" after months of fruitless negotiations in which diocesan lawyers didn't appear to take her client seriously.
At one point, she says, Hume was summoned for an audience with Levada at the San Francisco chancery office. The half-hour session was strained from the outset after she showed up with her client and insisted on being present. "[Levada's] entire theme was to intimidate Jorge, to threaten his career as a priest if he persisted," says Cordova. "It was clear they were working on him from both ends, on the civil side with one set of lawyers who were trying to get rid of his complaint, and on the canonical side, knowing that he was desperate to retain his [priestly] faculties."
Even as he stepped down, Ziemann received an unusually generous show of support from his friend the archbishop. Levada told the press that he joined "friends throughout California and beyond in thanking [Ziemann] for the energy and gifts he has shared far and wide. Our prayers and good wishes go with him."
But diocesan operatives had underestimated Hume. Despite Levada's alleged effort to intimidate him, he was not defrocked. And on his lawyer's advice, he had worn a hidden microphone and captured several lurid conversations with Ziemann. He also preserved several articles of clothing allegedly stained with the bishop's semen.
In one recording, a transcript of which was obtained by SF Weekly, Ziemann repeatedly apologizes for forcing the priest to have sex with him, even while attempting to persuade him to accept a transfer to avoid a possible criminal investigation. "I'm afraid the police are looking at you, OK?" he says. "All they need is another complaint and they'll move."
In broken English, Hume tells Ziemann he has heard his apologies before. "All the time [you say], 'This the last time, the last time, the last time.' Never it came the last time. All the time I came with you to have sex and sex and sex and sex. It's not good for me, not good for me ... all the times when I had to sleep with you." Ziemann responds: "I know, it's been my fault. And I'm sorry for that. Because I don't think you wanted to do that."
The priest says the bishop has given him two venereal infections.
Ziemann: "Two what?"
Hume: "Venereal infection."
Ziemann: "Confession?"
Hume: "No, no, venereal ... infection into my organs."
Ziemann: "Oh, really?"
Hume: "Oh really, yeah, two."
Ziemann: "From me?"
Hume: "Yeah."
Ziemann: "I didn't know that. I'm sorry to hear that."
________________________
WHILE DISASTROUS, THE SEX scandal may have been easier for Levada to contend with than the financial mess Ziemann left behind.
Rank-and-file Catholics who weren't necessarily interested in the details of their bishop's sex life still wanted to know about what happened to the money they donated. Those who pushed for full disclosure and who say that's what Levada promised were disappointed.
"I found [Levada] to be worse than Ziemann, because in my view he out-and-out lied to us," says Mary Shea, a college instructor from Napa who is among those still waiting for an accounting. In a fruitless effort to get answers from the archbishop, she joined a group of protesters who staged candlelight vigils whenever Levada appeared in the diocese in the months following Ziemann's departure.
In Ukiah, Sister Kelly also viewed the aftermath of Ziemann's tenure with suspicion and disappointment. At one of the parish meetings, a local news photographer captured the finger-pointing nun dressing down Archbishop Levada for his failure to come clean. "It was very disappointing for the whole mess to have occurred in the first place, without compounding it by trying to cover things up," she says.
"It's not good for me ... all the times when I had to sleep with you."—Father Jorge Hume Salas, complaining on tape of Ziemann's sexual demands.
Less than enthusiastic reviews greeted the archbishop's first public appearance after the resignation, in which he delivered a homily at St. Eugene's Cathedral in Santa Rosa the month after Ziemann's departure. Referring to Ziemann as "our brother and your former shepherd," Levada expressed sorrow and compassion for his friend and urged the faithful not to let the sex scandal distract them. "It was more than a little too convenient," says Hoard, the children's advocate. "People wanted answers, and all Levada wanted to do was preach 'forgive and forget.'"
The archbishop sounded a similar note in Ukiah during a special visit to Hume's old church. There, during a closed-door meeting with 90 priests that lasted two hours, Levada disclosed that the diocese was broke and $16 million in debt. Afterward, he gave a condensed version to reporters waiting outside. Among other things, he said, the diocese had overspent on its programs, frittered away money in poor investments, and—intriguingly—paid out $5.3 million to settle sex-abuse claims against some of its priests. To restore fiscal order, he announced a combination of budget cuts and loans from both banks and other dioceses (Mahony's L.A. Archdiocese was good for $1 million).
But Levada's numbers left some skeptical. The Santa Rosa chancery had been inundated with claims from abuse victims based on years of letting wayward clerics run amok. Michael Meadows, a Walnut Creek attorney, heard the $5.3 million figure and was surprised. His clients alone had received nearly $4 million in settlements from the diocese stemming from the antics of just one priest, Father Gary Timmons, who had been harbored by two of Ziemann's predecessors.
Had Levada chosen to open the diocese's books, there would have been plenty to explain, starting with Monsignor Keys, whom the archbishop had initially retained as the diocese's vicar-general and chief finance officer. After an internal audit revealed the diocese to be penniless, Keys resigned both posts. But he was hardly without portfolio. He remained pastor of the diocese's most affluent parish, Star of the Valley, in the community of Oakmont.
More important, Levada left Keys in place as president and chief executive officer of the National Scrip Center, the position that had made him a power behind three successive bishops, including Ziemann.
The largest operation of its kind in the United States, NSC facilitates the sale of scrip—gift certificates and coupons from department stores and other retailers—that has become immensely popular as a source of income for nonprofit entities such as schools and churches. NSC essentially buys scrip at a discount and sells it for a slightly higher price to participating nonprofits, which in turn generate revenue by selling it to customers at face value.
NSC's 260-plus merchant partners are a who's who of American commerce, including Home Depot, JCPenney, and Macy's. It claims to have helped nonprofit organizations raise more than $180 million in the past 15 years. Using $25,000 in seed money from the Santa Rosa Diocese, the Scrip Center was conceived in 1987 as a way for the Petaluma parish to save a financially troubled high school. In the early days it was run from a rectory with a few women filling orders by hand. It now occupies a sprawling office building in a corporate park next to Santa Rosa's regional airport. Over the years its assets have grown into the many millions of dollars, and NSC is widely perceived to be a cash cow for the diocese.
Since it's a private corporation, NSC's financial dealings have long been enmeshed in secrecy, as have those of the diocese, which as a religious entity also is not subject to public scrutiny. In 1998, when the Scrip Center bought out its largest competitor, the diocese provided the $5.1 million loan guarantee for the purchase. Historically, the bishop of Santa Rosa (as well as Levada, after stepping in for Ziemann) has served as the Scrip Center's chairman, appointing its board of directors. That changed in 2001, when, in the aftermath of the financial scandal, the diocese severed its relationship with the corporation. NSC also forgave a $2.1 million debt owed by the diocese, the circumstances of which were never explained.
Even now, NSC's board is made up of people with long-standing ties to the diocese. Such ties, and the secrecy surrounding the relationship between the diocese and the Scrip Center, have long fueled speculation, never proven, that the diocese used NSC to bankroll secret payments to victims of priestly sex abuse, including the cost of therapy and other medical expenses, as a way of keeping such items off the diocese's books.
"The bottom line is that the diocese in the past has been able to use the Scrip Center any way it pleased and, because of the secrecy, no one really knows how," says Kelly, the nun.
During more than a decade in which the diocese and the Scrip Center were joined at the hip, the man who held the corporation's purse strings was its president and CEO, Keys, who is also widely credited with getting it off the ground. At the same time he ran NSC, Keys also controlled the diocese's money, serving not only as vicar-general but as finance director, giving him the kind of clout that some say approached even that of the bishops he served.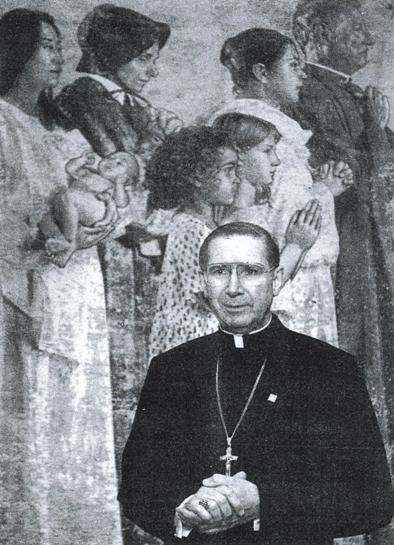 Chief Benefactor: Ziemann pal Los Angeles Cardinal Roger M. Mahony.
"There's never been any doubt in my mind that Keys was the real player when it came to the money, not Ziemann," says Bob Coyle Jr., a Fresno businessman whose late father was a partner with Keys in developing the scrip idea. John van der Zee, author of a book about the Santa Rosa scandal called Agony in the Garden, agrees. "Ziemann is a very complex character, a man with great gifts and weaknesses," he says. "But as far as the money goes, I don't think he was paying attention to what was going on around him." Keys declined to be interviewed for this article, as did the Scrip Center's current CEO, David C. Carrithers.
A native of Ireland who came to the diocese in 1970 and quickly climbed the administrative ladder, Keys was the mastermind behind merging diocesan funds in a single account. It was this so-called "Consolidated Account," which critics say was tailor-made for commingling with funds from the Scrip Center, that collapsed under the weight of what the diocese's auditors say was unbridled (and apparently unmonitored) spending during the waning months of Ziemann's tenure. A few weeks before Levada went to Ukiah to meet with the assembled priests, auditors delivered some disturbing news: The account was empty.
If criminal acts were to blame, it was not for authorities to find out. As Levada conducted parish hall meetings around the diocese, his forget-and-move-on approach received an increasingly cool reception from Catholics angry that money they had donated for schools and parishes had vanished. Even his priests were agitated. Several dozen clerics signed a letter asking the archbishop "to tell our people the total story about what happened throughout [Ziemann's] administration," including "the role of the bishop, the vicar-general, the diocesan finance committee, the administrative staff and the scrip center in creating our present situation." But according to one of those priests, who spoke with SF Weekly on condition of anonymity, there was never a satisfying answer.
"The whole thing was swept under the rug," he says. "Eventually people go on with their lives and stop asking questions."
Among the curious were investigators from the Sonoma County District Attorney's Office. "It was, at the least, an atrocious example of malfeasance, worthy of a made-for-TV movie," recalls prosecutor Gary Medvigy. "But it would have taken a federal task force to figure out all the intricate financial dealings of the diocese. It was beyond the scope of what we could comfortably investigate locally." His former boss, Mike Mullens, who was DA at the time, says the manner in which a bishop's authority is structured within the church presents problems for investigators. "Within certain limits, a bishop can pretty much do anything he wants [with money]," Mullens says. "There's no fraud if you have the ability to use funds any way you wish." He was convinced that without the full cooperation of diocesan officials, he says, "we couldn't prove a case." Asked if he believes those officials leveled with him, he replies bluntly, "No."
One question that kept popping up during Levada's barnstorm of the diocese was who'd pay for future sex-abuse claims. The reassuring answer, provided by diocesan spokesmen, was that the diocese had procured insurance coverage for that through the Ordinary Mutual Insurance Co. But those officials didn't mention everything they knew about the insurer, even as they told Ziemann's former subjects that their money would no longer be doled out to make sex-abuse lawsuits go away.
Ordinary Mutual was incorporated in Vermont in 1987, the same year the Scrip Center came into existence. But it's a self-insurance program, and its members consist solely of Catholic churches in California, Arizona, and Idaho. According to reports on file with Vermont insurance officials, Ordinary Mutual and the Scrip Center had something else in common. From 1993 until the end of 1999—including when Levada hit the road to clean up after Ziemann—Ordinary Mutual's president was none other than Monsignor Thomas J. Keys.
________________________
G. PATRICK ZIEMANN'S pedigree alone might have marked him for clerical stardom.
One of eight children in an old-money Pasadena family headed by a prominent Catholic lawyer, he grew up in a home where it wasn't extraordinary for an archbishop to be a dinner guest. His father, J. Howard Ziemann, was a graduate of Santa Clara University with a law degree from Georgetown. Active in Catholic affairs, he served on a variety of charitable boards and was appointed to the Superior Court bench.
Patrick's maternal grandfather—the writer, lawyer, and orator Joseph Scott—was one of the most prominent Catholic laymen in the United States during the first half of the 20th century. Scott was defense counsel, along with Clarence Darrow, during the famous 1911 trial in which two union-activist brothers were convicted of blowing up the Los Angeles Times building. A staunch Republican, he placed Herbert Hoover's name into nomination at the 1928 Republican National Convention. Ironically, considering his grandson's woes, he was a leading Catholic voice in railing against the immorality of the movie industry. His work on behalf of the church's Legion of Decency campaign in the 1930s led to Hollywood's adopting the precursor of today's movie ratings system.
But Patrick didn't rely on family connections to climb the ecclesiastical ladder. A "lifer" committed to pursuing the priesthood from an early age, he was bright, energetic, and ambitious, those who know him say. Like Mahony, he was marked for a fast rise while still at St. John's and, after graduating in 1967, was sent away for a secular degree before being assigned to full-time parish work.
Ziemann took a graduate degree in education at Mount St. Mary's College, in L.A.'s exclusive Brentwood, and obtained credentials as a secondary-school teacher. Fluent in Spanish, he was a logical choice to be sent to St. Matthias Parish in heavily Latino Huntington Park, east of downtown Los Angeles, in 1967, even as he completed his graduate studies.
"People wanted answers and all Levada wanted to do was preach 'forgive and forget.'"
It wasn't long after Ziemann arrived at the parish that Richard, his Oregon accuser, says the priest took him under his wing. Then 11, Richard was a gawky sixth-grader shooting hoops on the church playground when Ziemann, a regular participant in the games, entered his life.
"He became like a father figure to me," says Richard. "He was very charismatic, someone to look up to."
Although his parents weren't churchgoers, Richard says they insisted that he and his four siblings attend and were delighted when Ziemann chose him to be an altar boy. After a round of basketball, Ziemann invited the boy to the rectory, where they had their first sexual encounter, Richard says. "I was hot and sweaty, and he told me I could clean up in his room," he recalls. Ziemann came into the bathroom and fondled his genitals as he was taking a shower, Richard says.
Their encounters, he claims, soon escalated to masturbation and oral sex. Richard says he was "confused and naive" at the time. "He would tell me not to worry about it, that that's just the way things were and that everything would be fine." Richard recalls going to confession on Sundays, finding Ziemann behind the dark confessional screen, and awkwardly revealing his guilt over having sex with the priest. "He would tell me to say 10 'Our Fathers' and 10 'Hail Marys.'"
Richard says the trysts—accompanied by payments of usually $50 to $100—continued after Ziemann was assigned to Mater Dei High School in Orange County. Richard says Ziemann didn't stop calling him for sex after he began attending St. John Bosco High School in nearby Bellflower, where he became a standout basketball player. Richard says that over the years many of the two dozen or so sexual encounters he purports to have had with Ziemann occurred in the cleric's car after Ziemann arranged to meet him at some discreet location, often near the beach. Once, he says, Ziemann called to say he was coming to Huntington Park to perform a wedding, and the men met and had sex in a storage room at the parish hall.
Their meetings became fewer after Richard was married in 1977, he says. Divorced the following year, he moved to Oregon but still saw Ziemann on occasional trips to California, he says. Meanwhile, in 1985 Ziemann's mentor Mahony became archbishop of L.A. and Ziemann's career took an upward turn. Mahony appointed him vice rector and dean of students at Our Lady Queen of Angels, a junior seminary in the San Fernando Valley. Mahony elevated him to auxiliary bishop in 1987. Richard says Ziemann sent him an invitation to the formal installation ceremony held inside L.A.'s ornate old cathedral, but that although he made the trip to Los Angeles, he couldn't bring himself to attend the event.
"I just didn't feel comfortable going into a house of God under the circumstances," he says.
His last hookup with Ziemann, he says, came in 1986 at the junior seminary where Ziemann was dean, and where Richard had gone ostensibly so Ziemann could counsel him in advance of his second marriage, to a Catholic woman. During one of the days he was at the seminary, he says, he and Ziemann engaged in oral sex in an empty classroom after one of the counseling sessions. He says that later, despite further entreaties from Ziemann, he resolved not to have sex with the auxiliary bishop "because I wanted to be faithful to my wife." But he says he continued to correspond with Ziemann and to receive financial assistance from him well into Ziemann's tenure as bishop of Santa Rosa.
Disappointed after Ziemann failed to say hello while in Portland on church business in 1997, Richard says he called the bishop and let him know that he was anguished and in need of financial help. Ziemann, he says, responded with several checks totaling "more than $2,000." Richard says at least one of the checks bore the imprimatur of the "Saint George Fund," but that he never questioned its source, assuming that as bishop Ziemann had access to a variety of church funds.
Kelly Clark, Richard's Portland attorney, says his client's lawsuit is the result of his "trying to come to grips with what's happened to him." But Richard claims to hold no rancor toward the bishop. "I don't want anything bad for him," he says. "I just feel that he took advantage of me when I was young and naive. I was easy pickings for someone like him. I guess more than anything I want him to face up to what he did, be honest about it, and say he's sorry."
Meanwhile, abuse victims and their advocates say Ziemann also ignored complaints against other priests during the time he served as the L.A. Archdiocese's auxiliary bishop.
In one case, a former nun candidate, who says she told Mahony and Ziemann of being molested in childhood by a priest, charges that both men ignored her complaints. Erin Brady, who now lives in Oregon and works as a teacher, says she was stunned when Mahony transferred the accused priest from L.A. to Santa Rosa following Ziemann's appointment as bishop there.
In another instance, a man who claims he was molested by an L.A. priest while on a church retreat says his father—a church deacon and personal friend of Ziemann—reported the abuse directly to Ziemann, who assured him it would be dealt with. "Ziemann absolutely turned his back on us. Nothing ever happened," says Carlos Perez, the alleged victim.
Perhaps the most significant case involves a former St. John's seminarian who in 1979 turned to Ziemann for help in dealing with a priest instructor who was pressuring him and other students for sex. The seminarian also told Ziemann about a Catholic high school friend reportedly being molested by one of his teachers, Monsignor Michael Harris. Ziemann promised help, but didn't deliver.
"I was easy pickings for someone like him."—Richard, who claims Ziemann began having sex with him at age 11.
Years later, after Harris was accused of molesting a student, Ryan DiMaria, at an Orange County high school where Harris was the popular principal, the seminarian's affidavit proved crucial to DiMaria's lawsuit against the archdiocese for having failed to rein in Harris. (As it turns out, Ziemann and Harris were friends.) In 2001, soon after Ziemann was deposed by DiMaria's lawyers and shortly before Mahony would have been forced to testify at the trial, the cardinal authorized a $5.2 million payment to DiMaria to settle the complaint—at the time the largest such settlement ever for a single victim in a Catholic sex-abuse case.
________________________
ZIEMANN COULDN'T HAVE picked a more ideal spot to cool his heels than Holy Trinity Monastery in Arizona.
Far from the glare of media attention to which he had become unhappily accustomed, the bucolic Benedictine retreat is barely an hour's drive from the bright lights of Tucson. There, Ziemann's friend Moreno, 72, reigned as a powerful religious and civic mover-shaker. When he stepped down this month after disclosing that he suffers from Parkinson's disease and prostate cancer, Moreno was under pressure to divulge information in a number of pedo-priest cases.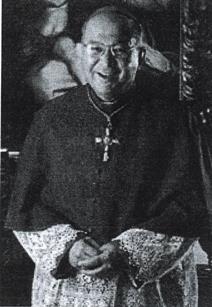 Ziemann protector Manuel Moreno, who recently resigned as bishop of Tucson, Ariz.
One of his more infamous former clerics, accused child molester Monsignor Robert Trupia, for years led young prospective seminarians from Tucson on so-called "come and see" weekends to his alma mater, St. John's, until banished from the seminary after getting caught having sex with a young man in the school's bell tower.
Moreno's decision to pack him off to Washington, D.C., to study canon law at Catholic University continues to generate embarrassment. Still on the Tucson Diocese payroll while living in Maryland, Trupia (who was arrested after allegedly molesting nine boys from Yuma but released because the time limit for pressing criminal charges had expired) has used his legal expertise to resist efforts to defrock him. (The diocese years ago paid more than $6 million to settle abuse claims against Trupia.) In February it was revealed that until 2001 he had spent seven years as a paid canon law consultant for the Diocese of Monterey in California. The disclosure prompted the resignation of Monterey's vicar-general, Monsignor Charles Fatooh, who hired Trupia and who owns the Maryland condo where he lives.
Last year, in the aftermath of the U.S. bishops' conference in Dallas, at which the assembled hierarchs seemed to compete with each other in their rush to show reformist tendencies, Moreno released a list of 15 of the Tucson Diocese's priestly bad boys, going back many years. Trupia was the headliner. But the list also was notable for who wasn't on it—a cleric who shall be identified here as Father B since no civil or criminal charge has ever been filed against him.
Ziemann's banishment to a monastery "is sort of like having him in a witness protection program. From the standpoint of church leaders, I'm sure they think of him as better off out of sight and out of mind."—priest sex-abuse expert A.W. Richard Sipe
SF Weekly has learned that Father B was accused of molesting several children in the L.A. Archdiocese in the early 1980s, during the tenure of Mahony's predecessor and chief benefactor, the late Cardinal Timothy Manning. He was shuffled to Arizona and assigned by Moreno to a Tucson parish as an associate priest over the objections of the pastor. There, he allegedly molested again before being hustled out of town. Father B later left the priesthood and for a time was employed at a Toys "R" Us store in Southern California.
In a letter to Moreno last year describing an alleged incident involving Father B, a Tucson man says the priest abused him in a hot tub at a church rectory in the summer of 1984. The accuser, who declined to be interviewed, wrote that the priest began by rubbing his back and that after his hands "went down into my shorts," he apologized, saying they had slipped. "At some point then he had his penis out of the top of his shorts and was rubbing it against the small of my back at the top of my back side," the accuser wrote to Moreno. Lynne Cadigan, the attorney who represented the alleged victim, says no lawsuit was filed on his behalf because the alleged incident occurred so long ago that it is too late to seek damages under Arizona law.
Moreno declined numerous requests for interviews, and his spokesman stopped returning a reporter's phone calls after being asked about Moreno's role in harboring Father B. It's a role Moreno managed to keep secret, even as a deferential local press officially marked his stepping aside March 7 in favor of his successor, Gerald F. Kicanas. But the secret required tending.
As recently as Sept. 30, Moreno met privately with the letter writer—the son of a church deacon—and apologized. In a written summary of that meeting, the accuser says Moreno said he had accepted Father B into the Tucson Diocese as a favor to the archbishop of Los Angeles, presumably Cardinal Manning, without knowing that previous molestation accusations had been leveled against him there. However, church sources in Tucson, who spoke on condition of anonymity, dispute that, saying the pastor at the parish where Father B was assigned complained vigorously to Moreno at having to take on a priest with such a track record. At the September meeting, the accuser says, Moreno apologized three times. "When he was done he apologized again and I asked him, "For what are you apologizing?' I was interested in clearly understanding what he was sorry about. He said, "For the horrible things that happened to you.'"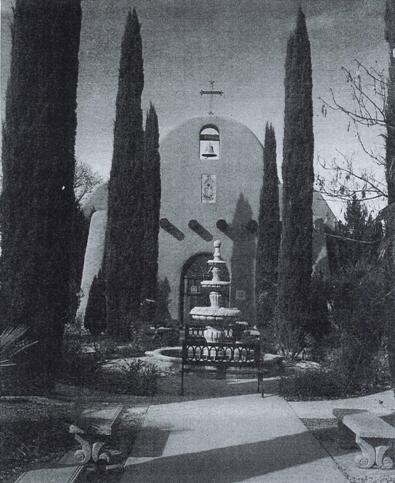 Exile Oasis: The chapel at Arizona's Holy Trinity Monastery.
Against this backdrop, it isn't surprising that Moreno chooses not to discuss Ziemann, his exiled friend and fellow bishop. Even Moreno's spokesman, Fred Allison, professes not to know much about the monastery's star inhabitant. "I assume things are going well [with his spiritual rehabilitation]," Allison says. The monastery, which is open to the public, and rents small cabins to tourists and others, is a popular destination for Catholics seeking meditation and spiritual renewal. It is also a frequent stopover for young men contemplating a career in the priesthood.
Ziemann routinely conducted Mass in the compound's quaint adobe chapel until last year, when the Vatican got wind that he had violated the conditions of his stay by sometimes filling in for a parish priest in the nearby town of Sierra Vista. Ziemann even sponsored seminars there for couples planning to be married. Since then, the bishop is no longer allowed to conduct Mass even in the monastery chapel.
Ziemann's cottage—nestled unobtrusively among mesquite trees at the end of an unpaved lane and with panoramic views of distant mountains—is among the most secluded of the retreat's numerous dwellings. Last year, when a San Francisco TV station dispatched a reporter and camera person to the monastery, Ziemann summoned a driver, raced to a waiting car, and peeled away, leading the news team on a low-speed chase along back-country roads for more than an hour. The episode ended with the bishop's car circling back and disappearing into a garage near the monastery.
But, approached recently by an SF Weekly reporter on the grounds during a morning stroll, he makes no attempt to flee. Ziemann is cordial if unenthusiastic, much like someone who has just been asked to roll up his sleeve for a tetanus shot. But his voice betrays none of the indignity associated with a bishop who, temporarily at least, remains stripped of his clerical faculties.
"This place has been very good for me. I've never felt closer to the Lord in my life," he says, appearing relaxed in khakis and a wool shirt while puttering around the courtyard outside his cottage. Ziemann prays four hours a day, half of which he knocks off upon rising at 6 a.m. most days. He professes to pay little attention to the sex scandal afflicting the church, even as it pertains to him. He recently failed to meet a deadline to respond to a federal racketeering lawsuit against the Dioceses of Tucson and Harrisburg, Pa., in which he is named as a minor participant, explaining that he "turned all of that over to the [Tucson] Diocese for their lawyers to take care of. I don't have any money." (Allison insists that lawyers for the Tucson Diocese "absolutely" are not representing Ziemann in the suit, which claims that church officials refused to ordain a seminarian for blowing the whistle on sexually abusive clerics.)
Asked about Jorge Hume's allegations, the Santa Rosa financial scandal, and his relationships with Levada and Mahony, the bishop declines to answer, citing his attorney's advice. And how does someone who is broke acquire a powerhouse lawyer like Donald Steier? "I can't get into that," Ziemann says. Is the L.A. Archdiocese paying his legal expenses? "I can't comment on any of that." Does he still meet regularly with Archbishop Levada? "I can't talk about that." Does he still talk to his close friend Mahony? "I can't talk about him, either." Why? "It's just something that my counsel has asked me not to discuss."
But when it comes to Richard, Ziemann loosens up. He insists that the claimed abuse "absolutely, positively didn't happen. I never did anything to abuse him. I've never abused anyone in my life. That's what makes it so hurtful." He dismisses as "totally bogus" the notion that he had a sexual relationship with Richard for nearly 20 years. "I never had sex with him. It never happened."
Ziemann doesn't offer an opinion as to why someone who knew him as a boy might feel comfortable enough to ask him for money decades later. But he nonetheless acknowledges giving Richard financial aid while heading the Santa Rosa Diocese. "I gave him money to help him out," Ziemann says, adding that he doesn't recall how much, where the money came from, or how often he supplied it. "I don't know if I gave him checks. I don't recall any 'Saint George Fund.' It could have been."
But then that's one more thing that Bishop Pat decides not to talk about.