Priest, Educator, Retired Navy Chaplain to Lead SBHS
St. Bernard High School
Alumni Page
[Appointment announced June 4, 2003; last viewed 5/12/05]

http://www.saint-bernard.com/casimano2003.htm

Most Rev. Michael R. Cote, Bishop of Norwich, announced in June his appointment of Rev. Santino A. Casimano as principal of St. Bernard High School. In selecting Fr. Casimano for St. Bernard's top post, the Bishop affirmed the recommendation of Dr. Howard Bennett, Diocesan Superintendent of Schools. When named principal, Fr. Casimano was St. Bernard's chaplain, chair of the Religious Studies Department and a Latin teacher . Formerly he had been an adjunct St. Bernard faculty member while on active military duty with the US Navy.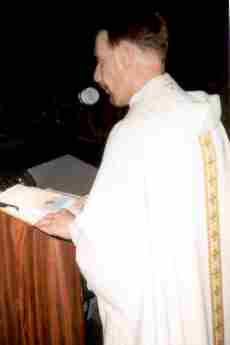 Ordained to the Roman Catholic Priesthood in 1975, he served parishes in the Diocese of Gallup, NM prior to being commissioned a US Navy officer in 1980. Before his ordination, Fr. Casimano taught in high schools operated by the Roman Catholic Archdiocese of Los Angeles. In early 2000, after retiring as a Navy chaplain with the rank of full Commander. Fr. Casimano was incardinated into the Diocese of Norwich by former Bishop Daniel A. Hart. The Bishop also appointed Fr. Casimano to the positions of full-time St. Bernard faculty member and school chaplain.
(Left, Rev. Santino Casimano, newly named to head St. Bernard High School as principal, gives his Homily at the 2003 Baccalaureate Mass on June 4, 2003. A few minutes later, following current principal Roy Dado's announcement that Fr. Casimano would succeed him, an auditorium full of seniors, faculty and staff, parents and other guests gave the St. Bernard chaplain/teacher a standing ovation.)
Fr. Casimano had completed 20 years of active duty with units of both the Navy and Marines. His last duty assignment was at the US Navy Submarine Base in Groton where he was Command Chaplain. He also has been visiting priest at Our Lady of Perpetual Help Parish in Quaker Hill, Groton City Police chaplain and a member of the Advisory Board of the Academy of the Holy Family, Baltic.
Dr. Bennett said that Fr. Casimano would initially be interim principal, pending their future, joint decision to make the appointment permanent. The new principal assumed his duties on July 1, succeeding Roy F. Dado, who resigned to become president of Cathedral High School, Springfield, MA.
On his first day as principal, Fr. Casimano offered a brief summary of his principles and vision: "We must be what we say we are: a Catholic high school with identifiable values that delivers the best secondary education that our size and financial resources will allow. While offering education within the context of deeply rooted Christian (Catholic) values, we must continually strive to offer academic programs that are competitive with those of other secondary schools in our area, both public and parochial. Our curricula and programs must be contemporary and relevant to students' needs, and these must be driven by an administration, staff and faculty committed to providing the very best they can possibly give to achieve these ends. I believe that communication, mutually determined goals and staff input are absolutely necessary. To ensure that 'everyone is reading from the same page,' there must be continued consultation between administration and instructors, always maintaining the best interests of the students as our ultimate, shared objective. To a significant degree, St. Bernard High School is its administration and faculty. Both must work in harmony to make our environment attractive, and to make enrollment desirable and prestigious because of St. Bernard's special, singular qualities."