Group Questions Bishop's Role in Maine Priest Case
Cote Was Involved in Assignment of Cleric Who Ran Pom Web Site

By Kenton Robinson
The Day [New London CT]
September 11, 2003

Members of a Maine Catholics' advocacy group are questioning the role Norwich Bishop Michael Cote played in the reinstatement of a priest who ran a pornographic Web site for gay priests three years ago.

Subsequent disclosures that the priest, the Rev. John Harris, 48, engaged in nude swimming, boating and hot-tubbing with minors at a summer camp 20 years ago resulted in a decision by the diocese last week to discipline him.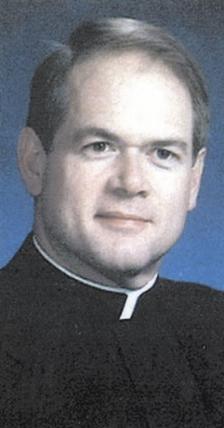 Rev. John Harris
Cote was auxiliary bishop of the diocese of Portland, Maine, under the Bishop Joseph Gerry for eight years before Pope John Paul II named him the fifth bishop of Norwich in March.
"Bishop Cote and Bishop Gerry had actual knowledge two to three years ago of Rev. Harris's sexual misconduct," said Paul Kendrick, the founder of the Maine chapter of Voice of the Faithful. "Bishop Cote chose to do nothing about Harris, therefore he did nothing to protect children. Harris continued as a pastor with Bishop Cote's blessing."
Speaking through his spokeswoman, Jacqueline Keller, Cote this week said that while he was involved in the Harris case, he did not make the decision to reinstate him.
"Bishop Cote says he was not directly involved in the investigation or in speaking with Father Harris about the allegations," Keller said. "His only involvement was to explain to the people of his parish why he was being removed."
Harris was removed from the parish of Sabattus, Maine, in January 2000, after Stephen Brady, the founder of an Illinois-based group called the Roman Catholic Faithful, revealed that Harris was the Webmaster for a pornographic Web site for gay priests called St. Sebastian's Angels.
The site, which had 55 active members in the United States and around the world, included a pornographic video, photographs of nude men and long strings of off-color chat-room messages.
Subjects included the church's intolerance of homosexuality, where to find "hot, hairy, hunky men" and answers to a survey that asked each member such questions as "have you ever gone skinny dipping?"
The site included several attacks on Pope John Paul II and the Cardinal Joseph Ratzinger, the head of the Vatican's Congregation for the Doctrine of the Faith.
Most disturbing to members of the Voice of the Faithful, Kendrick said, was the site's inclusion of a photograph of a priest with his arm around a Mexican boy. "The little guy with me is not my current lover," the priest wrote, "but he was a guide ... 12 years old and a great little kid!"
The site had been operating for about a year when Gerry learned of it. At the time, Harris reportedly told the bishop that the Web site was an Internet support group.
Gerry removed Harris from his parish in Sabattus in January 2000. After several months of counseling in Baltimore, Harris was returned to service at the parish of Our Lady of the Lakes in Oquossoc, Maine, in June. Sue Bernard, spokeswoman for the Portland Diocese, said the parishioners of Oquossoc were fully informed of Harris's involvement with the Web site.
Kendrick said Voice of the Faithful members, who have been forbidden to meet on church property, find the bishop's decision to reinstate Harris incomprehensible. Voice of the Faithful is a national organization of Catholics that has risen up in the wake of the sex abuse scandal that has rocked their church.
"Something's not right here," Kendrick said. "You won't let us meet on church property, but you let the Web master of a pornographic site be a priest? What's up with that?"
Cote's answer, Keller said, was that "there was not a complaint by any minor in any of this. Following treatment, he was returned to active ministry because there was no danger to any minors in this."
Cote stressed that his only role in the matter was to inform parishioners of Harris's removal, but Kendrick challenged that.
"My understanding was the role that he had was that he was in on most of the decision making, and that Gerry leaned on him," Kendrick said. "I know that when certain victims have been granted private meetings with the bishop, Cote's been in the room with them."
Bernard confirmed Cote's involvement in the case.
"I don't know that he was involved in every complaint, but certainly about this one he was," Bernard said. "On March 18, 2000, he actually went to Sabattus and he spoke to the parishioners at that time and told them what happened and explained what the charge was and what the bishop intended to do about it."
Sometime after Harris was reinstated, the complaint about his behavior at the summer camp was made, Bernard said, and an investigation was begun.
Bernard would not give the date that the complaint was made, but confirmed that it was after Harris' reinstatement and sometime before May 2002, when the Portland Diocese turned over all its records of complaints to the Maine attorney general's office.
In addition to the complaint about his behavior at the camp, a photograph was produced showing Harris with a minor who was nude, Bernard said.
Cote said the diocese did not immediately remove Harris in response to the camp complaint because until the photograph surfaced "there was really no victim," Keller said.
"There was an allegation," Keller said, "but with nobody that you could name as being hurt by this. It was only after a photograph of him nude with a minor was sent that there was actual proof."
It was at that point, Keller said, that Harris sought and Bishop Gerry granted him a leave of absence, which he began in August. Harris could not be reached for comment for this story because the diocese does not know his whereabouts.
Shortly after Harris took his leave, the diocese completed its investigation, Bernard said.
"We found there was enough information, sufficient grounds to begin a disciplinary process," she said. But that process, she said, will have to wait for Harris' return.
Harris' leave could last as long as a year, during which time "he is not permitted to exercise any priestly ministry," Bernard said.
That's small consolation to the parents of children who attended that summer camp, Kendrick said.
"A worried parent called me this week," he said. "She ... didn't feel comfortable calling the chancery. Her son attended the summer camp where Rev. John Harris exposed himself to children. She and her husband are worried sick that their child may have been naked with Harris.
"They wonder if Harris performed sexual acts on their child, they wonder if their child forced to perform sexual acts towards Harris. They aren't sleeping. It's all they can think about. They remember how their child reacted fearfully toward Harris years ago."
k.robinson@theday.com