Diocese: 19 Priests Accused Since '53
Norwich Bishop Releases Report Tallying Child Sex Abuse Allegations

By Andrew Ryan
The Day [New London CT]
February 11, 2004

Norwich - Nineteen priests, or about 1.4 percent of those serving in the Diocese of Norwich over the past half-century, have been accused of child sexual abuse, according to the bishop. Experts say that is just below the average national percentage of pedophiles in the priesthood.

Norwich Bishop Michael R. Cote released the numbers in parish bulletins the weekend of Jan. 25, writing that the 19 represent a small share of the 1,347 priests who have served in the diocese since it was founded in 1953. Current estimates put the national average of abusive priests at between 1.8 and 1.9 percent, according to Paul Lakeland, professor of religious studies at Fairfield University.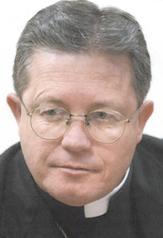 Norwich Bishop Michael R. Cote
The diocese, covering most of Eastern Connecticut and home to about 227,000 Catholics, reported the count as part of a national census of abusive priests scheduled to be released Feb. 27. The study, commissioned by U.S. Catholic bishops in reaction to the clergy sexual abuse scandal, compiled national data but won't break down statistics by individual dioceses.
Cote and 43 other bishops have voluntarily released the number of alleged abusers within their dioceses.
"I think it's good," said Robert Marrion of East Lyme, a co-founder of Voices of the Faithful of Eastern Connecticut, a church reform group. "It's a step in the direction of more disclosure of information, which is a step in the right direction of what we are seeking from the church."
Jacqueline Keller, director of communications for the diocese, said that Cote, who became the bishop of Norwich last year, released the number to "make sure that the
people know that he is doing everything, and the diocese and the Church are doing everything, to protect kids."
Some reform groups argued Tuesday that the disclosure didn't go far enough. The bishop didn't release the names of the accused priests nor how many children each priest allegedly abused, and he didn't offer details about how the diocese handled the cases.
"While 19 is a stunning number, how many victims is that?" asked Paul Baier, president of Survivors First, a victims' group based in Boston. In many such cases, there have been several alleged victims or more. Gauging the incidence of sexual abuse in a diocese hinges on the number of accusations and victims, not the number of accused priests, he said.
While tragic, Baier and others said, it was not the sexual abuse that elevated the church scandal to the level of a crisis. Rather, it was the shuffling of known abusers among parishes by bishops, skirting the law and putting problem priests in contact with more children, they said.
Keller offered few details beyond Cote's letter. She didn't know the names of the 19 priests or the number of victims, nor whether Cote plans on releasing more information. When asked about other clergy, Keller said there were no allegations of abuse against religious brothers and added, "We don't have any charges against any sisters and there were no charges against any deacons."
Keller did say that allegations against the 19 were found credible after investigations and that none of the accused is still a priest. The names of all the accused priests still living were given to local prosecutors, she said.
Keller said she did not know the men's whereabouts.
"I think it would be interesting to know what happened to those 19 priests," said Marrion, who said that incurable pedophiliacs in any segment of society are a risk to children. "What happened to them? Where are they now?"
Publicly, at least five local priests have been named in the past as alleged abusers, including the Rev. Santino A. Casimano, the former interim principal of St. Bernard High School in Uncasville, who stepped down Jan. 7 after allegations that he sexually abused two brothers in New Mexico 26 years ago.
Other accused priests include the late Raymond Jean, the former pastor of Our Lady of Lourdes in Gales Ferry. He was accused of sexually molesting a Bozrah boy in 1984, and a Manchester man said Jean had abused him when Jean was pastor of Notre Dame church in Durham.
Richard T. Buongirno was accused of abusing a child between 1987 and 1991, when he was pastor at St. Matthias Church in East Lyme. Bruno Primavera, a Canadian priest who worked at St. Mark's in Westbrook and St. Mary Star of the Sea Church in New London in the late 1970s, allegedly molested two children.
Charles Many, who left the priesthood in 1994, was accused of raping a 14-year-old altar boy at Sacred Heart Church in Groton in 1978.
In his letter, Cote wrote that the diocese has spent $70,000 on costs related to sexual abuse and the church's insurers have spent an additional $498,000. While Keller said she didn't not know the breakdown of costs for out-of-court settlements and treatment for victims, the diocese did agree to split a $700,000 settlement cost with an accused priest last year. Three other court cases are pending.
In May 2003 the diocese initiated Virtus, a mandatory program to train all church employees and volunteers to recognize signs of child sexual abuse and prevent it. In November Cote appointed Sheree L. Antoch as interim assistance coordinator to help people who report that priests or other church personnel have sexually abused them.
Speaking from Boston, the epicenter of the sex abuse scandal, Baier said the church needs to do more than pay settlements and provide training. The organization, from the Vatican to the bishops to the local priests, needs to change, he said.
There's "an institutional indifference to sexual abuse," Baier said.

a.ryan@theday.com