Her Story Is Told at Last
Woman's Alleged Abuse at Hands of Priest Kept Secret for 35 Years

By Kenton Robinson
The Day [New London CT]
February 12, 2004

New London - It has been 35 years, she says, since she was 12 years old.

It has been 35 years, she says, since the Rev. Thomas W. Shea, the pastor at Our Lady of Lourdes Church in Gales Ferry, the priest who signed her Confirmation papers, grabbed her, fondled her and stuck his tongue in her mouth.

It has been 35 years, she says, since she and her sisters would run to lock the doors and hide whenever Father Shea's car pulled into their driveway, because Father Shea liked to come when he knew their parents weren't home.

Donna Rolfe Walker says it has taken her 35 years to find a day she would be brave enough to tell the world what he did to her.

Today is that day.

"I've had to carry this for over 30 years," Walker says as she chokes back tears. "I hope that somehow I reach other victims of his, and they can let go of their deep, dark secret, too, and they could be free. Because, somehow, I'm going to come through this free."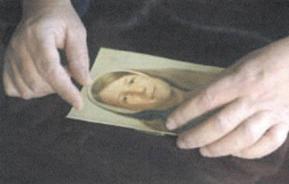 Donna Rolfe Walker of New London holds her sixth-grade portrait as she talks about her life after becoming a victim of sexual abuse by Father Thomas Shea when she was 12 and attended Our Lady of Lourdes Church in Gales Ferry. Photo by Suzanne Ouellette.
Walker says she has spent the past 35 years trying to cope with the effects of the abuse she suffered at Father Shea's hands.
She says she started drinking at the age of 13, tried to commit suicide three times, and was twice institutionalized at Norwich State Hospital before her 23rd birthday.
She joined Alcoholics Anonymous then and has been sober since, she says, but her life has been marked by the symptoms of post-traumatic stress syndrome, symptoms common to the survivors of sexual abuse.
She has had difficulty forming relationships with others including two failed marriages and she has suffered from severe depression and fibromyalgia.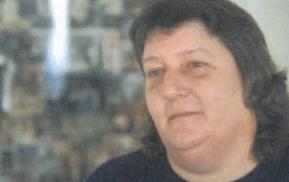 'I hope that somehow I reach other victims of his, and they can let go of their deep, dark secret, too, and they could be free.' Donna Rolfe Walker
Now, she says, she wants one thing more than anything else in the world: for the world to know about Father Shea.
"I want this man identified," she says.
That quest began when stories of pedophile priests were filling newspapers and newscasts a year ago last summer.
"They talk about the fact that things spark it," Walker says. "I was watching the news and just about every night there was something on there."
She began to search to see whether Shea had ever been reported. She checked with organizations that keep track of pedophile priests, SurvivorsFirst.org and the Survivors Network of those Abused by Priests (SNAP).
"Nobody seemed to know about him," she says. "I thought he got away with it. I thought he was even dead."
But what she did learn filled her with rage: Shea had still been listed in a national directory of the Catholic Church as recently as 1999.
"That angered me," she says. "Maybe they put him peeling potatoes somewhere, I don't know, but he may have continued working in the church for as much as 25 years after he was slipped out of Gales Ferry. And that even made me more angry. I know there's a lot more victims to this man. I know there are."
One of those victims was one of her sisters, whose name Donna Walker asked to have withheld.
Another was a girl she went to school with. She remembers visiting her house "and Father Shea pulled in the driveway when I was there, and we ran in the house, just like we did at our house, and hid and locked the door."
And she remembers how Shea had been "whisked" out of the parish when her mother and other mothers complained to Bishop Vincent J. Hines.
"All of a sudden, one Sunday, he was gone," she says.
Jacqueline Keller, spokeswoman for the Norwich Diocese, said Wednesday that Bishop Michael Cote and the diocese want to help people like Donna Walker.
"Bishop Cote has encouraged people who have suffered from the sexual misconduct of priests to come forward, to report that to the diocese," Keller said. "The bishop stands ready to help anybody if they need help."
The diocese can offer counseling and even may make full or partial payment for the cost of counseling, she said. Walker has not taken any legal action, but last fall she filed a formal complaint with the Norwich Diocese. Deacon AI R. Fecteau, the Bishop's Delegate for Internal Investigations, asked her whether she knew of any other victims and offered her help in getting counseling.
But trust is always difficult for those who've been abused, and Walker finds it difficult to trust the diocese. Her family life had been a turbulent one, she says, and Shea had taken advantage of that.
"The worst thing of it all is he went after children who were already traumatized," she says. "He targeted those children. It's the ultimate betrayal."
When she contacted the diocese, Fecteau told her that Shea is still alive.
"Father Shea is incapacitated and confined to a nursing home," he wrote. "Interaction with Father Shea would serve little purpose due to his physical condition."
"I was surprised to hear he was still alive," Walker replied. "But where does he have to go? God doesn't want him."
k.robinson@theday.com