Allegations Renew Nun's Death Case
Priest arrested in '80 slaying surfaced in ritual-abuse claim

By David Yonke
Toledo Blade
April 25, 2004

http://www.toledoblade.com/apps/pbcs.dll/article?AID=
/20040425/NEWS03/404250380/-1/NEWS

Allegations made last year by a Toledo woman that she was sexually and physically abused as a child by Catholic priests during Satanic and sadomasochistic rituals led to the reopening of the 1980 case of a nun's murder for which the Rev. Gerald J. Robinson was arrested Friday, authorities said.
Investigators said yesterday that while they could not substantiate the bizarre allegations made by the woman, now in her 40s, her mention of Father Robinson convinced the cold case squad to take another look at the 24-year-old murder in which the priest originally was a suspect.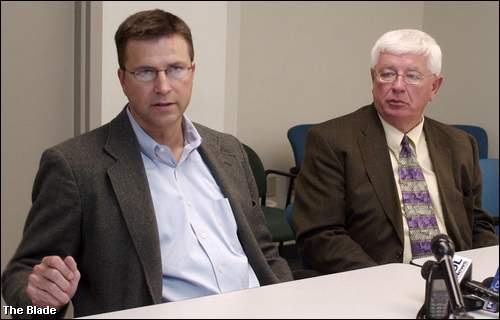 Toledo police detective Steve Forrester, left, and Tom Ross, an investigator with the Lucas County prosecutor's office, and formerly of the Toledo police, talk about the Robinson case. Photo by The Blade / Dave Zapatosky.
Father Robinson, 66, who lives next door to the Toledo police's Scott Park district station on Nebraska Avenue, was arrested at 10:15 p.m. Friday and charged with the murder of Sister Margaret Ann Pahl, a 71-year-old Sister of Mercy of the Union nun who was strangled to death and then stabbed up to 32 times in the Mercy Hospital chapel on Holy Saturday, 1980.
Detective Steve Forrester and Tom Ross, an investigator with the Lucas County Prosecutor's Office, said during a news conference in the Safety Building yesterday that a "ceremony" took place in the chapel, and that the nun's murder was part of the ceremony. They would not elaborate.
However, they said Father Robinson acted alone in the nun's murder.
Sources said Sister Margaret Ann was strangled, covered with an altar cloth, and stabbed between 27 and 32 times in the neck and torso.
When investigators took the old evidence out of storage in December, "we noticed something that was startling and apparent to us," Detective Forrester said.
The discovery involved "blood transfer patterns" that, the detectives said, conclusively placed the murder weapon at the scene of the homicide. Unlike many unsolved crimes that are reopened decades later, DNA evidence was not a factor, Detective Forrester said.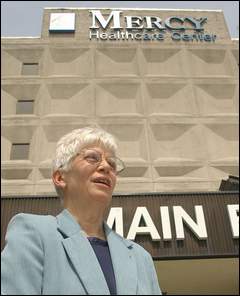 Dorothy Thum of the Sisters of Mercy stands in front of the hospital where Sister Margaret Ann was killed. Photo by The Blade / Diane Hires.
The nun's body was posed to look as though she had been sexually assaulted, but investigators said yesterday they found "no evidence of any sexual activity."
Investigators said Father Robinson and Sister Margaret Ann knew each other and worked together at the hospital for about seven years.
They did not specify the murder weapon, but Detective Forrester said evidence will prove that "the murder weapon was in the control of the suspect."
Investigators believed in 1980 that the murder weapon belonged to Father Robinson, but at the time did not have the technology to prove that the weapon had been at the crime scene, according to the detectives.
"Blood transfer patterns" is a rarely used technology that analyzes the patterns made when a weapon or other object is laid down, they said.
Detective Terry Cousino, who works in the police scientific unit and draws composite sketches, was able to spot the pattern because "he has an artist's eye," Mr. Ross said.
Investigators contacted "one of the most renowned experts in the country" on blood transfer patterns "and that expert has supported our theory in this case," Detective Forrester said.
The woman whose allegations led to the reopening of the case testified before the Diocesan Review Board last June 11 and wrote a detailed statement alleging years of horrific sexual, physical, and psychological abuse by Toledo diocesan and religious-order priests during her childhood.
She described Satanic ceremonies in which priests placed her in a coffin filled with cockroaches, forced her to ingest what she believed to be a human eyeball, and penetrated her with a snake "to consecrate these orifices to Satan."
She also alleged that the group of clerics killed an infant and a 3-year-old child, performed an abortion on her, and mutilated dogs during the rituals, according to a copy of her statement obtained by The Blade.
The cold-case detectives said that while they could not substantiate any of the woman's allegations, they recognized Father Robinson's name from the 1980 murder case and that led them to re-examine the evidence.
Dr. Robert Cooley, a licensed psychologist appointed to the review board, and Claudia Vercellotti, local co-coordinator for Survivors Network of those Abused by Priests, went to the state attorney general's office in Wood County last June, Ms. Vercellotti said, because Dr. Cooley felt that the Toledo diocese and the Lucas County Prosecutor's Office were not being sufficiently responsive to the woman's allegations.
According to letters obtained by The Blade, Tom Pletz, of the law firm Shumaker, Loop & Kendrick, which represents the diocese, advised Dr. Cooley on June 12 and June 27, 2003, that he was not legally bound to report the woman's allegations to law-enforcement officials for several reasons, including that as a review board member he was not serving as the woman's counselor and that the Lucas County Prosecutor's Office already conducted "a detailed review" of the allegations in 2002.
Shortly after Dr. Cooley met with officials from the attorney general's office, he was dismissed from the review board.
Neither Mr. Pletz nor Dr. Cooley could be reached for comment yesterday.
John Thebes, an attorney hired yesterday by Father Robinson, said that although he just took on the case, he questions how strong the new evidence will turn out to be.
"There's a reason these cases are cold and sit for 24 years - because the evidence is not good to begin with," Mr. Thebes said last night. "I've had two of these so-called 'cold cases' before, and they both ended in acquittal."
He said Father Robinson, who is being held in the Lucas County jail pending arraignment Monday in Toledo Municipal Court, "is doing better than I thought he would be doing. Like anybody who's in that spot, he's in a certain amount of shock."
Sister Dorothy Thum, a member of Sister Margaret Ann's religious order, said yesterday that the nuns are "really deeply saddened by this situation," but that they are glad the authorities "have worked hard to bring justice and to try to resolve this case."
Sister Dorothy said she did not know Sister Margaret Ann personally, but that the nun was well-respected by the order, which has slightly less than 100 members in the Toledo area and several thousand worldwide.
Sister Karen Zielinski, director of communications for the Sisters of St. Francis in Sylvania, described the mood among many of the nuns locally as somber.
"I think we're stunned," Sister Karen said. "It's an awkward situation. There is a lot of sadness for the church and the sisters. This is really a tragedy."
Sister Karen said the nuns were familiar with Father Robinson because of his work with the elderly in local hospitals and nursing homes, but none of the nuns she talked with knew him personally.
"[The nuns] are nonjudgmental about this, but they want to see how this is played out," Sister Karen said. "Our hearts go out to the Sisters of Mercy [of the Union]."
Sister Karen said she believed the diocese will survive the newest allegations.
"The human spirit is resilient," Sister Karen said. "This is something sensational. This is the exception, and we don't really know yet about [the case against Father Robinson]. This will certainly make us stronger."
Catherine Flegal, a sibling of Sister Margaret Ann, said she was happy that there was an arrest, but it doesn't change anything in her life.
"It doesn't bring my sister back," said Ms. Flegal, who lives in Edgerton, Ohio. "It's been so many years ago."
Sister Margaret Ann's other sister, Mary Casebere, who also lives in Edgerton, declined comment.
"The case is being resolved, so that's good," said Mrs. Casebere's husband, Paul. "We won't have a comment beyond that because it's been 24 years."
Father Robinson's brother, Thomas, who lives in Maumee, said yesterday that he will not comment on the case.
Investigators said Toledo diocesan officials, particularly Episcopal Vicar Michael Billian, have been "100 percent cooperative" since they contacted the church about the case in December.
Blade staff writer Clyde Hughes contributed to this report.
Contact David Yonke at: dyonke@theblade.com or 419-724-6154.