Runaway Priests
Hiding in Plain Sight
Sanctuary
With Priest's Accusers Calling for Justice and Interpol on His Trail, Cleric Vanishes Once More

Cardinal Oscar Rodríguez could be the next pope.
He also recently sheltered an admitted child molester.

By Brendan M. Case and Brooks Egerton
Dallas Morning News
June 21, 2004
[See also Brendan M. Case on the human toll of Vásquez' alleged abuse and a timeline with documents, showing the path Vásquez traveled and the protection he received. See a list of articles in this series.]

http://www.dallasnews.com/sharedcontent/dws/news/longterm/
stories/062104dnprovasquez.202f8.html

Tegucigalpa, Honduras – A prominent candidate to succeed Pope John Paul II recently sheltered a priest who is an admitted child molester and now an international fugitive, The Dallas Morning News has learned.
Cardinal Oscar Rodríguez, who heads the Archdiocese of Tegucigalpa, put the Rev. Enrique Vásquez to work in two remote parishes from last year until March. The priest had fled criminal accusations in his native Costa Rica in 1998, then served in at least two U.S. dioceses before running again and spending time at a clergy treatment center in Mexico.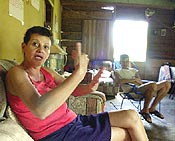 "What we can still do is seek justice," says Flory Salazar, who said the Rev. Enrique Vásquez molested her son Ariel.
Father Vásquez helped found a training center for Catholic lay people in the Honduran town of El Paraíso and served as the resident priest in the village of Guinope. He vanished from Guinope days ahead of police after child-protection activists in Costa Rica pressured their government to revive a languishing criminal case.
Tegucigalpa church officials "realized they had a problem, and they got rid of him," said Interpol Lt. Julián Rivera. The international police organization said it is continuing to search for the 44-year-old priest at the request of the Costa Rican government, but it has not questioned Cardinal Rodríguez.
The cardinal did not respond to written questions from The News and was too busy to be interviewed, said the Rev. Juan López, a top adviser. The cardinal handles all clergy personnel decisions in the archdiocese, including priests' assignments, Father López said.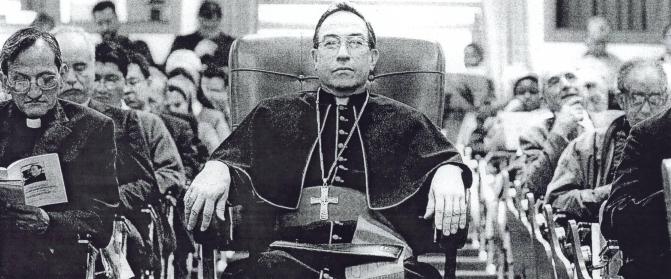 Cardinal Oscar Rodríguez, a rising star in the Roman Catholic hierarchy, has condemned coverage of the priest sexual abuse scandal, likening the media to Hitler and calling them obsessed.
Father López initially told The News that the priest had never worked in the Tegucigalpa area. But he later softened that stance, saying "I might have seen him" at a meeting of the archdiocese's priests.
Father Vásquez's home bishop in Costa Rica, Angel San Casimiro, said Cardinal Rodríguez did not check with him before putting the wanted man to work. He said he didn't know how the priest had landed a job in Honduras, although he added that he thought Father Vásquez had gone there several years ago to stay at another clergy treatment center.
'I have this problem'
Bishop San Casimiro acknowledged that in the mid-1990s, he freed Father Vásquez to work abroad after the priest admitted to him that he had abused a 10-year-old altar boy. "When I found out he had this problem," the bishop said, "I confronted him, and he said, 'Yes, monsignor, I have this problem.' "
The bishop said he had not recommended Father Vásquez for work elsewhere after the priest was accused in a criminal complaint of abusing the boy.
Bruce Harris, a child-protection advocate with Casa Alianza, a Catholic-affiliated charity with an office in Costa Rica, has been pressing the bishop and Cardinal Rodríguez to reveal what they know about Father Vásquez. Neither has been forthcoming, he said.
Mr. Harris recently bumped into Cardinal Rodríguez on an airplane and asked again for information. The cardinal said only that Father Vásquez "left Honduras some time ago" and that he didn't know where he'd gone, according to Mr. Harris.
"The Catholic Church in Latin America has not yet learned from what has been happening to the church in the United States," he said. "The church here is still trying to cover up."
Meanwhile, in a Costa Rican village a 45-minute drive from Bishop San Casimiro's cathedral, the mother of the accuser said Father Vásquez must be stopped from hurting others.
"I sometimes feel like I failed him as a mother," said Flory Salazar, putting an arm around her son Ariel, who is now 20. "Maybe I could have protected him more, and I didn't. But what we can still do is seek justice. We can seek justice and try to prevent this from happening to someone else."
In Honduras, several parishioners verified that Father Vásquez had led their congregation in Guinope for about seven months – until the day he rode to the Tegucigalpa airport with a group of nuns and never returned.
In recent interviews with The News, the parishioners recognized him by photograph, name and nationality – and said they were eager for the popular priest to come back.
"The kids were crying for him when he left," said Ilsa Celinda Rodríguez, a middle-aged woman who looks after the church grounds. "He had a special group of young altar boys."
Ms. Rodríguez said Father Vásquez had reinvigorated their religious community, whose Spanish colonial church sits on the tree-lined square of a village that is about an hour's drive from the nearest paved road. The priest planted flowers, got people to attend services and formed youth Bible study groups, she said.
"He came to raise the church here," said fellow parishioner Delvis de Lagos. "He organized the parish."
She said that when Father Vásquez left town, he told parishioners he had to care for his seriously ill mother in Miami. While relatives of the priest said his mother has had heart problems, they said she has not left Costa Rica in recent months.
Father López, the archdiocesan chancellor, said Guinope residents were mistaken in perceiving Father Vásquez as their pastor.
"Our people in the countryside don't understand titles," he said. "Maybe they thought he was a parish priest, but that doesn't make him one.
"The only thing I can say for sure is that he has never worked here on a permanent basis. He's not our priest; he doesn't belong to the archdiocese."
Parishioners in Guinope weren't the only ones who saw Father Vásquez as a church leader. In nearby El Paraíso, where he helped found the center for lay leaders, he appeared on radio shows as a church spokesman and won praise from local nuns.
"People love him here," said Sister Emilia Oliveros.
Don't tell
Cardinal Rodríguez, who is 61 and a fast-rising star in the Roman Catholic hierarchy, has spoken as forcefully as any of his colleagues against telling police about abuse allegations.
"For me it would be a tragedy to reduce the role of a pastor to that of a cop. We are totally different, and I'd be prepared to go to jail rather than harm one of my priests," he said at a 2002 news conference in Rome. "We must not forget that we are pastors, not agents of the FBI or CIA."
The cardinal's remarks came as the U.S. Catholic Church's abuse scandal was exploding, with hundreds of priests exposed as abusers and bishops accused of covering up. He has strenuously defended Cardinal Bernard Law, the former Boston archbishop who became the lone American diocesan leader driven from office over his handling of abuse cases. (Cardinal Law was recently named by the Vatican as archpriest of a basilica in Rome.)
Cardinal Rodríguez has also condemned journalists covering the scandal, likening them to Hitler and describing them as obsessed. His chancellor echoed that sentiment when asked recently about Father Vásquez.
"I don't see your interest in this, except for morbid fascination," Father López said.
Cardinal Rodríguez belongs to one of the world's largest religious orders, the Salesians of Don Bosco, which focuses on serving poor children around the globe. Several of its top leaders have taken part in moving accused priests to new countries, as The News reported Sunday.
The cardinal, who studied philosophy, theology and clinical psychology, has served on several pontifical councils and represented the Vatican in discussions with the International Monetary Fund on Third World debt. The pope made him a cardinal in 2001 as part of a large and unprecedented expansion of the upper hierarchy, which has broadened the pool of papal successor candidates and diminished Italian prelates' power.
Many scholars and Vatican watchers believe the next pope could come from the Third World, where the Catholic Church has huge numbers but often faces challenges from evangelical Protestantism or Islam. Cardinal Rodríguez is widely considered to be among the top Latin American contenders.
While building a high profile abroad, though, he has been struggling at home with the same shortage of priests that bedevils bishops around the world. He has about 150 priests to serve a Catholic population of more than 1.6 million – and, like many of his U.S. brethren, sometimes relies on foreigners about whom little is publicly known.
Flight from justice
Father Vásquez left the cardinal's Honduran archdiocese just as he had left Costa Rica in late 1998 and the United States in late 2002: running from the law, as part of a 5 ½-year flight from justice.
It isn't clear how Father Vásquez managed to elude arrest repeatedly and stay in ministry, but both church and state apparently played a role.
The priest had fled his home country one day after its child-welfare agency formally accused him of molesting the 10-year-old altar boy. Prosecutor Alba Campos said she suspected that "the church helped him escape" Costa Rica. His boss there, Ciudad Quesada Bishop San Casimiro, would not help her locate Father Vásquez, she said. Bishop San Casimiro disputed that.
The priest then worked in the Archdiocese of New York for about a year, sometimes traveling as far as South Carolina with a Caribbean cleric to lead retreats for Hispanics.
Church officials disagree about whether Father Vásquez had permission to work in New York. The archdiocese's spokesman, Joseph Zwilling, said the priest had been rejected despite having a letter from his bishop saying he was in good standing. But the pastor who supervised him said that "we were given the OK" for Father Vásquez to work.
Father Vásquez left New York abruptly, telling the pastor that his bishop was recalling him to Costa Rica. Instead, he went to the Archdiocese of Hartford, Conn., where he found sanctuary for about three years.
Hartford church officials said that they accepted him in 1999 after also getting a good-standing letter from Costa Rica and that they knew of no problems until an estranged relative of the priest told them, in summer 2002, about the criminal case.
They confirmed the information with Costa Rican church officials, said the Rev. John Gatzak, Hartford's spokesman. He said church leaders then alerted the FBI and were advised to do nothing, to avoid tipping off the suspect.
Meanwhile, for seven weeks, Father Vásquez stayed in ministry and vacationed in Mexico, Father Gatzak said.
By Oct. 10, 2002, the Costa Rican prosecutor had obtained an address for the suspect's parish in Connecticut and asked Interpol to verify it. That same day, Father Gatzak said, the FBI questioned Father Vásquez in the presence of Auxiliary Bishop Peter Rosazza but did not detain him.
There was no international arrest warrant in place, enabling the priest to get away again, hours later. Connecticut FBI spokeswoman Lisa Bull would say only that "we don't comment on investigative activity we are conducting or have conducted."
Once the Costa Rican prosecutor learned that Father Vásquez was gone, she didn't ask Interpol to follow his trail – which led to Casa Alberione, a clergy treatment center near Guadalajara, Mexico. Bishop San Casimiro acknowledges that the priest, in a phone call made while driving across America, revealed his destination.
"I told him, 'Enrique, come back,' " the bishop said. "I said, 'Don't go through life as a wandering Jew.' "
The bishop San Casimiro didn't tell the prosecutor that Father Vásquez had gone to Mexico until she asked, nearly a year later. That was in August 2003, when the priest's principal accuser in Costa Rica began pushing authorities to locate and capture him.
Around this time, Father Vásquez began working in Guinope, the Honduran village.
A Honduran parishioner said Father Vásquez planted flowers, got people to attend church and formed youth Bible study groups. Photo by Brendan M. Case / Staff.
The prosecutor, Ms. Campos, was removed from the case earlier this year, after the accuser and his advocates complained that she was not trying to find the priest or charge potential accomplices. Reached by telephone recently, she declined to respond to the accusations.
In March, more than five years after the criminal case began, Costa Rica finally issued an arrest warrant. Ms. Campos has said she didn't seek one because she thought she had to know the suspect's exact location first.
Mr. Harris, of the advocacy group Casa Alianza, said that she knew better and that he ultimately got Costa Rica's attorney general to overrule her.
Grief and rage
In the Costa Rican village of Buenos Aires de Pocosol, the twists and turns of the Vásquez case have left one family with feelings of grief and rage. Ms. Salazar, a 45-year-old single mom, recounts her quest for justice.
In the early 1990s, Ms. Salazar cooked and cleaned for the Santa Rosa de Lima Parish when Father Vásquez was its leader.
One of Ms. Salazar's six children, Ariel, became an altar boy – a significant achievement, she felt, given that he'd suffered from lack of oxygen at birth and didn't learn to walk until he was 2 years old. He spent a lot of time with Father Vásquez until another priest, the Rev. Alvaro Blanco, told Ms. Salazar that he had found his colleague, shirtless, lying down with her son.
Ms. Salazar talked to her son, who began describing abuse that had been going on for months. Father Vásquez had warned him not to tell anyone, the boy said, because "people would wonder what's wrong with the priest."
Then she confronted the priest.
"He told me it was true," she said. "He told me I was very good, and that if he were in my shoes, he would kill the person who had abused his son."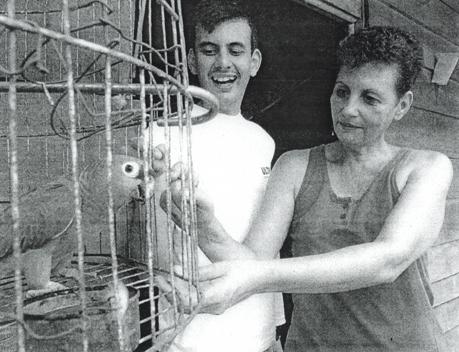 Flory Salazar said her son Ariel, then a 10-year-old altar boy in Costa Rica, described months of abuse by their priest in the mid-'90s. She said she's no longer a Catholic. Photo by Kent Gilbert / Special Contributor.
Next, she went to Bishop San Casimiro. He urged her not to go to police, imploring her to be a "good Christian," she said. She complied.
By 1998, however, her son was suffering from sleeplessness, low self-esteem, depression and recurrent thoughts of death, according to a psychological report. After Costa Rica's child-welfare agency learned of the allegations, it filed a criminal complaint in late 1998.
The case brought unrelenting pressure from the church and Father Vásquez's relatives, according to Ms. Salazar.
One of Father Vásquez's brothers allegedly tried to bribe her son to withdraw the charges last year, leading to a separate legal case. Ms. Salazar said she has received two death threats in the last two months from a man who told her that she was making the church look bad.
Her son recently got his high school diploma. He hopes to attend college to become a social studies teacher.
"The main thing we want is to keep this from happening to anyone else," he said. "At times, I've asked myself whether this is worth it. But it's like my mom says. If we don't do anything about it, we'd become accomplices to this, too."
Staff writer Brendan M. Case reported from Honduras, Costa Rica and Mexico; staff writer Brooks Egerton reported from Dallas.