Man says sex with priest began at 11
The cleric, convicted of taking indecent liberties, calls accuser a liar

By Michelle Nicolosi
Seattle Post-Intelligencer
August 20, 2004

http://seattlepi.nwsource.com/local/187183_albert20.html

[See also the main article in this series on accusations against "Fathers who acted as fathers", as well as profiles of the 11 priests examined, maps and photos of the Washington church properties where abuse is alleged with synopses of the charges, and an in-depth report on another priest, Rev. James Mitchell.]

Albert Green vividly remembers the first time he saw the home of the Rev. Ed Olszewski, the priest who cared for him when he was 11.

"The first day, I was so excited. I went running through the church. Everything was so pretty -- it was like a mansion. It had 12 bedrooms and six bathrooms. It was humongous," said Green, 46, who lives in Lynnwood.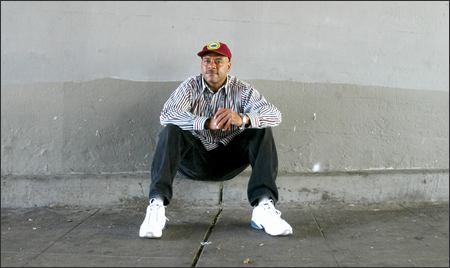 Albert Green of Lynnwood says he had sex for 30 years with the Rev. Ed Olszewski. The priest, who alleges improprieties in his trial in Michigan, says he never inappropriately touched Green. Gilbert W. Arias / P-I.
Green remembers the mysterious chute that dropped dirty clothes right down to the laundry room, the giant bowl filled with silver dollars and the cool stuff in the priest's bedroom: a little fridge with soft drinks in it, a popcorn machine, the soft rug in front of his bed.
He also remembers that Olszewski didn't wait long to establish that their relationship would be sexual.
Green said that first night, they went to Olszewski's bedroom and drank some wine. Then Olszewski took out some Vaseline and "he was rubbing it on me, on my front and my back. He put it up into my rectum. I felt something really weird. I just turned over and felt something else go inside of it."
While the priest had sex with him, Green said, he was looking over at the bowl full of shiny coins, thinking "all this money. He's going to give it to me," Green said.
In 2002, a jury in Michigan found Olszewski guilty of four counts of indecent liberties in the Green case, choosing that lesser charge rather than convicting on four counts of sodomy.
Olszewski, now a registered sexual offender in Florida, said that Green's stories are a complete fabrication, and that "there were certain faults in the trial." He said the judge gave the jury incorrect instructions, and one of the jurors was an abuse victim who unduly influenced the rest of the jury. He is seeking a retrial.
Olszewski said he never inappropriately touched Green, and he never had sex with him. Green is a "pathological liar" looking for a way to make money, he said.
But Green said Olszewski had sex with him "thousands of times" over a 30-year period during which he was -- off and on -- both son and lover to Olszewski, first in Detroit and later in Florida. He said sex was the price he paid for the opulent lifestyle Olszewski gave him.
According to Green, back in the 1970s, they took trips to Las Vegas every month, they wore nice clothes, ate in fine restaurants.
In Las Vegas "we were drinking Dom Perignon, we were having escargot, we were having all that," he said. Green said he loved the opulent lifestyle so much that he changed his name to Albert Onassis John Green.
Green said he also liked the power and stature that came with being the priest's surrogate son: Instead of being a face in the crowd, he was hanging out with the director of his school.
Church members would ask him to serve as an intermediary with "Father Ed." He was somebody, and he liked it that way.
"I knew what he was doing. I just felt like he was my father, he was the president, whatever he says, goes. I never really had nothing, now I'm rich and famous. ... I felt special," he said.
"It never clicked that you were being abused. He was my dad. I was in love with him. I was so happy to be there. I didn't care about the sex. Who cares about this? Look at what I got in return."
Green said he didn't realize that he had been abused until he saw another victim on television a few years ago. "He was crying, saying 'I was molested by a priest one time.' I was looking at him and thinking, 'Oh give me a break, as much crap as I been through.' "
Green's first thought was that you couldn't possibly be that hurt by being molested one time. Then he thought, "Maybe there is something wrong with me. I have no job, no wife, no car. I'm strung out on drugs. I always thought it was just me."
Olszewski said Green's tale is completely false: He said he did not give Green an opulent life, nor did Green live with him for years, as he claims.
"I was a guardian for three months. Only three months," he said. "Everything's all exaggerated. This is all made up."
Olszewski said that over the years, Green, his two brothers and a number of other boys were placed in his rectory for temporary care by Catholic Charities in Detroit.
He said the church asked him to take needy kids in -- usually just for a few months at a time -- because "they were having a hard time finding homes for black children." Olszewski said he later ran a licensed foster home in Florida.
The Miami and Detroit archdioceses say they have no record of any other abuse accusations against Olszewski.
There is also no record at the Detroit Archdiocese that Olszewski had children living with him at the rectory -- a practice that is forbidden today, said Ned McGrath, director of communications at the archdiocese.
Olszewski said Green did not live with him for a long period in Florida as he claims -- but said he did visit occasionally. Green showed up many times over the years looking for help and a handout, Olszewski said.
"He used to come to Florida once in a while to come to see me," Olszewski said. "He'd get strung out on drugs, he'd come here, I'd try to help him. ... (One summer) he and his brother ... came for a few months. I gave them rooms."
Olszewski said he did take Green with him to Las Vegas one time -- when he turned 13.
But they didn't go every month, he said. And they didn't go to the Bahamas every week to gamble after Olszewski moved to Florida -- as Green also claims.
Green is suing Olszewski and the Archdioceses of Miami and Detroit in civil court in Dade County, Fla.
Green said he had been homeless for years, drifting from Las Vegas to Washington, D.C., to Florida and back to the Seattle area, where his mother lives, staying in homeless shelters, doing day labor jobs to rustle up $15 for a room and cash for crack and alcohol.
He admits to having been a drug addict for decades and says he has frequently attempted suicide.
Green said he has lived drug- and alcohol-free for the past five months in a modest apartment, where he helps raise his two nephews.
He said he does not hate Olszewski, even though he feels that the priest likely ruined his chance for a better life.
"It's the priest messed me up so bad. It messed me up for life," he said. Still, he added, "I love him, respect him and care for him like a father."
P-I reporter Michelle Nicolosi can be reached at 206-448-8217 or michellenicolosi@seattlepi.com