Runaway Priests
Hiding in Plain Sight
The Rev. Rev. Edgar Hidalgo
Rome Case Study #2

Dallas Morning News
September 12, 2004
[See also the main article in this feature, In the Shadow of the Vatican: Accused Clerics Serving in Rome, Heart of the Catholic Church, by Reese Dunklin, and the other case studies on Revs. James Tully, Barry Bossa, Julian Fox, John Baptist Ormechea, and Joseph Henn. The main article and case studies were also released as a series of four PDFs 1 2 3 4. See earlier articles in the Runaway Priests series.]

Father Hidalgo worked in a Mexico City parish for about three years while wanted on Italian sex-abuse charges. He was arrested in 2002, extradited to Italy and convicted. An Italian court let him serve house arrest with his religious society, the Cruzados de Cristo Rey, in an office across from the Vatican.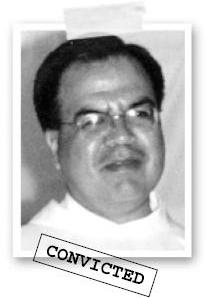 Currently

Because of "various evasions," his house arrest was revoked a few months ago, and he is now in a Rome prison, authorities said.

History

Father Hidalgo left Mexico City in the mid-1990s and went to work near Naples, Italy. He returned to his native Mexico a few years later, after parents complained to officials in the Pozzuoli Diocese that he was abusing children. Italian authorities concluded that he had abused an 11-year-old girl and several other children, sometimes during orgies. Meanwhile, Mexico City Cardinal Norberto Rivera put the fugitive priest to work in a parish.

The Priest Says

He could not be reached in prison for comment. Italian authorities said he has confessed to some abuse and agreed to undergo treatment.

The Church Says

Cardinal Rivera's press office said in a 2002 statement that until the priest's arrest, the cardinal did not know he was a fugitive. The cardinal declined to be interviewed. Pozzuoli Bishop Silvio Padoin did not respond to written questions.