Runaway Priests
Hiding in Plain Sight
The Rev. Rev. Julian Fox
Rome Case Study #4

Dallas Morning News
September 12, 2004

He was assigned overseas in Fiji and then Rome after an abuse complaint was made to his religious order, the Salesians of Don Bosco, in the late 1990s. The accuser was paid a settlement a few years later, documents show.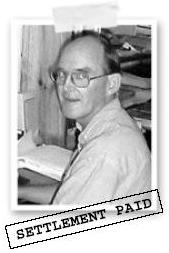 Currently

He recently was promoted to the Salesians' Rome headquarters, where he works in the communications office. He previously served as the order's regional boss for Australia and the South Pacific.

History

A teenage boy at a Salesians boarding school near Melbourne, Australia, alleged in the late 1970s that he had been sent to Father Fox's room for discipline and was sexually assaulted on several occasions, records and interviews show. At the time, a Salesians supervisor accused the boy of lying and the case went no further, his mother said. (Her son is terminally ill and unable to give an interview.) He didn't tell anyone else until about 1997, when he confided in a jail counselor while serving time for robbery. The order was subsequently notified, and by 1999 Father Fox was working overseas in a leadership position in Fiji.

The Priest Says

He refused to discuss the allegations, saying he exonerated by a church review. "That's in the past," he said. "I'm not keen to be trolling through all of that again." He also denied that as a regional supervisor in Australia, he ignored complaints about the Rev. Frank Klep - who was convicted a few years later and put on community service. When police began investigating additional allegations against Father Klep, the order sent him to Samoa. He was recently deported, after The Dallas Morning News revealed he was a fugitive, and is now awaiting trial in Australia.

The Salesians Say

The order's present Australian leader, the Rev. Ian Murdoch, acknowledged the settlement but would not comment further.