Update
Victims in Limbo

The archdiocese wins another round in its fight to evade responsibility for pedophile priests.

By Mike Newall
Philadelphia Weekly
September 15, 2004

http://www.philadelphiaweekly.com/view.php?id=8049

[See also Newall's Innocence Lost on the McDonnell case.]

Lawyers for victims recently appealed a Common Pleas Court decision that dismissed 17 lawsuits brought against the Archdiocese of Philadelphia alleging sexual abuse.
These are among nearly two dozen suits filed against the archdiocese and former Cardinal Anthony Bevilacqua since December. All of the suits allege the archdiocese systematically covered up abuse allegations and allowed known pedophiles continued access to children. The suits represent the first wave of civil litigation against the Philadelphia Catholic Church since the scandals first broke in 2002.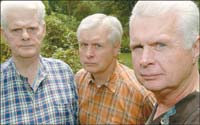 None of the lawsuits falls within Pennsylvania's extremely stringent statute of limitations. (Until 2002 a victim of sexual abuse in Pennsylvania had only two years after their 18th birthday to file charges. After the clergy abuse scandal broke nationwide, the statute was extended to a victim's 30th birthday.)
At a July 8 hearing, archdiocese lawyers argued that the previous statute of limitations be upheld, and described the suits as "stale cases."
Jay Abramowitch, a lawyer for the victims, argued that the clock on the statue of limitations should have started ticking when the victims first learned that the Church had been covering up allegations and protecting known pedophiles--which in most cases was only a few years back. "That's when they learned there was a second defendant responsible for the crimes committed against them," he argued.
Abramowitch presented the court with documentation supporting his claim.
Last November 60-year-old John McDonnell of West Philadelphia, a client of Abramowitch, was able to obtain from the archdiocese the assignment record of Father Gerard Chambers, the priest he alleges molested him and two of his brothers.
The document shows how Chambers, now deceased, was shuffled through diocesan parishes at a dizzying pace.
In 40 years of ministry (including 17 years spent on various "health leaves"), the priest was moved through 17 different parishes, spending, on average, only a little more than a year in each.
Before being stationed at the McDonnells' parish, St. Gregory's in West Philadelphia, Chambers had spent three years in a Downingtown hospital where pedophile priests were often sent for "treatment."
(At least five men have alleged that Chambers molested them during his two-year stint at St. Gregory's.)
"It was only upon reviewing that document that John McDonnell realized that he and his brothers had been harmed not only by the priest but the archdiocese as well," says Abramowitch.
But Common Pleas Court judge Arnold New was not convinced, and ruled that the archdiocese isn't responsible for the crimes of individual priests.
"Although the archdiocesan defendants' actions may have placed the priests in a position to commit the batteries," wrote New in his Aug. 13 decision, "it was the action of the priests which caused the actual injury."
New also ruled that the victims, many of whom were adolescents at the time of their abuse, had a duty to "investigate to determine if parties other than the priests were involved," a finding that seems to, as Abramowitch maintains, "place an unfair burden on small children who were traumatized by an institution they were taught to trust."
The decision came as a surprise to many, considering courts in Lehigh, Westmoreland and Allegheny counties have recently accepted Abramowitch's arguments and allowed victims' cases to move forward.
"It's an awful decision," says John Salveson, head of the Philadelphia Chapter of the Survivors Network of Those Abused by Priests (SNAP). "We have a church using the statute of limitations to protect predator priests."
David Clohessy, national executive director of SNAP, says New's decision "flies in the face of larger trends" that are sympathetic to victims of sexual abuse committee by clergy.
"All across the country, police, prosecutors, judges and lawmakers have realized that we need to make it easier for victims to step forward and seek justice," says Clohessy. "This is not the case in Philadelphia."
The archdiocese released a short statement addressing the dismissal of the civil lawsuits.
"It has been the belief of the archdiocese that the statute of limitations does apply in these cases" reads the statement. "We are pleased by the court's decision."
For more than two years a federal grand jury has been investigating the archdiocese's handling of sexual abuse complaints.
Scores of victims, church officials, lawyers and clergy abuse experts have been questioned by the grand jury. Former Archbishop Bevilacqua has been called to testify at least half a dozen times. Current Archbishop Justin Rigali has also been called to testify.
So far the grand jury's investigation has led to the indictment of a priest who allegedly abused a Philadelphia boy in the '70s. Father James Behan was arraigned in Philadelphia Municipal Court on Aug. 30 on charges of rape, involuntary deviate sexual intercourse, indecent assault and endangering the welfare of a child. (The statute of limitations did not apply because the priest was transferred out of Pennsylvania in 1980.)
The district attorney is prohibited from commenting on the ongoing grand jury investigation.
As for the civil lawsuits, Abramowitch and other lawyers representing Philadelphia victims have appealed Judge New's decision to the Pennsylvania Superior Court.
A hearing date has yet to be set.
Mike Newall (mnewall@philadelphiaweekly.com) wrote about the plight of abuse victim John McDonnell in a PW cover story in July.