The jury should still be out on Paul Shanley

By DAVID FRANCE
National Catholic Reporter
January 14, 2005

http://ncronline.org/NCR_Online/archives2/2005a/011405/011405p.php

From the beginning of the Catholic abuse crisis in America, a handful of names have come to symbolize the awful narrative: Cardinal Bernard Law, who covered up; the elfin Fr. John Geoghan, with upward of 200 victims; Fr. Maurice Blackwell of Baltimore, whose apparent immunity drove his victim to shoot him in rage. Other stories included a priest who pleaded guilty to rape and another who lured youngsters to his bed -- even after he was committed to a secluded treatment facility nicknamed Pedophile Palace. Their cruel and twisted stories fill my book, Our Fathers, with a heavy pathos.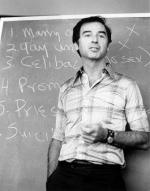 Fr. Paul Shanley gives a workshop in Milwaukee in this 1978 file photo. CNS
But in the popular pantheon of priestly criminality, one name stands out as especially atrocious -- Paul Shanley, graduate of the notoriously tainted Class of 1960 from St. John's Seminary in Boston, a man whose lengthy personnel files at the chancery bulged with thousands of complaints and admonitions. The Boston Globe called him "a depraved priest who knew few limits to his sexual cravings." The church settled many civil suits against him for perhaps several million dollars, and the Vatican laicized him summarily last year.
I never got a chance to interview Shanley for Newsweek, where I covered the crisis, or for my book. Indeed, Shanley has yet to explain himself publicly. But as I pored over the evidence against him, a strangely nuanced and sensitive portrait of the man began to emerge. Shanley was an early gay-rights activist in his church, making him a hero to many in the 1960s and '70s. He also, it turns out, routinely violated his celibacy vows with young men he met through counseling situations -- many of whom seriously regret the encounters. This was professional misconduct at its most base.
But is he a pedophile? Did he violate age-of-consent laws? Is Shanley a child molester? More than two years later, no jury has had a chance to draw a conclusion. The court settlements were done without a trial. Even his laicization was undertaken without a hearing, and more recently two of the most serious criminal charges against him have been thrown out before trial.
So why is he called the most serious pedophile priest ever to surface in the crisis? Partly because of his alleged NAMBLA link, but in fact, he was never a member of NAMBLA, nor did he ever attend a NAMBLA meeting. His crime was to attend -- along with other clergy -- a conference from which a caucus spun into the North American Man/Boy Love Association. He appeared, in fact, to idealize men just barely over the consent age -- and, if they were vulnerable enough, to take advantage of them.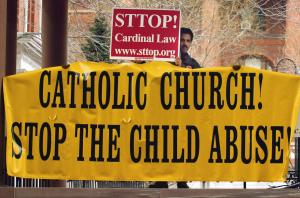 Phil de'Albuquerque holds a sign outside the Middlesex Superior Courthouse in Cambridge, Mass., the day Paul Shanley was released on bail Dec. 11, 2002. CNS/Reuters
Shanley was a hero and a predator, but perhaps not a criminal. That is the unusual set of facts we know so far.
The problem with the Shanley case is that we have not waited for more facts before according him a place in history. And anybody who tries to slow down the judgment train is at some risk, as I found out personally. Recently a friend called me after receiving a national mailing from the Rev. Lou Sheldon, the irascible head of the Traditional Values Coalition, a sound bite-generating group bent on confronting gay activism. "Sheldon is calling you a 'pro-NAMBLA homosexual' because of your book," he said. "It's a four-page screed!"
More, if you count the envelope. On the very front of his mailer he'd written in tall letters: "The shocking connection between an ex-priest indicted for sex crimes and an editor at Newsweek -- and how it affects your family …"
Inside, it became clear that Sheldon hadn't read my book. Instead, he relied on an interview I'd given The Advocate in April, which he rendered accurately:
"Shanley was a hero," I had said, "the first Roman Catholic priest to say anything positive about gay people. And not just once or twice; he made it his career. … He was the spirit of gay rebellion; a dashingly handsome priest with a sharp tongue and no patience whatsoever with anyone who would not accept his completely liberationist views of homosexuality."
Unfortunately, he ended my quote there. This allowed Sheldon to accuse me of defending pederasty, enabling a "vortex of evil," and putting children and grandchildren in terrible peril. "All this DEMONSTRATES THE LINK we've been telling you about between NAMBLA and the entire homosexual movement."
However, the rest of my statement clarified my analysis of Shanley. "For many years during the '70s he also ran a kind of counseling service," I added. "His ads would say, 'Gay? Bi? Confused? Call Father Paul.' And these kids would come and say, 'I think I might be gay, and it's just destroying me because of what my church says.' He'd go on and on about how they should forget the church [on that issue]. And invariably he would make a proposal: 'Well, let's try it and see if you like it.'… And this is sex that, if he were a therapist in any other setting, would open him up to lawsuits and certainly cost him his license to practice. It may even have crossed legal boundaries with criminal law. I'm not arguing that what he was doing was in any way right or good, but it wasn't pedophilia, and the boys he was having sex with were the age of consent and older. Now, were they consenting? Big question -- we don't know."
Why does this distinction matter at all? For one thing, it is a test of the justice system's capacity to hear only the facts amid the chaos of scandal and hysteria. Any American, even a priest whose life was as twisted as Shanley's seemed, deserves the presumption of innocence. If Shanley is guilty of child rape, he should go to jail for a good long time. But if he is convicted of professional misconduct his penance should be equal to anybody else's -- including an apology and restitution.
But this case is about so much more than that. In order to know what happened inside the American Catholic church, and to assure it will never happen again, we must look hard at the truth, wherever it takes us. Filling in the blanks with our own imagination will not help.
David France is the author of Our Fathers: The Secret Life of the Catholic Church in an Age of Scandal.