Jury convicts Shanley of raping child
Victim praised for testimony on '80s abuse

By Joanna Weiss
Boston Globe
February 8, 2005

http://www.boston.com/news/local/articles/2005/02/08/jury_convicts_shanley_of_raping_child/

CAMBRIDGE -- A Middlesex Superior Court jury yesterday found defrocked priest Paul R. Shanley guilty of raping and fondling a Sunday school student in the 1980s, bringing a dramatic conclusion to a rare criminal trial of a priest at the center of Boston's clergy sex abuse scandal.
The verdict capped a two-week trial marked by emotional testimony and graphic descriptions of abuse by a priest once beloved for his devotion to troubled youth. Almost immediately, observers and participants seized on the symbolism it held for alleged victims of clergy sex abuse.
''All the credit really went to him," prosecutor Lynn Rooney said of the 27-year-old victim, adding, ''you could just see that he was telling the truth."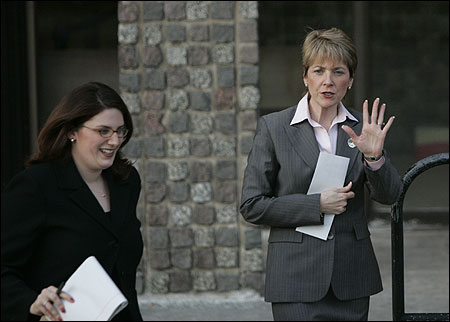 Middlesex District Attorney Martha Coakley (R), who left the courthouse with press secretary Emily LaGrassa, said prosecutors will seek a ''signifcant'' sentence for Paul Shanley. (Globe Staff Photo / David L. Ryan)
The case hinged on the victim, a firefighter, who said he repressed memories of abuse by Shanley for nearly two decades before recalling them after news reports three years ago. Shanley's defense attorney had challenged the credibility of those memories, but two jurors said yesterday that they believed the man was largely telling the truth.
''It must have come back to him," said juror Patrick Kierce of Medford, adding that he felt sorry for the victim, who broke down several times on the witness stand as he recounted the abuse. ''His health, his wife," Kierce said. ''It was heartfelt. He didn't have much of anything else to go on."
When the foreman read the verdict after nearly 15 hours of deliberations, Shanley's victim covered his face and smiled, rocking back and forth in his front-row seat as his wife, sitting beside him, rubbed his back. Throughout the packed courtroom, other alleged victims of clergy sex abuse and their advocates clasped hands and broke into tears.
The victim said at his house last night that he did not want to comment until the sentencing a week from today.
Because of the statute of limitations, prosecutors have been unable to bring criminal charges against many of the priests accused of raping and molesting children. Shanley left Massachusetts for California in 1990, legally stopping the application of the statute. He was arrested in San Diego in 2002, and his case came to represent the challenges -- for prosecutors and victims -- of bringing priest sex abuse cases to court and translating decades-old allegations into convincing testimony.
Shanley, 74, convicted of two counts of rape and two counts of assault, stood still as the verdict was read, registering no emotion. Judge Stephen Neel revoked his bail.
Frank Mondano, Shanley's attorney, said he plans to appeal. ''It appears that the absence of a case is not an impediment to securing a conviction," he said.
At a news conference last night, Middlesex District Attorney Martha Coakley said the victim testified of his own free will. Yesterday, she said, he told prosecutors it had been worthwhile. ''I think he understood if he did not go forward, then nobody would," Coakley said.
When Shanley was indicted in 2002, the case involved four accusers, men in their late 20s who said Shanley raped and molested them during Sunday school hours at St. Jean's Church in Newton. Prosecutors later dropped two of those men from the case. Another dropped out later after tough questioning by Mondano at a hearing.
The case came down to one man with a troubled family history and past substance abuse problems -- and $500,000 in the bank from a civil settlement with the Boston Archdiocese.
In an often-aggressive cross-examination of the victim, Mondano tried to convince the jury that the man's stories of abuse were ''false memories," planted in his mind by friends and personal injury lawyers. Prosecutors argued that the man would not have gone through the pain of testifying if his accusations weren't real.
''We didn't take everything he said at face value, but generally the core of what he was saying was believed," said another juror, Victoria Blier, 53, a window treatment designer and dealer from Lexington.
The process clearly took its toll on the man: The accuser endured the cross-examination over three days, sobbed on the witness stand as he recounted his abuse, and at one point asked the judge not to make him return. The Globe does not identify victims of sexual abuse without their consent.
Yesterday, victims' advocates praised him for his courage.
''So many of us had to count on this case for our own justice, because our own cases could not be brought into court," said Ann Hagan Webb, New England co-coordinator of the Survivors Network of those Abused by Priests.
The national office of SNAP called for harsh punishment when Shanley is sentenced. ''There is no magic age at which child molesters suddenly become 'cured,' " the group said in a statement. ''So, despite Shanley's age, the only prudent assumption is that he's still a danger to others."
Coakley did not say what sentence prosecutors will request next week, but said ''it will be significant." Shanley faces life in prison for the child rape charges and up to 10 years for the indecent assault and battery charges.
Some Shanley supporters -- who were also present, in fewer numbers, in the courtroom yesterday -- suggested a fair trial had never been possible, given the publicity surrounding the sex abuse scandal and the secret nature of the settlements reached with the archdiocese.
''There aren't any winners today. There are only losers," said Teresa Shanley, Shanley's niece, who attended every day of the trial. ''We're no closer to finding out the truth behind this scandal or why it happened."
Paul Shannon, 57, who described himself as a close friend of Shanley's, said he had held out hope for a hung jury, given what he said was a lack of credible evidence.
''I ask people to remember what Paul Shanley meant to their lives, what he did for so many people, and ask them if these charges made any sense at all," Shannon said.
Shanley was a complex and controversial figure throughout his high-profile career as a Boston priest. In the 1960s and '70s, he was an outspoken supporter of gay rights who roamed the streets in blue jeans and ministered to runaways and addicts.
John Harris, 47, of Norwood, who said he was raped by Shanley in 1979, said he didn't recognize the man at the defense table but said the verdict is ''justice, thank God."
''It was a great release to finally see that justice," said Harris, who sat through much of the trial. ''It turned out to be a jury that finally heard us and put this man away."
The archdiocese, which has paid millions of dollars in settlements in classaction lawsuits filed against Shanley and other priests, issued a statement of apology yesterday.
''It is important for the Archdiocese of Boston, in this moment, to again apologize for the crimes and harm perpetrated against children by priests who held the trust and esteem of families and the community," the statement read. ''Survivors and families who bear the wounds of these shameful acts are held with great tenderness in our prayers."
Victims' advocates took comfort in yesterday's verdict, saying they hoped it would embolden other victims to come forward with their stories.
''I am just overjoyed for the Shanley victims everywhere, both the one who brought him to justice in this case and the ones we will never know about," said Anne Barrett Doyle, codirector of BishopAccountability.org.
Shelley Murphy, Glen Johnson, Maria Sacchetti, Jonathan Saltzman, and John Ellement of the Globe staff and Globe correspondent Heather Allen contributed to this report.