Abuse Settlement Public
O.C.'s Bishop Brown apologizes to victims of clergy sex abuse and authorizes the release of church personnel files.
By Chris Knap, Ann Pepper, Rachanee Srisavadi, and Andrew Galvin
Orange County Register [Santa Ana CA]
January 4, 2005

http://www.ocregister.com/ocr/2005/01/04/sections/news/news/article_366080.php

LOS ANGELES – Bishop Tod D. Brown walked down a long hallway at the Los Angeles Superior Court on Monday to apologize to victims of clerical sexual abuse and authorize the release of thousands of pages of personnel files that victims say will show that the church protected accused priests.
The 23-page, $100 million settlement made public Monday with 90 victims alleging abuse by Catholic priests, nuns and lay teachers in Orange County is the largest payout of its kind in history.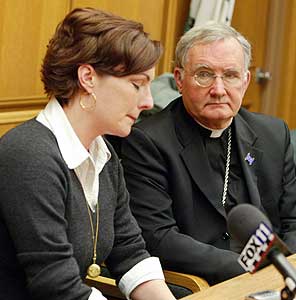 Monday as plaintiff Joelle Casteix speaks at a news conference to discuss a $100 million sex-abuse settlement between the Diocese of Orange and 90 plaintiffs.
Ric Francis, The Associated Press
The documents do not detail the names or the payouts to victims, in order to protect their privacy. But plaintiffs' lawyers said payments ranged from $50,000 to a few victims who got nearly $4 million.
"All of us are here today because terrible things have happened. The sexual abuse of minors took place in our midst," Brown said.
He said changes in diocesan personnel policies will ensure, "as much as is humanly possible, that these things will never happen again. Nothing is more important than the protection of our children and our youth."
Victims praised Brown for his willingness to settle the cases and to release confidential records that other dioceses are fighting to keep secret. But most of all, they praised his admission that horrible sins had occurred in Catholic churches and schools.
"The acknowledgement of what happened to us makes the difference," said Max Fisher, a victim of Father Siegfried Widera. "We are no longer just alleged victims. It means more to me than anything."
Monday evening, Brown officiated at a prayer service for the victims at Holy Family Cathedral in Orange and talked about the forgiveness they had shown him.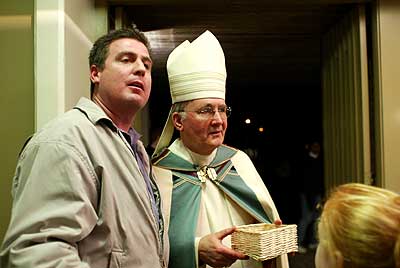 THANKFUL: Mark Curran of Santa Ana, left, a victim of priest abuse as a child, introduces his family to Bishop Brown after a service of thanksgiving for a settlement Monday night in Orange.
Mark Avery, TheOrange County Register
"I wondered why I didn't anticipate being embraced. I finally came to realize why I hadn't. It's because I was unworthy," Brown said.
Mary Grant of Survivors Network of those Abused by Priests said Monday night's service was the first time her group was allowed into the pews in an Orange parish to leave simple outreach pamphlets with the organization's contact numbers.
"I hope this is the beginning of the church doors opening in a real way," she said
The diocese will pay half the $100 million, with its eight insurance carriers picking up the remainder. With assets in excess of $270 million, diocesan officials said they expect to pay their share without facing bankruptcy, as some other dioceses have.
Plaintiff's attorney Venus Soltan, who helped hammer out the final details of the settlement, said the release of some 30 boxes of diocesan personnel records was a crucial part of the final agreement.
The records must be turned over to Los Angeles Superior Court Judge Peter Lichtman by Jan. 31. Priests and others named can petition to block the release of their records.
An analysis of the lawsuits, which were dismissed as a part of this settlement, shows that 18 priests, lay teachers, coaches and other school employees were accused by at least two plaintiffs.
Former Monsignor Michael Harris and Widera were each accused of sexual abuse by nine plaintiffs. Father Eleuterio Ramos was accused by 11 plaintiffs.
Ramos and Widera have died.
Harris was last known to be running a charitable foundation in San Diego County.
Mark Curran, who alleged he was abused by Harris when he was a 14-year-old at Mater Dei, said: "As a victim, many times you don't believe that your story can ever get told. I think before the settlement, we were poised for argument and a show of evidence, things to show the evil of what has happened. Today, I sit before you with my brother in Christ (indicating Bishop Brown). I see the compassion of Christ in this man, and that means a lot to me."
Plaintiffs' lawyers said the payouts to victims were based on the age of the victim, type of abuse, duration of abuse, whether the diocese had prior notice of past abuse by perpetrators, and the effect on the victim.
The settlement puts pressure on other dioceses working to settle claims. The Archdiocese of Los Angeles has yet to resolve its 544 claims.
The largest previous lump- sum settlement by the church was $85 million paid by the Archdiocese of Boston to 552 victims. The Diocese of Tucson settled 10 cases for $16 million in 2002.
In Orange County, plaintiffs' attorneys said that 57 of the 90 victims allege the abuses occurred before 1976 - when the Diocese of Orange was formed. The diocese paid each of those about $500,000 to dispose of their claims, according to lead plaintiff's attorney Raymond Boucher. Those plaintiffs still have other claims pending against the Archdiocese of Los Angeles for their abuse.
The remaining 33 plaintiffs received an average of $2.16 million each, Boucher said.
Attorneys will get 33 percent to 40 percent of the total.

Register staff writer Tony Saavedra contributed to this report.
Contact Us: rsrisavasdi@ocregister.com