Priest Thwarts U.S. Bishops' Abuse Policy by Crossing River
Rovira, accused of rape in Texas, finds 'different set of rules' in Mexico

By Brooks Egerton and Brendan M. Case
Dallas Morning News
March 16, 2005

http://www.dallasnews.com/sharedcontent/dws/news/longterm/stories/
031605dnprorovira.66f67.html
[See also Egerton's Priest Accused of Rapes Finds Prominence, about Rev. Cristobal Garcia, and Too Much Tolerance? by Brendan M. Case, Brooks Egerton, and Reese Dunklin, about Revs. Manuel Fernández, Paul Madden, Carl Tresler, José Luis Urbina, Gerardo Beltrán, Javier Gutiérrez, Abraham Anthony, and Jean-Level Eliscard.]

MATAMOROS, Mexico – When Monsignor Ivan Rovira was accused of rape in 2002, he didn't have to go far to dodge U.S. Catholic bishops' sex-abuse reforms. He admitted abusing one boy, then traded his job as a seminary boss in South Texas' Brownsville Diocese for a Catholic university post just across the Rio Grande.
Monsignor Rovira also continued to lead worship services regularly, despite Brownsville officials' assurances that he had been barred from public ministry. Last month, with Brownsville Bishop Raymundo Peña watching, he was among many priests celebrating Mass as Matamoros' new bishop was installed.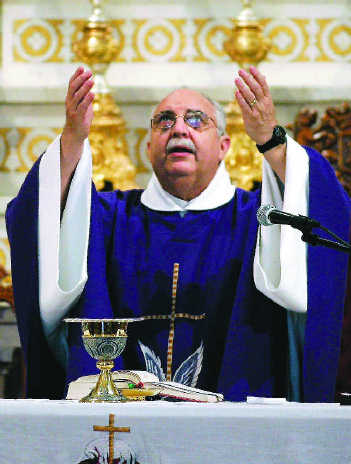 Monsignor Ivan Rovira works at a Catholic university and leads worship services in Matamoros, Mexico. Photo by Erich Schlegel / Staff Photographer.
"I guess the Catholic Church is not universal," said Josie Rocha, two of whose sons have accused Monsignor Rovira. "We have a different set of rules just by jumping a river."
U.S. bishops say that since adopting a one-strike-and-you're-out-of-ministry rule in 2002, they have been doing everything possible to protect children and to promote victims' healing.
The policy permanently bars from ministry all priests confirmed to have ever sexually abused a minor. But it does not apply abroad, where many bishops consider the rule too harsh, and it does not apply to nonministerial jobs.
Only the Vatican can prevent foreign bishops from employing abusers – by removing them from the priesthood. U.S. church officials, however, don't always petition to have them expelled. And the Vatican can refuse a petition for various reasons, including the age of the case or a lack of cooperation by the abuser.
'Rome denied' request
Sal Di Grazia, one of four Rovira accusers interviewed by The Dallas Morning News, said he asked Bishop Peña's top aide last week why the monsignor was still a priest. He said the Rev. Robert Maher told him that the bishop "tried to kick him out but that Rome denied it."
Brownsville officials declined to say whether Bishop Peña sought to have Monsignor Rovira defrocked. The Vatican, as is its custom, did not respond to inquiries on the matter.
Approached at the Matamoros cathedral after celebrating a recent Monday afternoon Mass, Monsignor Rovira largely declined to comment.
"God be praised," he said when asked whether he wanted to say anything about the abuse accusations. Pressed about why he was working across the border, he said that "my health had a lot to do with all of this."
Last week, the Brownsville Diocese posted a statement from Monsignor Rovira on its Web site. In it, he acknowledged that Bishop Peña had removed him from ministry under the one-strike-and-you're-out rule.
Monsignor Rovira also wrote that he had celebrated Mass in Matamoros only "on a few occasions when there was an emergency" and at the bishop's installation ceremony. The priest apologized for taking part in the ceremony.
His accusers and Bishop Peña's spokesman, the Rev. Heberto Diaz Jr., said they weren't aware of him ever apologizing for the abuse.
"I'm sure he's very remorseful," said Father Diaz, the Brownsville Diocese's chancellor. "The Diocese of Brownsville apologizes on his behalf."
Monsignor Rovira's statement said Bishop Peña told him in 2002 "that there were two allegations of sexual misconduct against me in reference to a situation that happened 24 years ago."
In fact, two of Ms. Rocha's sons had given the bishop detailed written accounts in 2002 of abuse that spanned several years in the late 1970s and early 1980s. Their ages then ranged from 9 to the early teens.
Bishop Peña told them that Monsignor Rovira admitted only to abusing Ruben Rocha, who described a series of anal rapes beginning when he was 13. Diocese officials would not give details of the admission.
Mr. Rocha's younger brother, Mario Rocha, said the abuse began when he was 9 and involved many acts of simulated intercourse.
Mr. Di Grazia complained to the diocese in 2003 about similar activity. A fourth man, Joe D. Garcia, told The News that the priest once pinned him to the floor and simulated intercourse.
The Rocha brothers said some of the abuse occurred while Monsignor Rovira heard their confessions, or shortly before. They said they did not tell each other about any of this until 2002.
All four men said he supplied them alcohol or offered to do so. And all said they have suffered long-term damage – from nightmares and family problems to loss of faith in the church.
The Brownsville Diocese has spent several hundred thousand dollars on counseling and other matters for the brothers, the Rochas say. Much of the money went to residential treatment for Ruben Rocha after he became suicidal in 2003.
There have been no criminal charges or civil litigation involving the priest. He was also sent to a treatment center in 2002, according to church correspondence.
Monsignor Rovira is the second accused priest from the Brownsville diocese whom The News has recently found in foreign ministry. The Rev. Basil Onyia fled to his native Nigeria during a 2001 criminal investigation and has been working in a parish there despite a pending arrest warrant.

He said he did nothing wrong and left after Bishop Peña advised him to; the bishop denied giving such advice. The bishop took about a week to notify police of the allegations; law officers have complained that the delay gave the priest time to flee.
How it happened
How did Monsignor Rovira come to be working in Mexico, in church and at the Catholic university?
Father Diaz, the Brownsville spokesman, said Bishop Peña knew two years ago that Monsignor Rovira was going to teach at the Matamoros Diocese's Universidad del Noreste de México. He didn't object, the spokesman said, because the job was academic. So is the university rector's post to which Monsignor Rovira has since been promoted.
The spokesman said that in 2002, Bishop Peña told his Matamoros counterpart, Bishop Francisco Javier Chavolla, "everything" about the priest's admission and suspension. But Bishop Chavolla said he had heard nothing about the abuse.
Monsignor Rovira "has shown irreproachable behavior for many years," said Bishop Chavolla, who has led the Diocese of Toluca, near Mexico City, since early 2004. He told The News that during his tenure the priest was not in ministry.
Others in the Matamoros Diocese say Monsignor Rovira has been allowed to perform ministerial and nonministerial duties because they didn't believe the allegations.
"It's a lie," said the Rev. José de Jesús Robledo, who is the cathedral's head priest and, along with Monsignor Rovira, is one of the top two administrators at the university. "There's a collective psychosis around that sort of thing.
"If an accusation like that were solid, the priest would be removed to prevent greater harm," Monsignor Robledo said. "The church is an institution that depends on credibility, because we handle matters of faith. That's what maintains our moral prestige."
Monsignor Rovira remains a priest of the Brownsville Diocese but is not listed on its Web site or the Matamoros Diocese site. Monsignor Robledo said his colleague was "only passing through" when he celebrated Mass at the cathedral, but church staff said he had been regularly leading Monday and Tuesday noon Masses.
The Brownsville spokesman said Bishop Peña fully briefed the Matamoros Diocese's new leader, Bishop Faustino Armendáriz, after seeing Monsignor Rovira at the recent installation ceremony. Bishop Armendáriz could not be reached for comment.
The spokesman insisted that the priest "will not be celebrating Mass anywhere. He is to live a life of prayer and penance."
But Monsignor Rovira is still free to work at the university, Father Diaz said. "We really don't have control over that," the spokesman said.
The Brownsville Diocese has complied fully with the discipline policy U.S. bishops adopted three years ago, the spokesman said. That policy, in addition to its "zero tolerance" provision, calls for moving away from past secrecy because it has sometimes "enabled sexually abusive behavior to be repeated."
Why, then, did Bishop Peña suspend Monsignor Rovira without public notice in 2002? Father Diaz said Texas bishops are generally following this practice with abusers.
"That was the bishop's call," he said. "He wanted to remove him quietly."
Lengthy role in church
Questions about Monsignor Rovira date back decades.
The Cuba native was ordained in 1971 as a priest of the Rockford, Ill., Diocese but transferred to Brownsville after a few years. Officials in both dioceses said they did not know why.
The Brownsville spokesman said diocesan files show no record of accusations against him before the Rocha brothers complained in 2002. There are indications, however, that Monsignor Rovira had been accused or suspected much earlier.
Ms. Rocha, for example, said the priest told her in 1979 that another mother had threatened "to go to the bishop and accuse him of being a pedophile." She said she didn't know at the time what the word meant and didn't pursue the matter.
Ruben Rocha said he personally confronted the priest in 1987 about being abused. Monsignor Rovira's "terse response was, 'It never happened with anyone else, and I got counseling for it,' " according to a letter Mr. Rocha sent Bishop Peña in 2002.
And Monsignor Robledo, the Matamoros cathedral priest, told The News that abuse allegations against Monsignor Rovira have been "frequently mentioned over the years." He said he had known his colleague for a long time and was "absolutely sure that there was never anything like that."
Such attitudes add insult to injury for Ruben Rocha, the man Monsignor Rovira admitted abusing.
"It's a terrible slap in the face to have him continuing where he is," said Mr. Rocha, who long sought to become a priest but has left the church. "It just goes on and on how outrageous it is."
Staff writer Brooks Egerton reported from Matamoros and Dallas; staff writer Brendan M. Case reported from Mexico City. News assistant Javier García contributed to this report.
E-mail begerton@dallasnews.com and bcase@dallasnews.com